Please note: All these therapies are available by pre booking.
Ashford is only on a Tuesday.
Otherwise they will be in Tenterden.
Please ask if you'd like any of these therapies as a gift voucher.
PLEASE FIND HOLISTIC BEAUTY TREATMENTS HERE
All massages are by Emma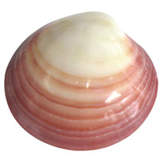 Lava Shell Massage
This is a very luxurious hot stone massage with a hint of the tropics. It is an experience that you will remember for a long time. A lava shell massage uses naturally self-heating Tiger Clam shells from the sun-kissed shores of the South Pacific to soothe all sorts of aches and pains. Massage oil is applied to your body and the heated shells will then be used to loosen up your muscles and ease any tension that may be lingering. The beautiful warming sensation combined with the smooth surface of the shells, will make all stress and strain disappear leaving you feeling refreshed, rejuvenated and relaxed.
Along with stress, muscle tension and arthritic pain, lava shell massages can help with blocked energy flow and even Irritable Bowel Syndrome. The tiger clams are a natural reducer of greenhouse gases, so you'll be helping the planet as you destress. Lava shells owe their magic to a mix of minerals, algae, dried sea kelp, dead sea salt and essential oils. This blend of ingredients creates a chemical reaction inside the shell to produce heat that lasts for up to two hours – a lot longer than stones. What's more, the lava shells give off calcium ions which leaves the skin looking firmer and more fabulous.
A beautiful gift to give someone or to just treat yourself.
Price £50.00
Hot stone Therapy
Full body, plus consult £40
Back,neck and shoulders £30
Hot stone therapy is a specialty massage used to help the body relax, ease muscle tension and damaged soft tissue. The hot stones are Incorporated into the massage experience to help you feel a deeper relaxation as your muscle warm and release their tension. The volcanic flat stones bring a healthier balance back into the body as they release deep set muscle tension. This type of massage may help to reduce pain, stress, anxiety and promotes a healthy sleep pattern. If you have a chronic pain condition, then this massage is for you.
If you have any of the following conditions, please consult a doctor for advise before having this type of massage.
Taking blood thinners
Blood disorder
Burns on the skin
History of blood clots
Had surgery within three weeks of the appointment
A fracture
Severe osteoporosis
Low platelet count
Crystal Indian Head Massage
This massage is an holistic treatment which uses acupressure massage on the head,face, neck and shoulders. This is aimed at re-balancing your body. Here at connections with spirit, we have gone one step further and added crystals to the therapy and now we can use a variety of pressure to tap into the chakra points to encourage healing on all levels. This treatment focuses on the higher chakras, and as such, hits the focal areas of your energy centres. This therapeutic massage can help with
Aches
Pains
Tension
Sleep issues
Headaches
Migraines
Anxiety
Improve hair texture.
£35 which includes consult. 1 hr
Without using Crystals, £25 for 30 mins
Full Body Massage
This is known as the life saver of massages. We recommend you book this into your life once a month. This massage manipulates the deeper layers of muscle and connective tissue to aid in the healing process of the body. This in turn promotes relaxation and well being.
£35 incl consultation.
Luxury crystal, back, neck and shoulder massage
This beautiful healing massage incorporates the relaxing benefits of massage with the healing vibrations of crystals. Every massage is tailored to the individual, so no two are ever the same. This leaves the body deeply rested and able to face the world again.
The massage can help with:
Problem skin
Headaches
Sinus issues
Stress
£30 incl consultation
One hour session.
Arms, hands and shoulder massage
£15 - 30 mins
Legs & Feet massage
£15 -30 mins
This therapy is unique to connections with spirit as it was divinely given to Margaret by her healing angels of the colour rays, to help the human spirit regenerate and refined its healthy balance again. Combining Angel crystals with therapeutic massage, the body gets the chance to completely let go of the stress it holds on to. The mind ,body and spirit come together in a beautiful healing experience.
Back, neck and shoulders £35 incl consultation. 45 mins
Colour Healing Massage
This massage therapy incorporates colour into the body, allowing deep body healing as well as relaxation to take place. Colour therapy dates back thousands of years. Each colour has its own therapeutic healing wave length which effects all living cells. This enhances and balances the body's chakra centres, whilst the therapeutic massage relieves the stress and strains of life.
£35 includes consultation. 1 hour.
Massages using crystals tailored to your condition & and reiki
£35 includes consult and therapy.
Fibromyalgia massage. Using certain crystals which help with this condition, during the massage session, we have seen good results afterwards. People come away feeling refreshed, relaxed and more pain free.
Anxiety. A dis-ease which affects millions of people. We have discovered that when we used crystals which are known to target this condition, the anxiety feelings significantly lesson.
Stress. This little work affect the body in a huge way. It affects the shoulders and lower back making it super hard to carry on living a normal life sometimes. A crystal combination that we have tested on willing subjects, have shown us the muscles, which are causing the pain when we are stressed, are significantly eased.
Muscle strain. Living our day to day lives can cause muscle strain as well as all the other things that impacy on the body. Using crystal and reiki, which target the discomfort, Emma is able to help you feel a lot more comfortable
To book in with any of these treatments, please use the contact form
Please look at our beauty page for more options.