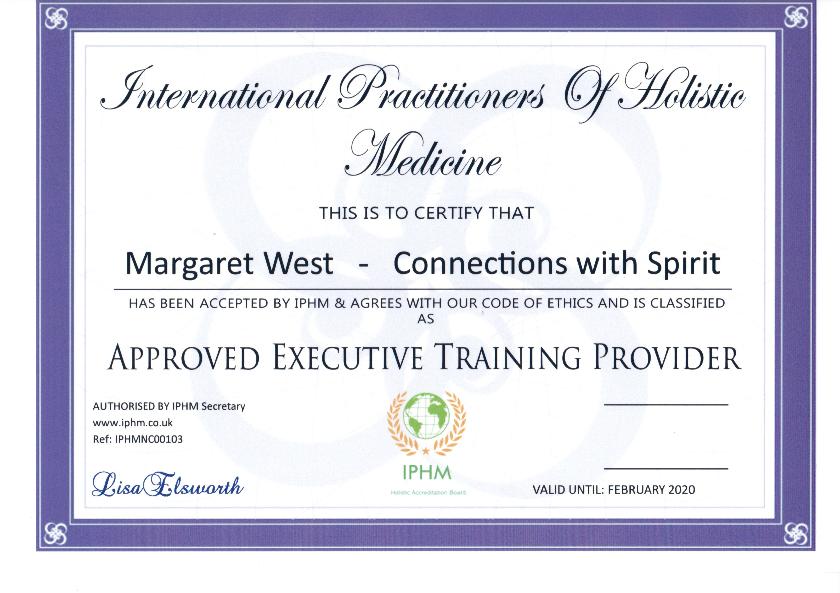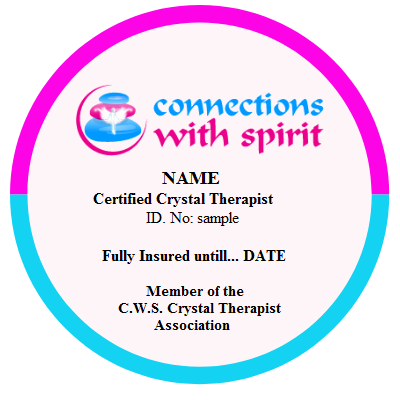 A warm welcome to Connections With Spirit Crystal Therapist Association

So who exactly are we?
We are a U.K. Kent based Complementary Health Practice who are also certified by the International Practitioners of Holistic Medicine to deliver Crystal Healing Courses to the public as well as many other courses.
After much consideration, we at Connections with Spirit, have decided that Crystal Therapists are often harshly criticized and they need a bit more support, security and credibility with their work, should clients wish to check up on them to see if they are insured, trained professionals. So we are offering all our certified students our certified badge for their websites with their own personal ID number. This verifies their training, authenticity, ethical standing and personal responsibility and insurance.
Therapists who join us will be listed on our well established website, which has a very good public traffic volume, with the areas they cover and their contact details. They will also be listed every month in our newsletter, Instagram and twitter posts.
Unfortunately, we CANNOT provide these certified badges to those who have not trained with us.
We ask that you contribute to a subscription of £40.00 per year, for this service, a percentage of which goes to the dog rescues which we support. If you are already with us and would like a badge for another therapy your charge will be £20 per badge.
We would prefer a bank transfer for this payment and we will send you a receipt for your accounts. We strongly advise you to set up a yearly standing order, just in case you forget to renew your subscriptions and loose your badge. If you cannot keep up with your subscription payments, please do let us know and we can either freeze your badge until you can resume paying, or we can cancel your badge and ID number, and removed your listing from the website.
Please contact us here if you would like to discuss this.
We at Connections with Spirit are honoured that you have chosen us to represent your ethical practice, and we welcome you with love, light and open hearts.
If you would like to be a member of C.W.S Card readers Association, please contact us here
We retain the right to revoke your badge if we have credible evidence that a reader is failing in their duty to provide good therapeutic help and they fail in their personal responsibility. Also, if we receive a verifiable complaint that we consider impacts on us, our ethics and our other members, as an Association, we will cancel your membership and badge number forthwith.

Connections With Spirit are proud to recognise Margaret West as an Approved Training Provider in Crystal Therapy with the International Practitioners of Holistic Medicine. Once our students are accredited, they may apply for membership with the International Practitioners of Holistic Medicine, and they will be entitled to use the letters IPHM after their name.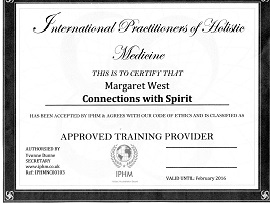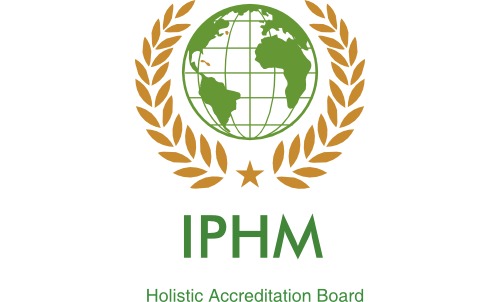 Featured in Spirit & Destiny Magazine. March 2018. Margaret explains what 7 must have crystals you need in your personal crystal tool box.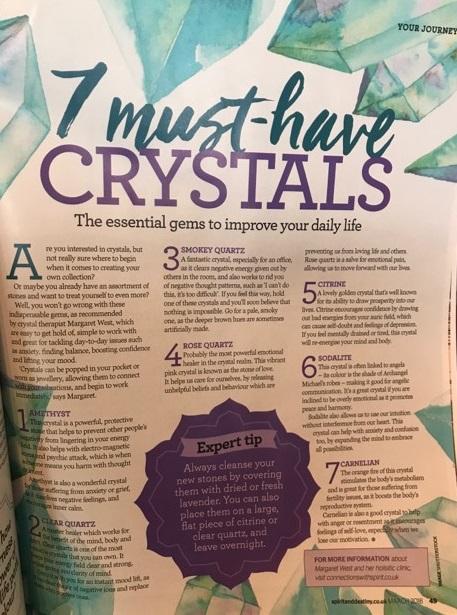 Margaret explains all about the Certified crystal course
Contact us for a chat or to book up for this course
REMEMBER. We can come to you if you have a group of five or more people to do this training.

PLEASE CONTACT US FOR OUR TERMS AND CONDITIONS AND NOTE THAT PRICES WILL VARY ACCORDING TO DISTANCE.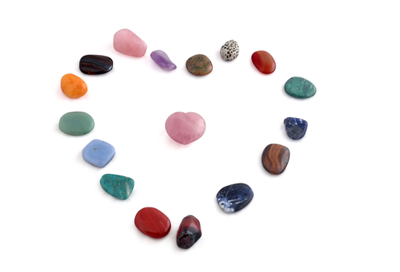 Introduction to Crystal Healing
On line course.
This is a 8 module online course, which opens you up to the world of crystals in the comfort of your own home. There is no time frame to complete in, as you can work to your own pace. Each module needs to be completed and returned to us for marking. On completion you will receive a certificate of merit to say you have begun the first part of your crystal journey with us, Connections with spirit. You will also have the opportunity to join our Therapist Association, and become part of C.W.S family. Here you will then receive 10% off of all our courses.
The course curriculum:
Crystals explained
Formations
Birthstones
How to chose crystals
Types of crystals
Cleansing Crystals
Programming crystals
Understanding Crystals
Grounding using crystals
Chakras and crystals
Visulisation and crystals
Meditating with crystals
Crystals and the body
The three laws of healing
Personal safety
Protecting yourself
How to give a crystal treatment
Expanding the conscious mind
How to heal
Absent healing using crystals
List of healing crystals for the body
Astrological crystal healing
Attuning the mind to crystals
The Aura and crystals
Setting up a crystal business.
You have the choice of buying per module - £15 or the whole course for £65. Please let us know your preference.

Testimonials for The Intro course
Claire - Kent.
A fabulous introductions to crystal healing. Margaret covered the basics and made sure that we understood how powerful crystals can be. It was explained how some crystals are sold as something they are not. Margaret is an encyclopedia of crystal knowledge and she is very patient with questions, which we all had a lot of!! I would highly recommend this curse for anyone who has an interest in the healing power of crystals.
Karen - Kent.
A very informative and enjoyable workshop.
Roz - Kent.
Margaret's workshop has been very informative and enjoyable. There is a lot of information to take in about crystals and Emma and Margaret made it friendly and fun.
Angela - Kent.
I have really enjoyed this workshop and I have learnt a lot about crystals. Lovely presentation. It is quite daunting to go to a workshop alone, but I found this one to be very friendly, warm and welcoming.
Jessica - Chatham.
I found this course very enlightening. A great course if you have an interest in crystals.
Monica - Kent.
This course was a great experience. I have learnt so many new things, including that some books are not always right. I am glad I joined the course. I particularly enjoyed the pendulum exercise.
Grace - Kent.
Thoroughly enjoyed this course. I also felt refreshed and energised after the course ended.
Barry- Cambridge.
Today was informative and very friendly, fun and enjoyable. I am looking forward to now doing the certified course.
Christine - Kent.
Thank you very much. It was a good experience about the crystals. I had no idea that some crystals are not real. I'm so happy I learnt this on the course. Margaret is a lovely lady. Thank you for all you taught me. God Bless.
Kayleigh-Kent.
Very interesting, informative, yet relaxed. Thank you for another brilliant course Margaret.
Janet - Kent.
Margaret explained about crystals in a way that's understandable. All my questions were answered with good explanations. Enjoyed the day and I cannot wait until the certified crystal course.
Maria - Kent.
A very good informative workshop. Margaret and Emma were very helpful. I would highly recommend this course to anyone interested in crystals. It has really made me want to learn more about crystal therapy.
Renata-Kent
I found this course very informative, relaxed and friendly. I think I prefer these smaller groups as I learn better in them.
Hazel - Kent
Very informative day and I have learnt a lot about crystals. Really enjoyable and warm atmosphere.
Jackie - kent.
A very informative day of fun, laughter and education. Margaret is a wealth of knowledge when it comes to crystals and she has given me a good introduction into the world of crystals and crystal therapies.
Have crystals really called to you over the years? Would you like to delve deeper and enhance your very special link with crystals?
On my course you will discover the science behind crystal healing so you can understand how the crystals work.
How
to build your confidence and learn how to work with crystals to a high standard.
To have the back up of a lovely crystal healers group who will always help you throughout your time as a crystal therapist.
You will have a recognised accredited certificate in crystal healing, from the International Practitioners of Holistic Medicine.
You will have continuous personal development for life.
You will be able to use this qualification to set up your business and get insured.
Start your crystal journey with us and you will never look back.


CERTIFIED Crystal Therapy Training
THREE WEEKS OF HOME STUDY



28/29th September 10-5
26/27 th October 10-5
£735.00
Bring a packed Lunch and refreshments will be provided
Margaret West has been a Crystal Healer for over three decades, she had taught many Enlightening Crystal Therapy for Beginners Workshops, which have proved to be very successful in Kent and London. Now she is offering Practitioner Level Qualification, Accredited by the International Practitioners of Holistic Medicine.
If you are worried that this type of therapy may not be for you, yet you are interested in it, then why not try our introduction to crystals course First.
To become a proficient Crystal Therapist you will need dedication and a huge respect for crystals. Two of the most important things in Crystal Healing. Margaret has been a Crystal Therapist for over two decades and runs a busy holistic practice in Kent. Margaret knows that when you become a Practitioner, it doesn't mean that you will know everything there is to know about crystal healing. New crystals are emerging all the time and new ways to use them therapeutically are always being discussed. Margaret's dedication to each student, shows how serious she is about Crystal healing and she has agreed to become your teacher for life. As far as we are aware, NO teacher in the Kent county offers this wonderful opportunity. So do not be worried about venturing out alone into the healing crystal worksfield, as you will always have Margaret for guidance.
There are no hidden extras to pay out for this course. Any new knowledge which comes to light, will be taught in the beautiful crystal cave group that she has on facebook. This group holds many different files on crystal healing that Margaret uses to this day in her practice. Videos will allow you to see into her holistic life and how different crystals work on the body. So we strongly urge you to join facebook, even if it is just to gain access for your CPD. Margaret has a deep connection to crystals and feels their energy very deeply. For the course she will provide each student with a hand picked, AAA grade chakra crystal healing set, to facilitate their amazing crystal journey.
The work of a Practitioner never ends and your collection of Therapeutic Crystals will grow with your expertise and knowledge. A lot of people worry that they will need to remember so many crystals that it puts them off doing the course.Margaret believes that only someone with the memory of an elephant can remember every single crystal and its uses. So during the course, she will show you different techniques to help you remember and store information which you can easily access.
This crystal course has many different branches. You will touch on healing animals with crystals, how to feel crystal energy and 'listen' as the crystals talk to you through their vibrations, how crystals can heal via colour, rather than their property value, you will learn how to make healing grids and so much more. Also, She will touch on how to use them during end of life care.
So now for a bit of crystal science.
Through scientific evidence, one thing affects another, as we are all interconnected on a subtle level that we cannot perceive or begin to understand. We are not attached to the planet, but instead, we are an integral part of it. Many Crystal healers believe that our disconnection from the planet/nature is the underlying cause to many conditions, whether it is in the Mind, Body or Spirit and we need to address this to be able to live a good healthy life.
The human body is crystalline in nature. When we get kidney stones, they are in fact Crystals that the body has formed naturally, when we die our blood becomes crystalline and urine, once dry, becomes crystalline in nature. So given this evidence, it is no surprise that the body can connect with Crystals on a very deep level.
When a Therapist places Crystals on the body, they are looking for a way to connect the body back to the planet and its healing resources. When the right vibration connects with the body, it begins to realign its energy to gently manipulate the body's energy back to a healthy point. All the complex parts of the body need to work together, like a car. If one part of is out of sync then everything else will begin to fail.
After you have successfully completed the written, practical and course assessments, you will receive an Accredited Certificate, which enables you to get insurance as a Crystal Therapist and which will allow you be become to be a member of the very prestigious Organization, The International Practitioners of Holistic Medicine, should you wish to.
This course will be run over two weekends, with a three week period of self -study for practical and written work to be assessed, emailed to Margaret and graded, then a further one day for practical assessments.

Listed here are some of the things we will cover: Please ask us for a prospectus for this course which will fully list all the course curriculum.
Meridian Therapy
Holistic Spine
Human energy Field
Healing Crisis
Using the quartz Family in therapies
How to make effective crystal elixirs
How to work with clients
Insurances
Data protection
Toxic Crystals
Crystals and terminal conditions
Crystals and children
Crystals and healing animals
Depression
on going illness
Palliative care
Many practical lessons on crystal therapy layouts

Seal of Solomon
Amethysts for body calm
Energy Boost
Pain Relief
Please Email for a prospectus and our policies for this Practitioners Crystal Therapy Course or use a contact form.
This course will be in Dymchurch, Kent

To pay for this course, please contact us. We accept cards, BACS, Cheques, as long as they clear before the course date and we do payment plans to suit your needs.

NOTE: When you pay your deposit for any course on this website you are agreeing to the terms and conditions set out here. Please read section 7.
We accept bank transfer, cards or cheques. NO PAYPAL for this course unless pre arranged with us.



Testimonies for the certified crystal course.
Tracey - kent
A very enjoyable experience. Margaret and Emma made the days interesting and full. The time went by very quickly. I was surprised that we managed to fit it all the training in, but i feel that there was actually enough time. Thank yo
u for everything.
Abigail - Kent
I really enjoyed my time with Margaret and Emma. The course was delivered at a nice pace and i felt we received enough practical , theory and study time, as well. I feel that i have come away armed with lots of information and i feel very supported in the knowledge that Margaret is there with continuous support in a therapist crystal group on Facebook. I feel very confident to treat clients with my new crystal skills. Thank you for keeping us well supplied with cakes and goodies too.
Janet - Kent.
The crystal course was very hard work but so exciting. I loved every moment. There is so much information to take on that i am glad the crystal group on Facebook will be there to support me. Emma was such a great help to me as well.Thank you Margaret for your support and encouragement.
Claire - Kent.
I felt very apprehensive going to the crystal workshop, but Margaret and Emma made me feel very welcome and nothing was too much bother for them. When things did not sink in straight away, Margaret was very happy to go over things until you understood it. NO question was stupid and she encouraged them. Margaret and Emma run very professional workshops and you always learn so much.
Tracy - Kent
I really enjoyed this course. The help and support you get from Margaret via Facebook is brilliant. The more i practice the more i begin to understand the power of crystals and gain more confidence. The homework time was enough to learn what we had to. I am so proud to be called a crystal therapist.
Jacqueline - Kent
I have really enjoyed the crystal healing course. The whole course was well structured, pleasant environment and friendly students. Margaret west is a superb teacher and i respect her knowledge. She made time for each student and answered all their questions. Fruit and cakes are a nice addition and they were very very much enjoyed. I really loved making my own crystal mandala. A nice personal; touch. Thank you so much.
Debbie - Kent
I absolutely loved the crystal course. There was a lot to take in and i felt the pressure! Margaret's crystal cave idea on Facebook is an excellent idea to continue our personal development and not feel so alone. Margaret is a font of knowledge. I am so pleased that i have successfully completed the course. I loved doing the hands on therapies as well as the class work. I would certainly be interested in any future refresher courses or therapist days. Thank you for putting up with my nerves Margaret.
Melissa - Kent
So pleased i did this workshop. I have had a love for crystals for many years and have attended many one day workshops. BUT, on this course you get an insurable qualification that i can add to my list of therapies.
Amanda - Kent
I am so pleased to have participated as a student in Margaret's crystal course. I have waited 3 years to do this with Margaret, as i knew when i first saw her that she'd eventually be my crystal therapist teacher and a lifetime of inspiration. What a wonderful course and thank you for making it so easy to follow and understand. Especially for people like me who suffer from dyslexia and discalculiar. From now on i will do everything that was taught to me by Margaret and i will practice all the time until my hubby builds me a therapist cabin next year as my prize for passing this course. This is my dream come true at long last.
Jodie - Kent.
The crystal course was intensive and very informative. It was a combined balance of theory and practical which was really helpful to establish learning. I really enjoyed myself on this course as the atmosphere was extremely friendly and small enough to build a great rapport with the other students. Margaret was a very enthusiastic and passionate tutor and crystal therapist, yet very professional. She is ready to answer all queries and i feel blessed to have been a part of this course. It has felt like i was around good friends throughout the whole course. Thank you Margaret for all your help.
Margaret explaining how to tell fake crystals