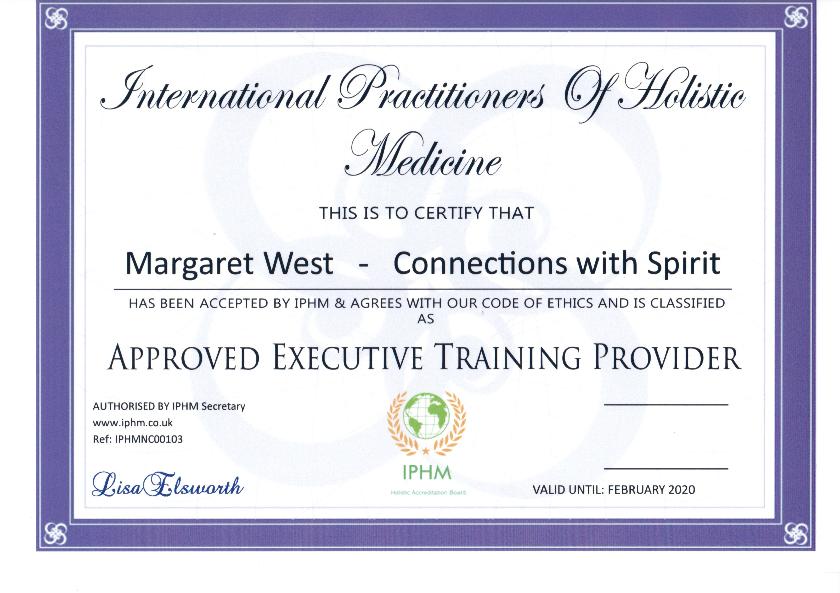 NOTE: When you pay your deposit for any course on the website you are agreeing to the terms and conditions set out BY CONNECTIONS WITH SPIRIT.
REMEMBER. We can come to you if you have a group of five or more people to do this training.

PLEASE CONTACT US FOR OUR TERMS AND CONDITIONS AND NOTE THAT PRICES WILL VARY ACCORDING TO DISTANCE.





Colour Therapy Practitioners Course
27th April 2019

10- 6
£260
Venue: Dymchurch kent.


This course is facilitated by Margaret West.
Colour therapy is a non invasive therapy which makes use of the energy contained in the rays of colour
On this course you will learn how colours can affect us negatively and positively. How they can speed up the recovery from an illness or help those recovering from an operation
This practitioners course teaches us how colour has a huge relevance on our physical, emotional and spiritual levels of well being and how colour therapy can help to re-balance and/or stimulate these energies by applying the appropriate colour on to the body.
On this course you will learn:
Relevant Health & Safety
Professional Practice
History of Colour Therapy
Colour psychology
Self awareness and self development
The Chakras
Colours and their resonance with the chakras
Colours and their uses
Methods of giving Colour: including:- silks, hands on, colour and light, visualisation and Solarised Water
How Colour can be utilised for physical, emotional, spiritual and auric healing
Colour readings
Effect of colour on our Physical and subtle bodies

Using Colour with other therapies, including Crystals

Primary colours
Auric colours
Blockages and negative qualities of colour
Relationships revealed through colour
Fragrance music and colour
Therapeutic use of colour
Colour breathing and visulisations
Colour and diet
Colour treatments using reflexology points
Colour therapy on animals
Trusting your intuition
Giving Colour Therapy
Consultation and treatment procedures
You will receive a comprehensive manual with this course and the certification to become a practitioner.
To pay for this course, please contact us. We accept cards, BACS, PayPal,(with a charge) Cheques as long as they clear before the course date.
Testimonials
Janet- Kent. I have enjoyed this course very much. It is very informative and the whole thing is delivered very professionally. The atmosphere is very relaxing, which means you can learn and take in, a lot.
J. Blake-Kent. Margaret is an amazing tutor. She explains everything is great detail. An extensive manual, written by her, provides all I needed to know about the course. She will answer any questions and go over what you do not understand. Thank you Margaret for sharing your extensive knowledge.