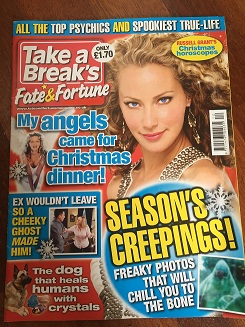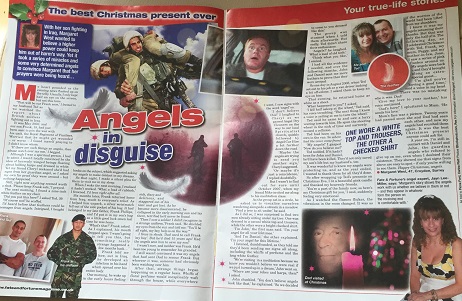 Margaret West, as seen in Fate and Fortune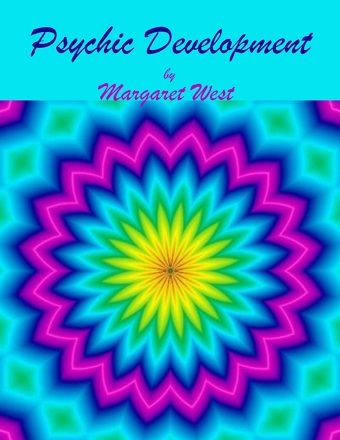 Review.
I have read many, many,books on psychic development, and have to say this is definitely up there among the best reads.

Its practical, has incredible insightful knowledge and, is coherent and human enough to understand whatever your level. It will take you step by step into developing your own psychic ability without fear but with a huge understanding of what you are doing.

This book reaches the parts others 'psychic developmental' books can't reach !!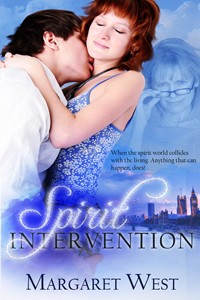 Heat Level: sweet
Rating: 4 books
Reviewed by Fennel

When the spirit world collides with the living, anything that can happen, does.

Patricia is a mother who refuses to stay out of her daughter's life, even when she dies.

Sally can hear her mother, but she can't see her spirit. At first she welcomes her return, but as the month's progress she starts to feel increasingly peeved by her mother's constant interference in her life.

When she tells a few white lies on a dating application form, Patricia sets out to prove lies are not a foundation for a healthy relationship. She sabotages Sally's relationship with Emilio to prove her point, not realizing her interference has caused a catastrophic chain reaction in the spirit world.

It is now down to the spirit of Emilio's grandmother to put things right. But has Patricia caused too much damage for her to mend?

Have you ever tried to laugh through clenched teeth? Do you love great characters, plenty of laughs and the 'meddling mother' routine? Then this is the book for you.

They say 'the road to hell is paved with good intentions' and the combination of Sally's economy with the truth and her mother's interference ensure that Sally and Emilio's path to romance is strewn with house-sized boulders.

Sally can 'hear' her late mother, Patricia, but can't see her. Emilio can 'see' Sally's mother as well as hear her.

As far as Patricia is concerned it is a mother's duty to protect her daughter, but in doing so she breaks too many karmic rules and it takes the intervention of Emilio's treasured Grandmother to set Patricia right.

Ms. West sets her scenes with a clarity that takes few words, and populated them with her hero, Emilio, and her heroine, Sally. Both characters are flawed and have lessons to face, and yet both endear themselves to the reader. I ground my teeth at Patricia's antics and yes, you've guessed it, laughed at the same time.

If I had any nits with this story, one was with Emilio's character. He's in a position of authority at work and yet seems to lack self-confidence at moments when he should have known exactly what to do. Another involved Patricia's constant meddling in her daughter's affair. Hence the gritted teeth! And yet, the title says it all!

What I particularly liked about Spirit Intervention is that in this instance the paranormal element of the story did not equate to darkness and evil. Just a mother's love unleashed.

Ms. West knows her subject and it shows in her writing. If you enjoy paranormal, humour and a gentle romance, then you have all three in this story.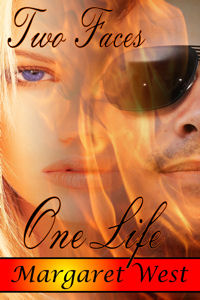 Two Faces One Life
Reviewed by Diana Coyle of Night Owl Romance
Ms. West's Two Faces One Life is a short story about a girl who have burn marks on her face and had lost her once waist length hair and a man who lost his eyesight from a motorcycle accident. Though they both have physical deficiencies, these differences will lead them both on the right path of love and understanding. One small talk in the park and everything turned out just the way they want it.
Ms. West writes from her heart and truly knows how to make other people feel important and beautiful in spite of their differences both physically and emotionally. After you've read her story, you will surely ask for more.
Welcome everyone to this week's reviewer showcase. I picked a short story this week to discuss and I felt it contained a very powerful message even though it was only a few pages in length.
Ms. West wrote with such emotion I felt as if I was looking at the world through Sarah and Ted's eyes. Each one was carrying the weight of the world on their shoulders, but both handled their feelings and emotions quite differently. This story made me walk away analyzing things differently in my own life and all the people that are near and dear to me.
Because of Sarah and Ted, you realize that no matter how hard life's struggles may be for you, there is always someone out there willing to listen and shed some light onto what might be the dimmest of circumstances for you. You can't give up because you just never know who is depending on you to get them through their difficult time. I'm new to Ms. West's writing, but after reading this story I eagerly look forward to seeing what other stories she may have available.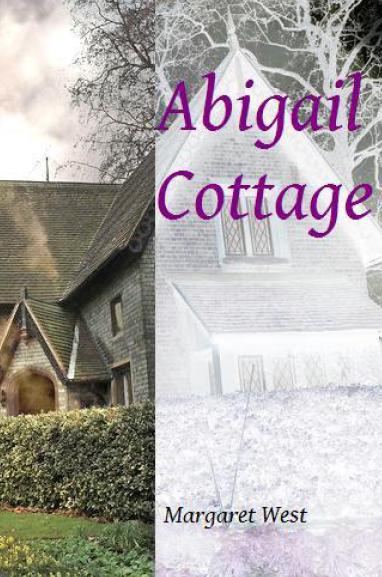 Available on kindle/Ebook or print. Please state which one you would like as the price differs. With the print book I will send you a signed book plate for your novel.
A dark paranormal that takes you to the depths of despair then back up to triumph.
After receiving an inheritance of a cottage in Ireland and discovering she is adopted, Abbey Newlands goes in search of her real family. But before she arrives at the cottage, a chain of events and a whirlwind romance leaves her deeply in love with Shaun O'Donnell. When Shaun's mother, Aveline, reveals a dark twist of fate that mean they can never be together, Abbey flees to the cottage alone, pregnant and unaware that it is cursed by two demons who reside there. One who will love her, and one who wants her dead. Only Shaun has the power to save them both and lock the demons away behind Hell's door.
Buy Abigail Cottage

Abigail Cottage
Reviewed by Nora Barteau
http://norachipleybarteau.blogspot.com/

Abigail Cottage is about two very different love stories, one very dark and the other full of purity and light. Both circled around Abbey and the curse that has been in her family's blood line for centuries. A curse, if not broken would have meant the downfall of all mankind. And it entered Abbey's life in the form of a very old gold coin accompanied by a letter notifying her she had inherited a cottage from someone in her family. A cottage she would later find was the portal to evil, shadows that she feared her entire life, and an entity that had been formed out of resentment for the love he lost centuries before. Justin was determined he would have his beloved Abigail regardless of how many souls of babies that were lost. Justin, once a handsome man, had become a grotesque demon who had to use magic to hold the illusion of the self he once was, and to allow Abigail Cottage to appear in a form other than the deteriorating building it was in order to appeal to Abbey to dwell in it. Once she inhabited the cottage, events were in play and it would take the love of a child and of a true love to break the curse forever. The true love would come from a man Abbey met at the airport after she arrived in Ireland where her inheritance was located. Shaun was smitten and it was love at first sight. They spent one beautiful night together in his mother's house. A night that would set into motion, a miracle, a betrayal, a tragedy, a revelation, and a light which was driven by a love so powerful, no evil could survive it.

This book was outside of the genre I usually read most often, although still paranormal, it was a story that was not about vampires or werewolves. Knowing this, I wasn't sure it would hold my interest even though I do like to read various different reads, I was not real familiar with Margaret's work. So, in the beginning I found it to be a bit 'slow' going. After sticking it out, and continuing with the story, I soon realized why it started the way it had. The author had to explain a bit of the history of the story in order for it to make sense, otherwise, the reader would be lost throughout the entire book.

I found Abigail Cottage to be a very well written book. At times I found the 'accents' a bit hard to understand but not to the point. I didn't know what was being said. A few times I felt sorry for the demon in the story because all he wanted was the true love he thought he once had, no matter the cost. This book made me smile, discouraged, anxious, sad and unsure up to the very last page. This book has peeked my interest to check other works by Margaret. I feel this book can be enjoyed by all no matter the genre they are used to reading because it contains a little bit of everything. I thoroughly enjoyed it and I plan on reading more of Margaret West's work. I give this book four stars.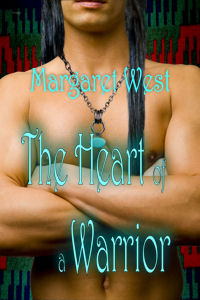 Buy The heart of a Warrior
Reviewer
www.examiner.com Ginger Simpson
The Heart of a Warrior - Margaret West
Beliefs and backgrounds collide in Margaret West's The Heart of a Warrior. A staunch nurse from England arrives to visit her father, a storekeeper who depends on customers from the adjoining Indian reservation.
Belinda is in the middle of a nasty divorce and needs some time away, but instead of the vacation she expected, she discovers her father in the hospital and his business being run by some scummy dude named Jez. His wife can compete for the title, "wicked witch of the west" and probably win.
With Jez and his wife living above the store, the only place left for Belinda is a rundown storage shed out back. The Ritz it isn't. Not even close. And the pleasant greeting she hoped her surprised visit would bring is anything but. The plot thickens when she meets the handsome Navajo chief, Yuma, who isn't quite sure how to take this spicy British woman. Off course, there's romantic interest, but his mother isn't happy with the prospect of him taking a wife outside the tribe. There are cultural traditions to honor, and Belinda doesn't fit in despite her growing feelings for Yuma and his apparent attraction to her.
Ms. West's writing style is crisp, fresh and interesting. There isn't one spot in this novel you can find where you'll want to put it down and take a break. Although the romance and suspense of what is looming in the pages ahead are enough to keep your interest, you might even find yourself chuckling at some of her clever exchanges between Belinda and Yuma. Especially funny is the part where she gives him a carved horse, thinking it a befitting gift, and he takes it as an insult. She then tells him she should have given him a donkey because he's being an ass. Kudos to Ms. West for a novel well written and for gaining a definite fan.