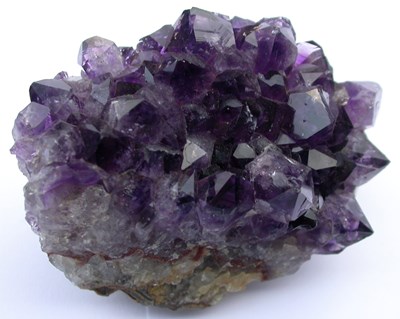 AMETHYST.
Amethyst is known as one of the master Crystals when it comes to spirituality. It is a powerful protection stone creating a bubble around the carrier, warding off psychic attacks and negative energy. Physically, Amethyst boosts production of hormones and tunes the endocrine system and metabolism. It strengthens the cleansing and eliminating organs as well as the immune system, and is an excellent blood cleanser. It relieves physical, emotional and psychological pain or stress and is a very good healing crystal for most illnesses. it's a wonderful combination of healing and calming. It is also seen as the sobering stone, very good for any and all forms of addiction, from alcoholism to anorexia, if you suffer with either of these, or love someone who does, a good sized piece of Amethyst under their bed, at the head end will work while they sleep . It may help with stress headaches, so maybe think about buying a tumbled crystal for extra help. Take the tumbled crystal and rub gently on your temples for a couple of minutes to dissolve the pain. It is the perfect stone for meditation and is also the perfect calming antidote for rage and anger. It creates a protective energy field around its carrier, assisting in transmuting negative energies within the wearer and protecting them from external negative energies. Amethyst assists in encouraging our growth towards our higher potential and spiritual expansion. It also brings peace, insight and calmness, and helps insomnia sufferers sleep more easily.
To buy tumbled or raw crystals, please do browse our facebook page
Bespoke Amethyst Choker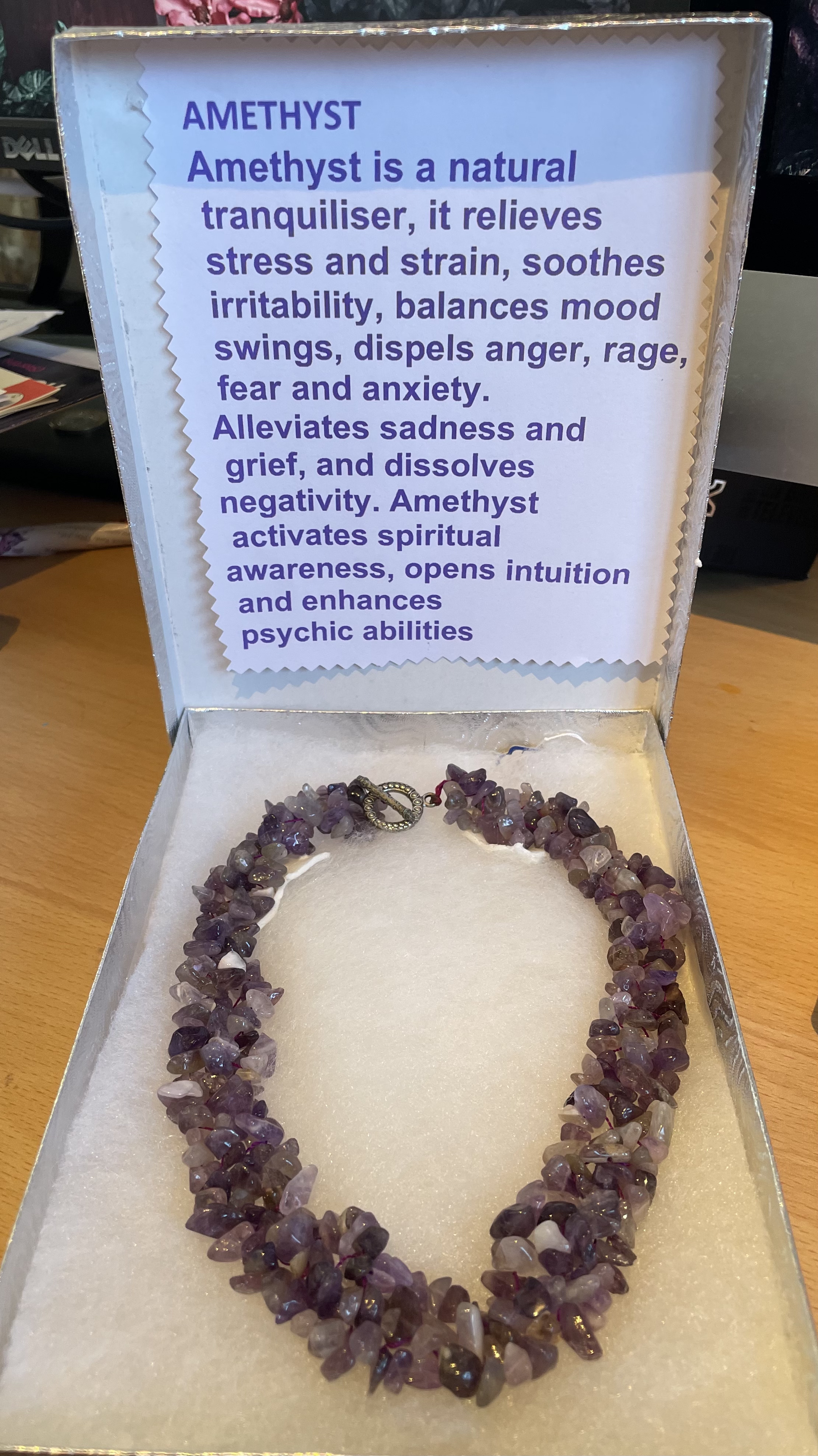 £ 38
Beautiful handmade bespoke Amethyst choker. No two are ever the same so it will be unique to the wearer.
Amethyst crystal Bangle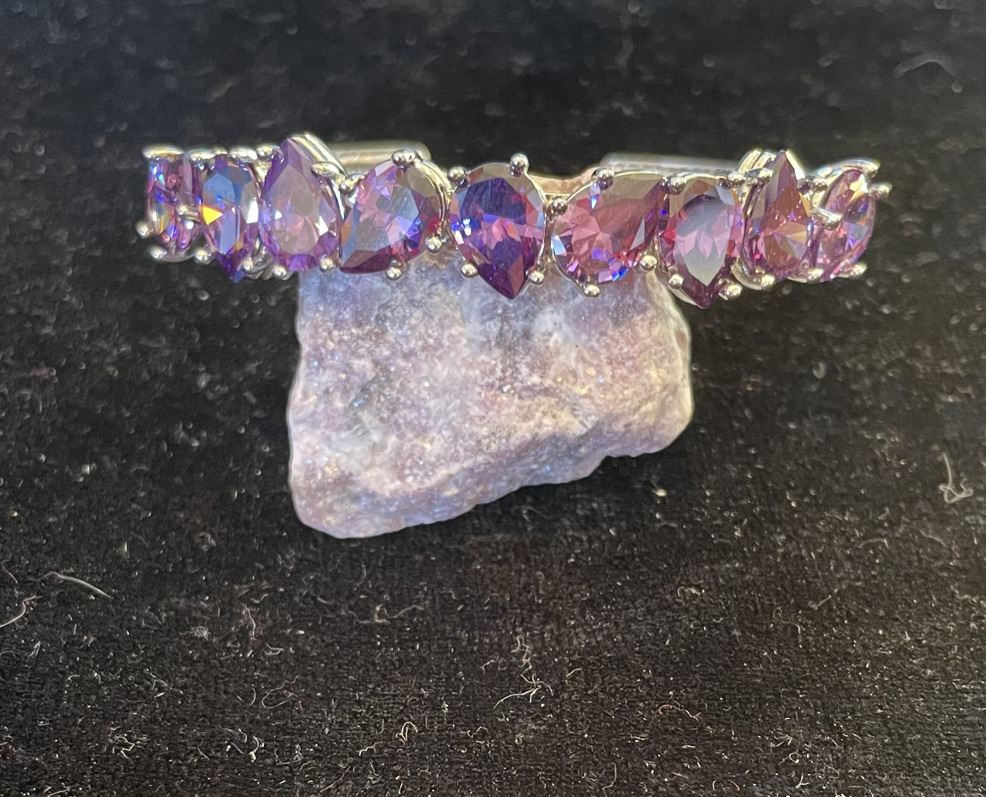 £ 25
Exquisite Amethyst crystal half bangle. This photograph does not catch its sparkling beauty. Very elegant. Silver plated.
Raw Amethyst Pendant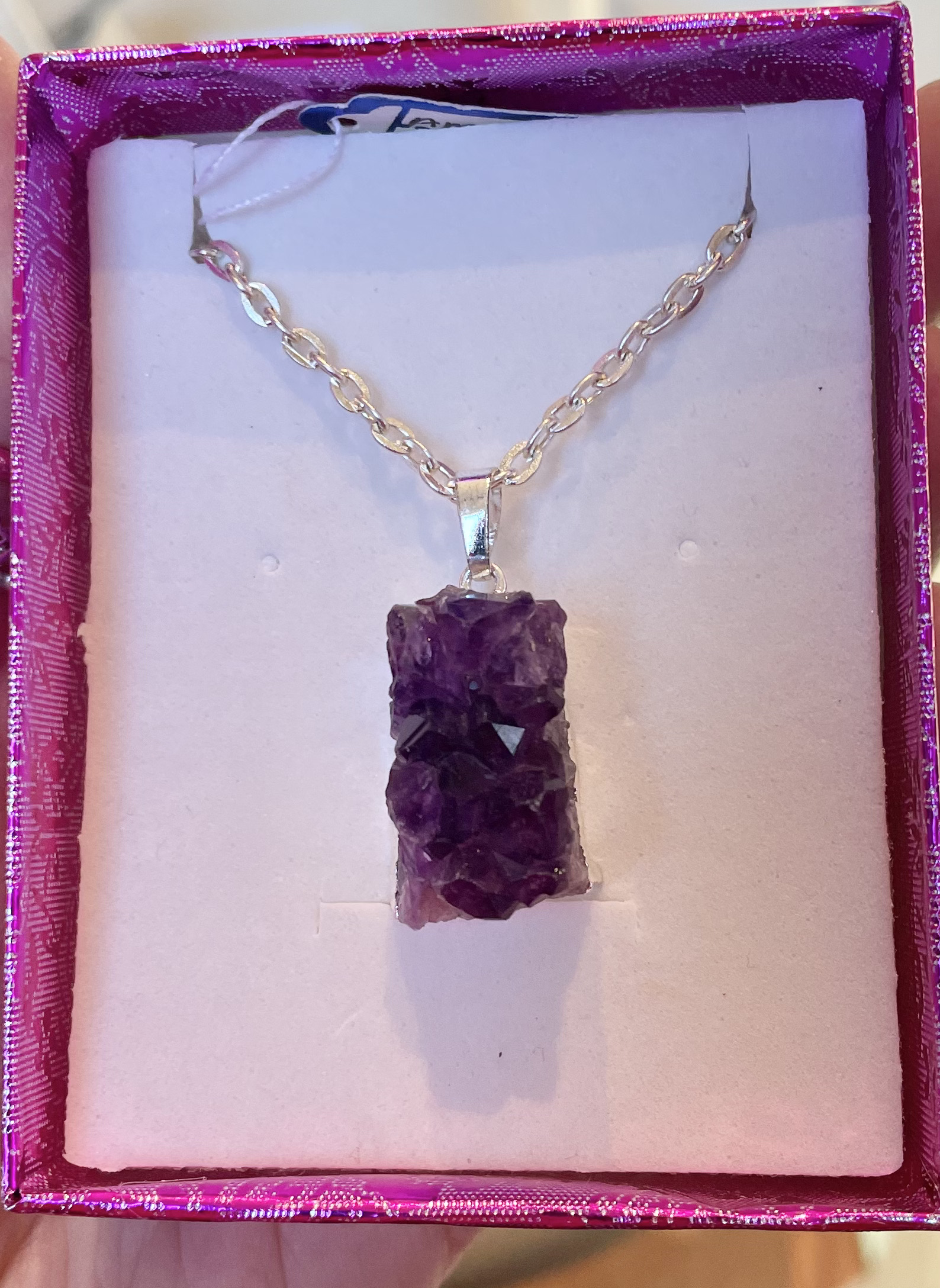 £ 30
Silver plated case and chain. This is a Small grade AA amethyst crystal. One inch in length. Superb grade.
Healing hands Pendant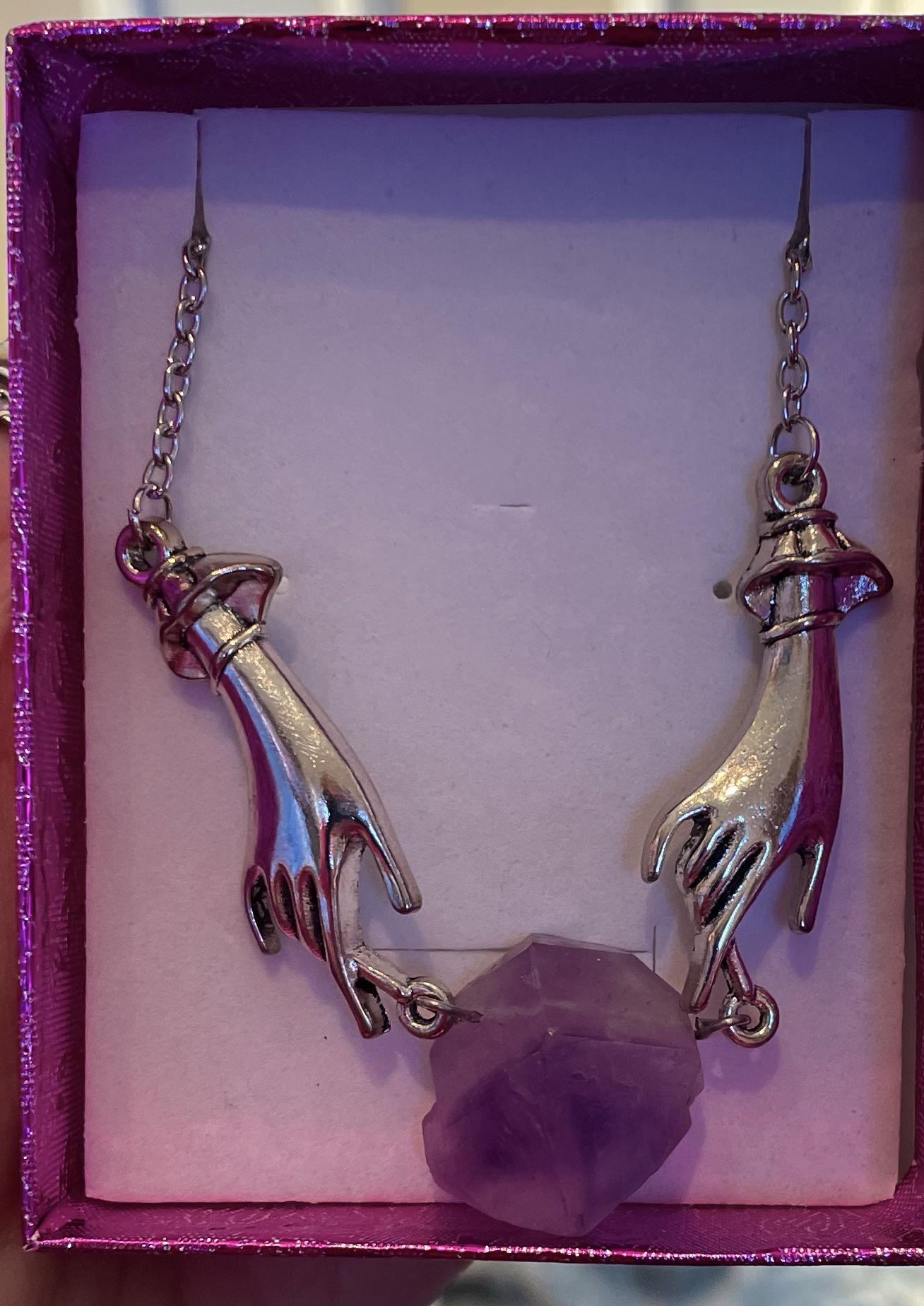 £ 25
Healing hands pendant. Silver plated with a amethyst raw nugget.
Bracelets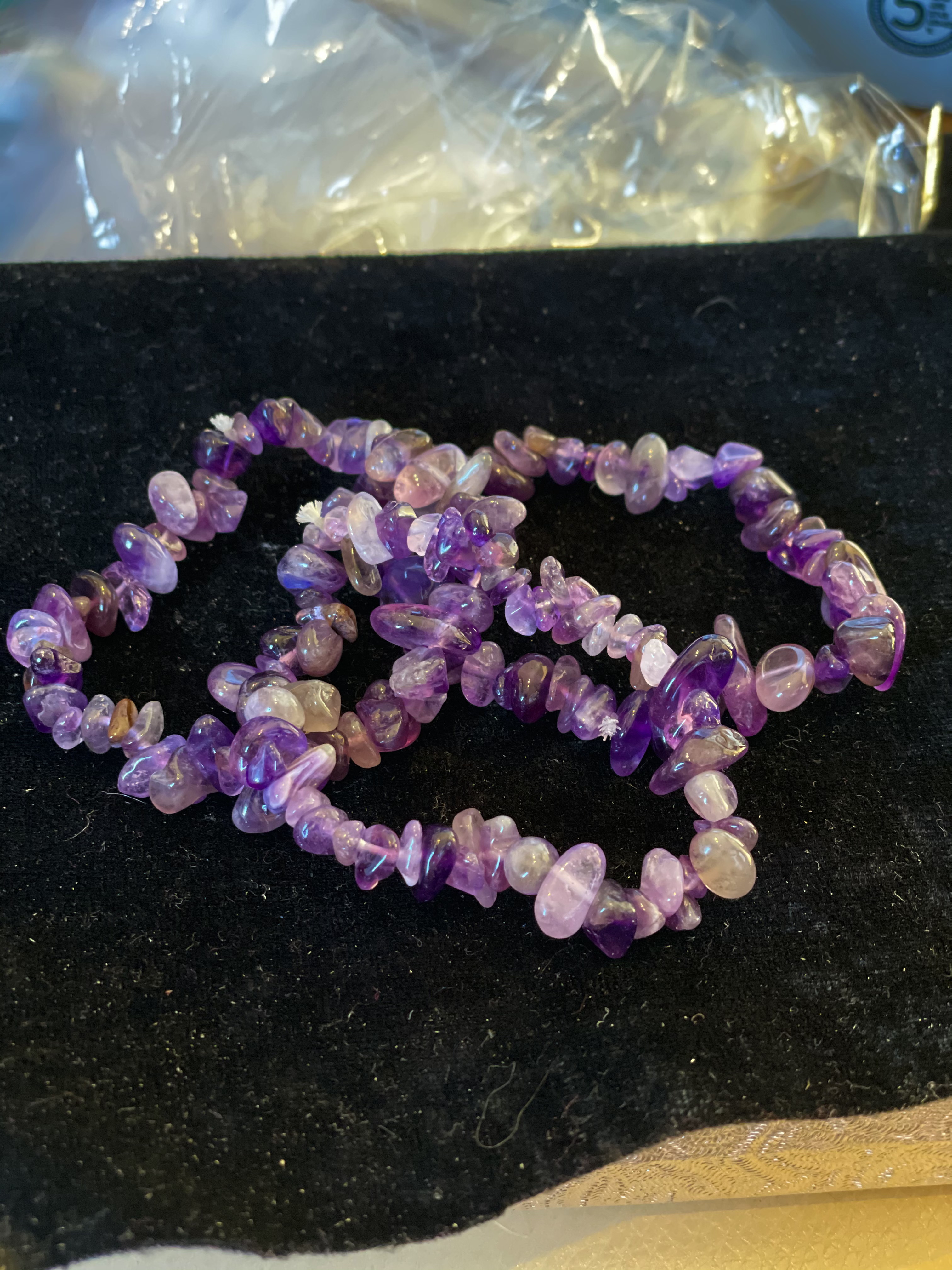 £ 15
One size fits all. Medium sized polished amethyst crystals
Amethyst Bead bracelets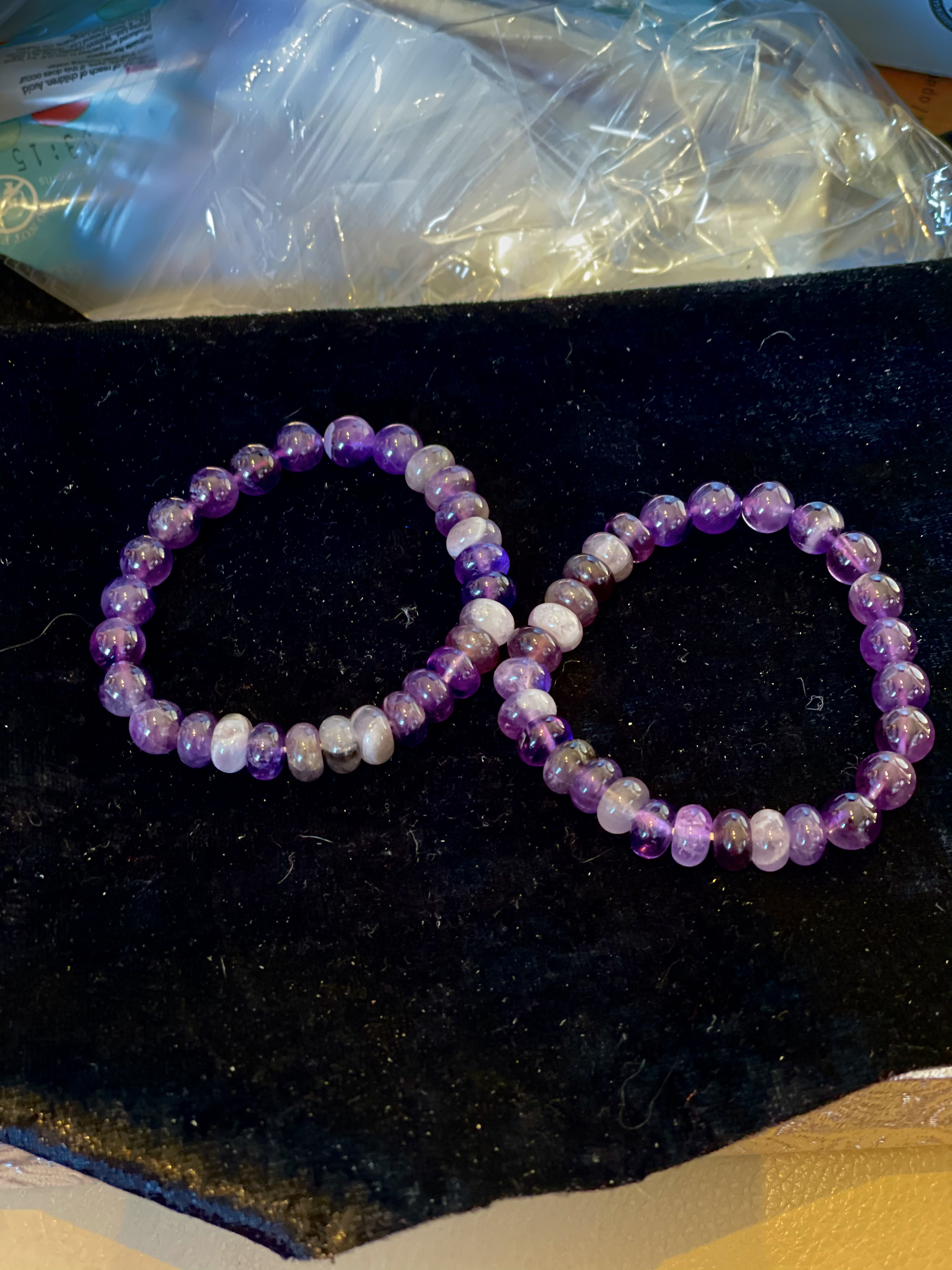 £ 18
Polished medium size bead bracelet. One size fits all
Tree of life bracelet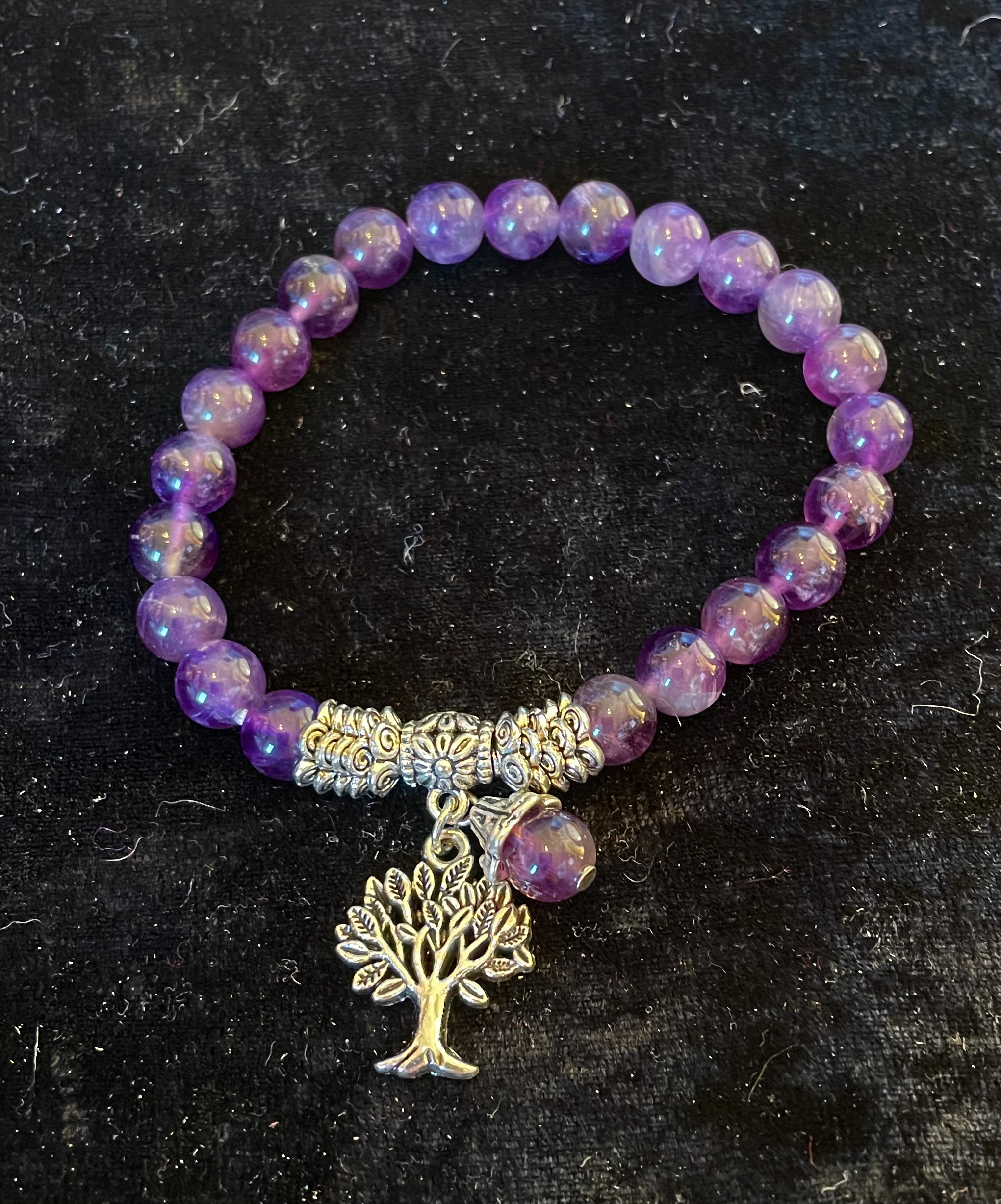 £ 18
Beautiful bead bracelet with charm and tree of life symbolic add on.
Amethyst Cave Pendant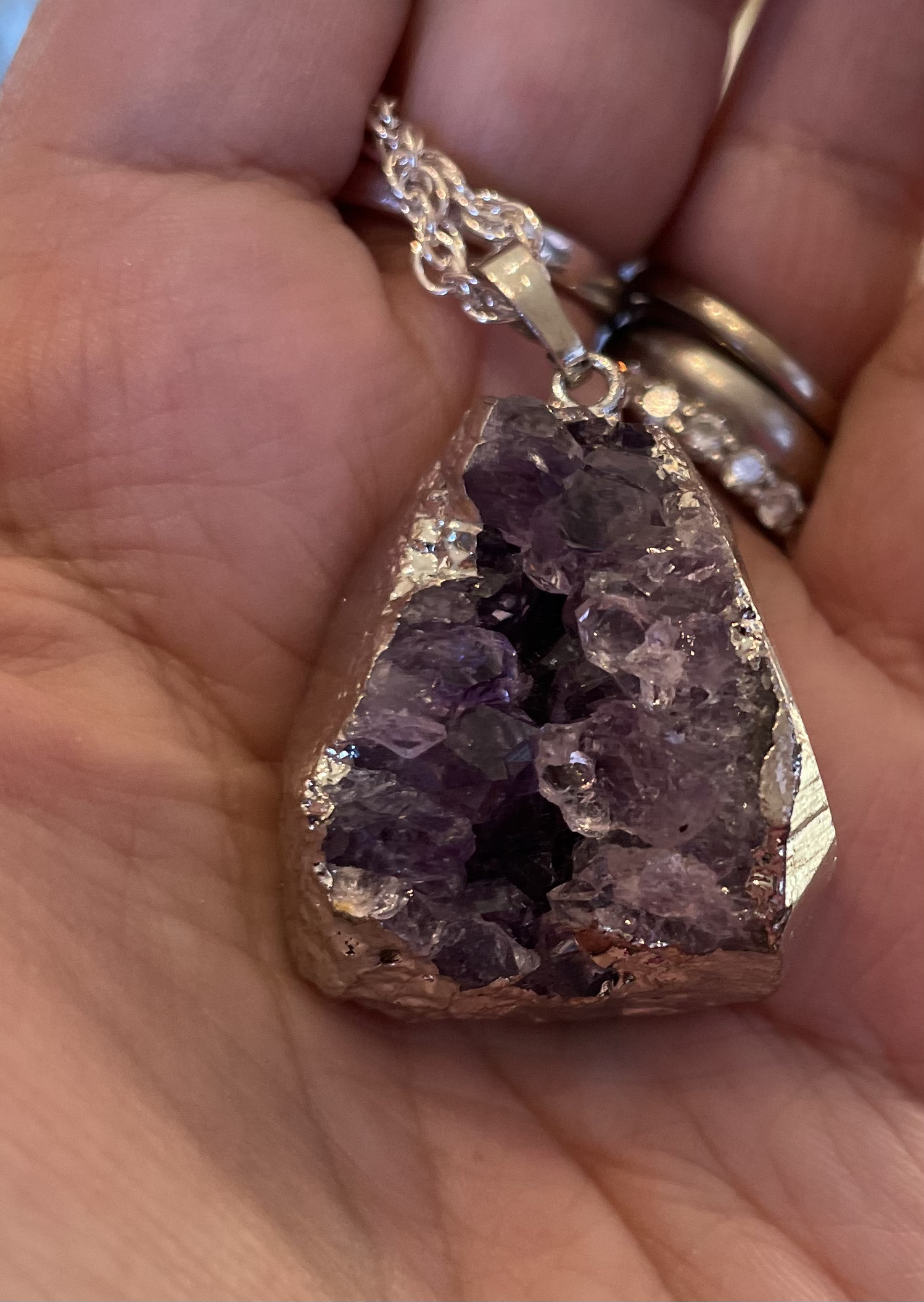 £ 35
Stunning amethyst cave pendant. A natural formation, with stunning detail. Silver plated case and Chain.
Chevron Amethyst pendant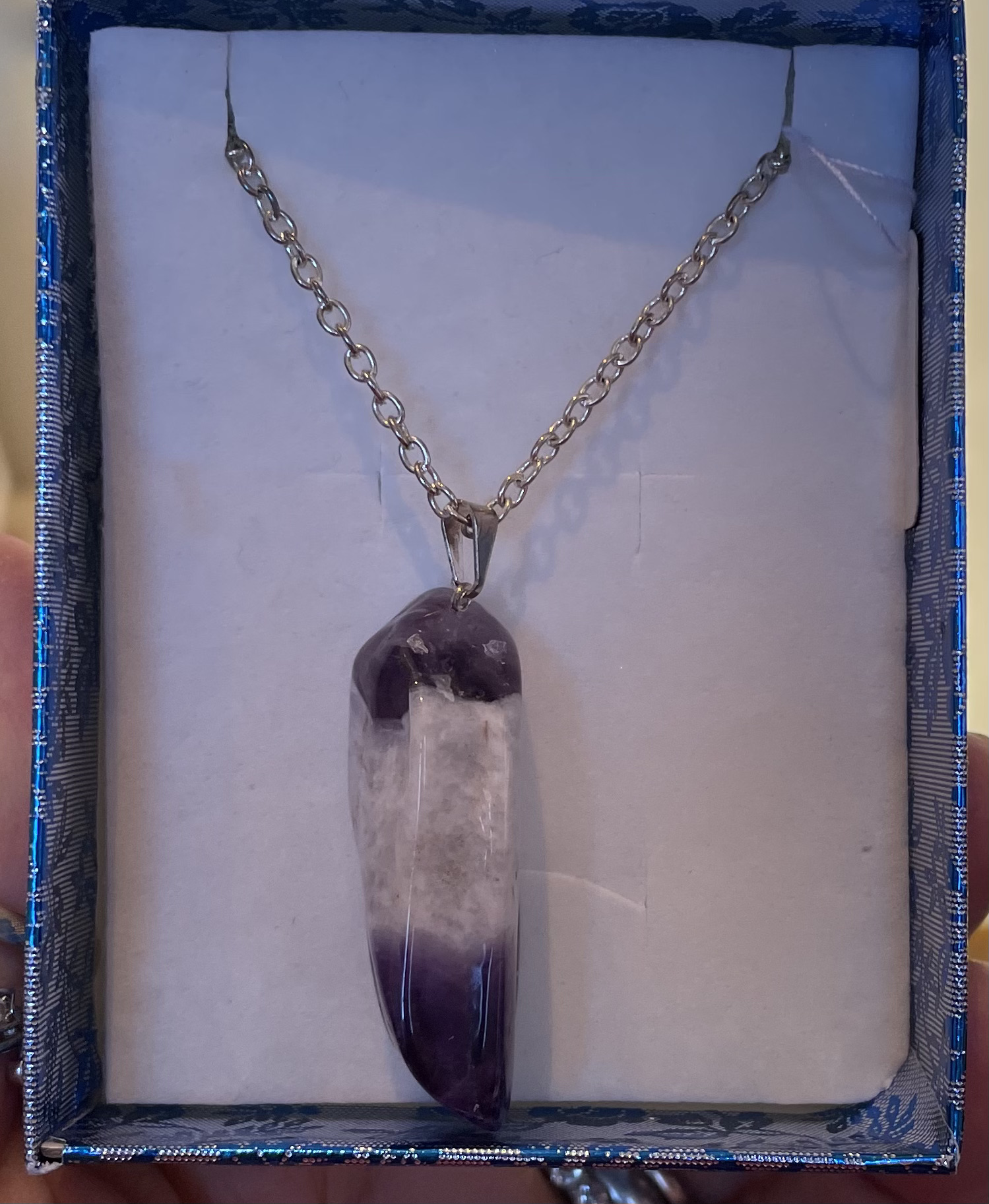 £ 25
Stunning chevron Amethyst. Not too available nowadays and this is a great specimen. Silver plated chain
Amethyst crystal ring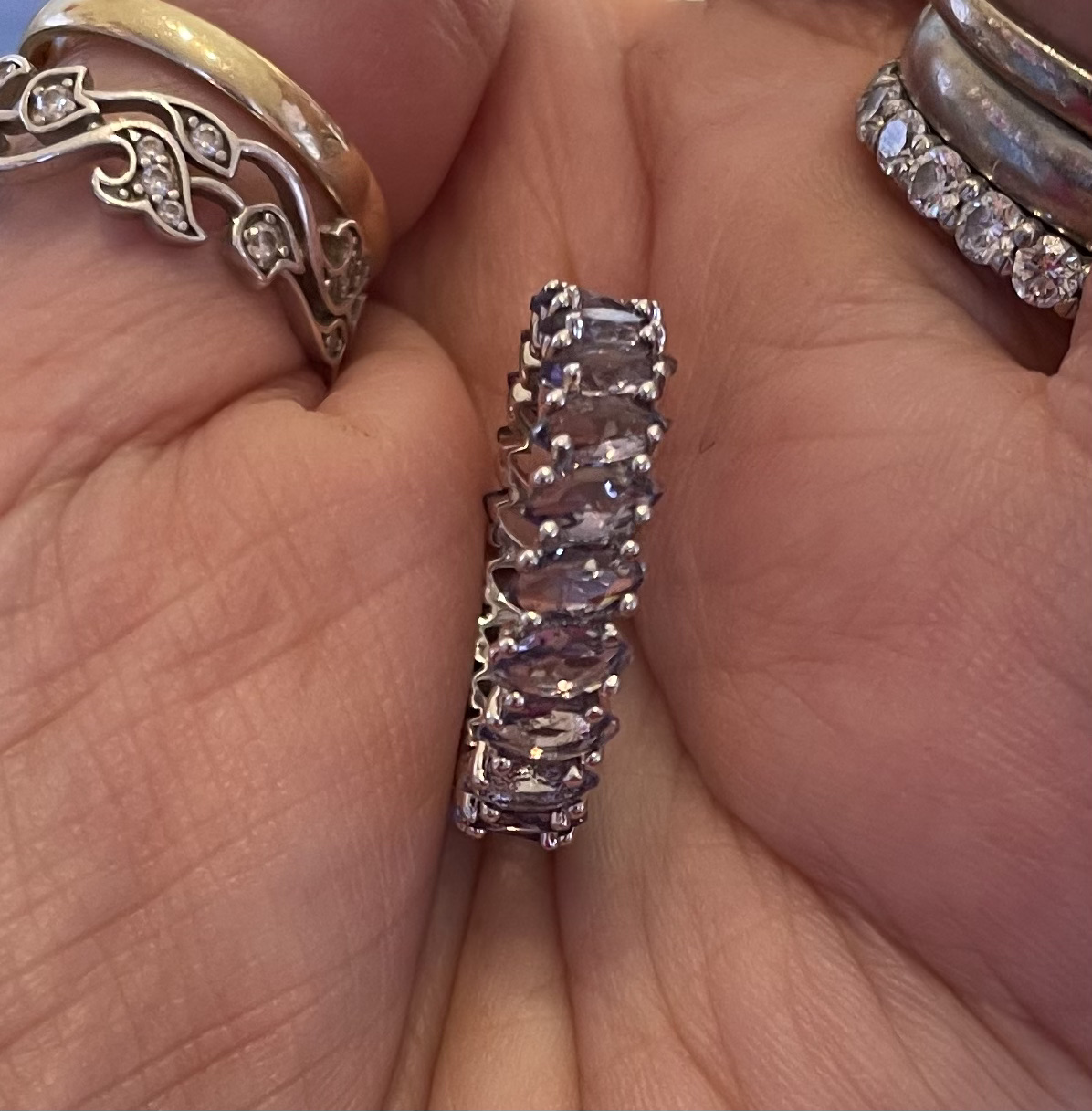 £ 22
Size 8 ring. Eternity band of crystal amethyst. Silver plated
Clear quartz and amethyst bracelet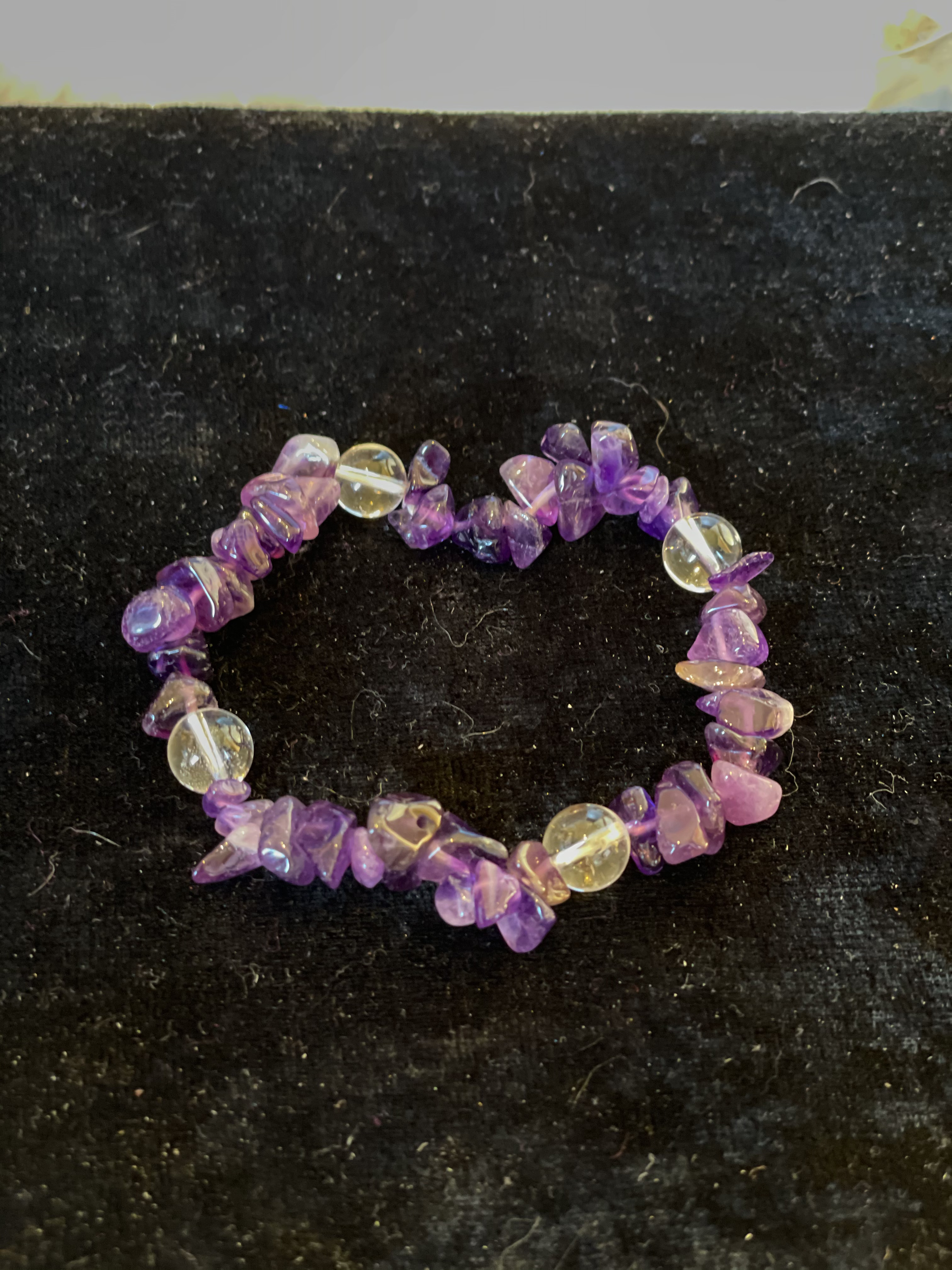 £ 18
the healing energy of amethyst amplified by the sphere quartz. One size fits all.
1/Amethyst Nugget pendant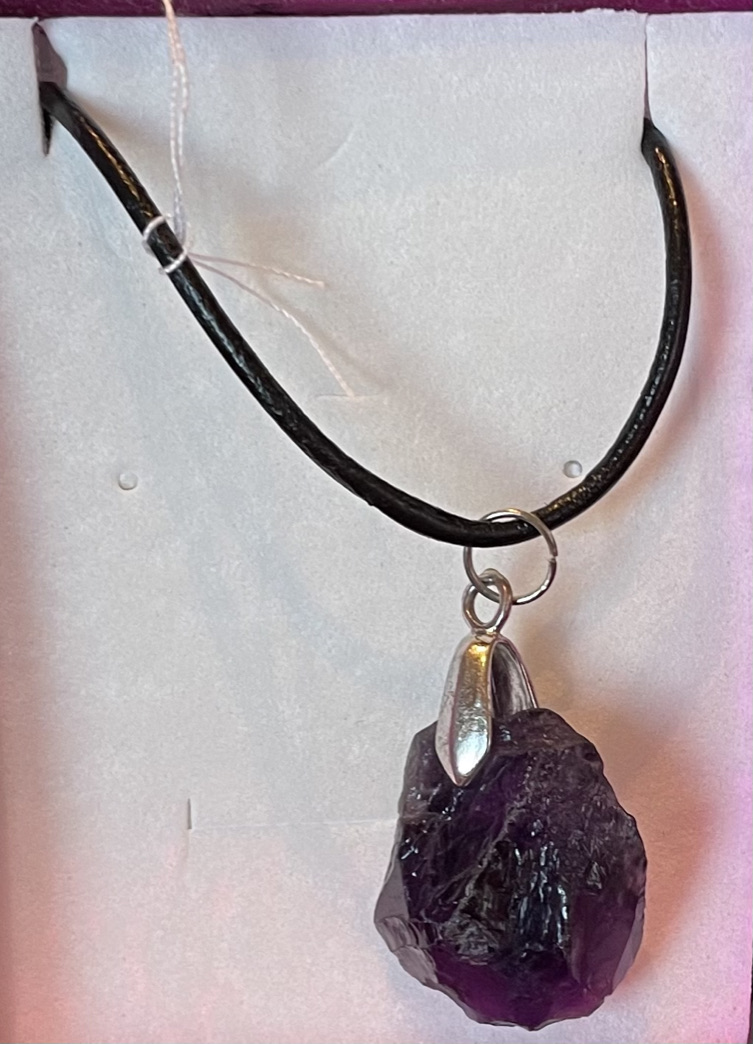 £ 22
Unisex Slightly polished Amethyst nugget. Black cord necklace or I can put it on a purple ribbon chain.
2/ Amethyst Nugget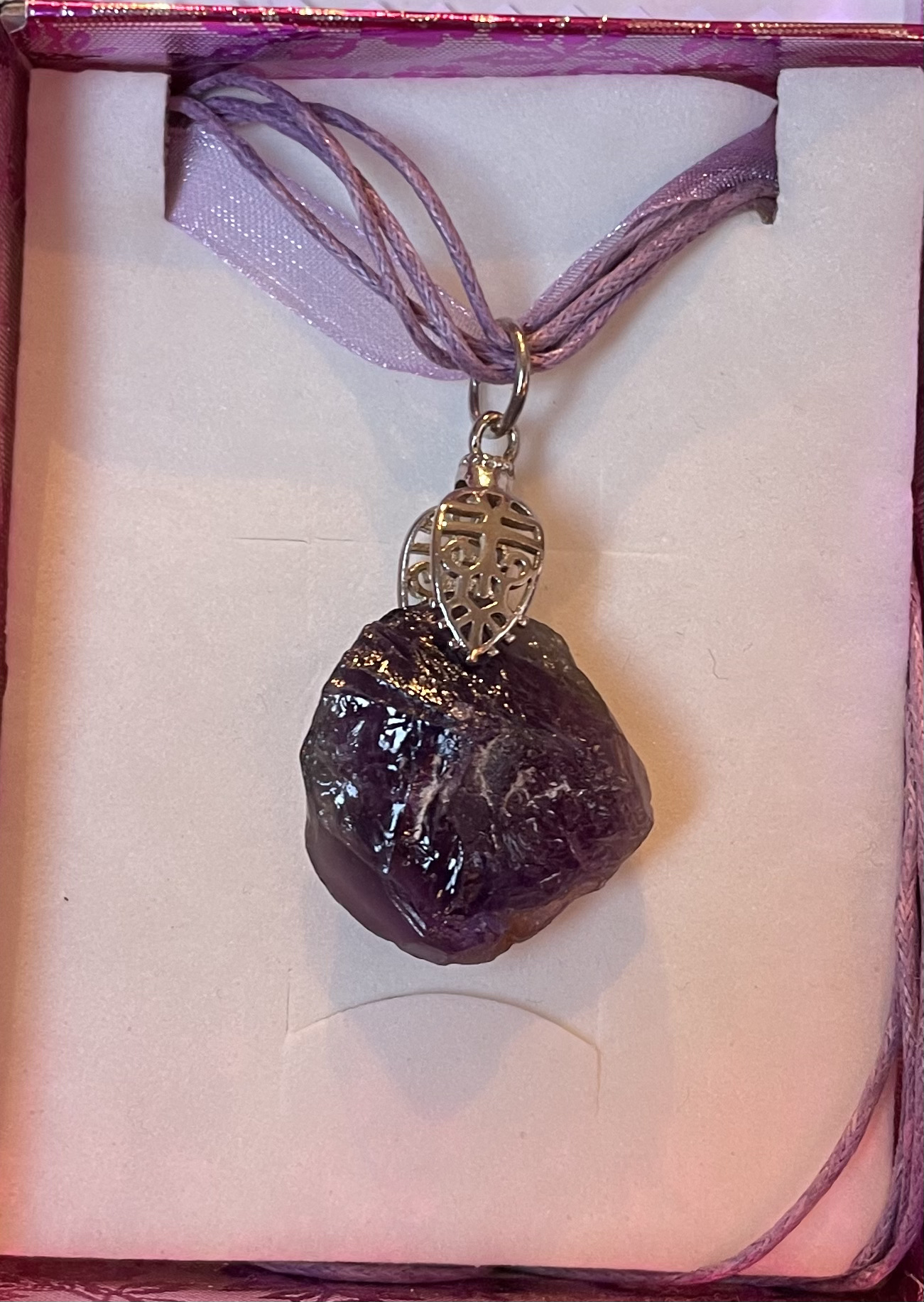 £ 22
AA grade, amethyst nugget on a purple ribbon chain.
Amethyst Puff Heart Pendant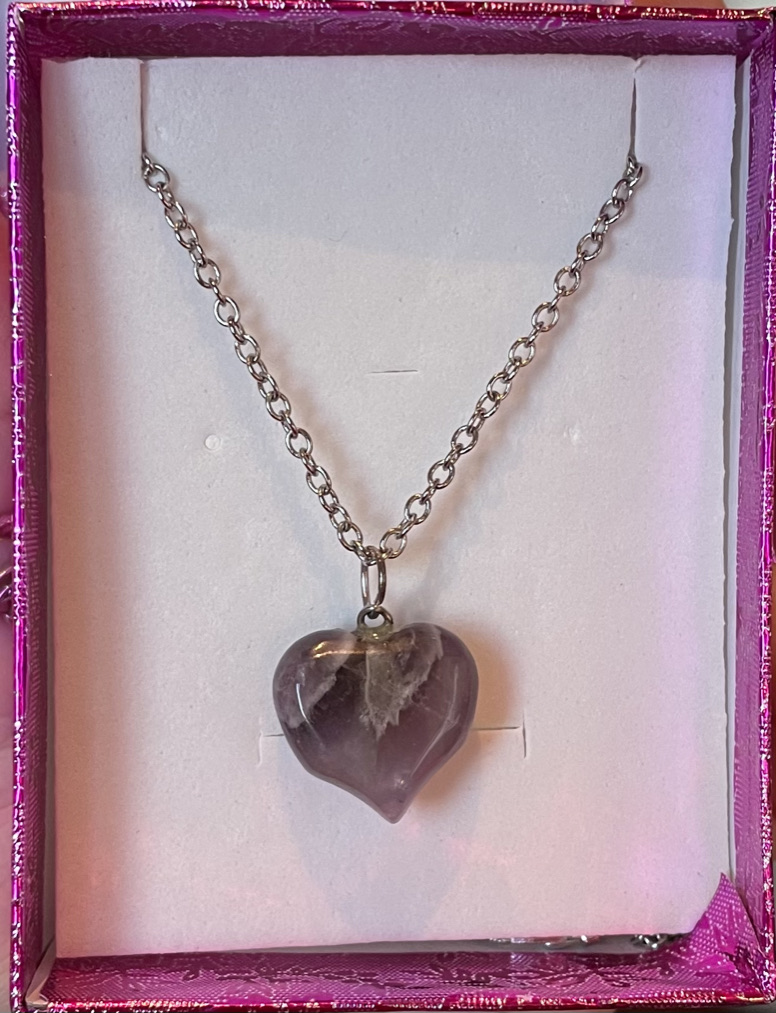 £ 22
Small puff heart Amethyst pendant. Silver plated
3/Amethyst Nugget pendant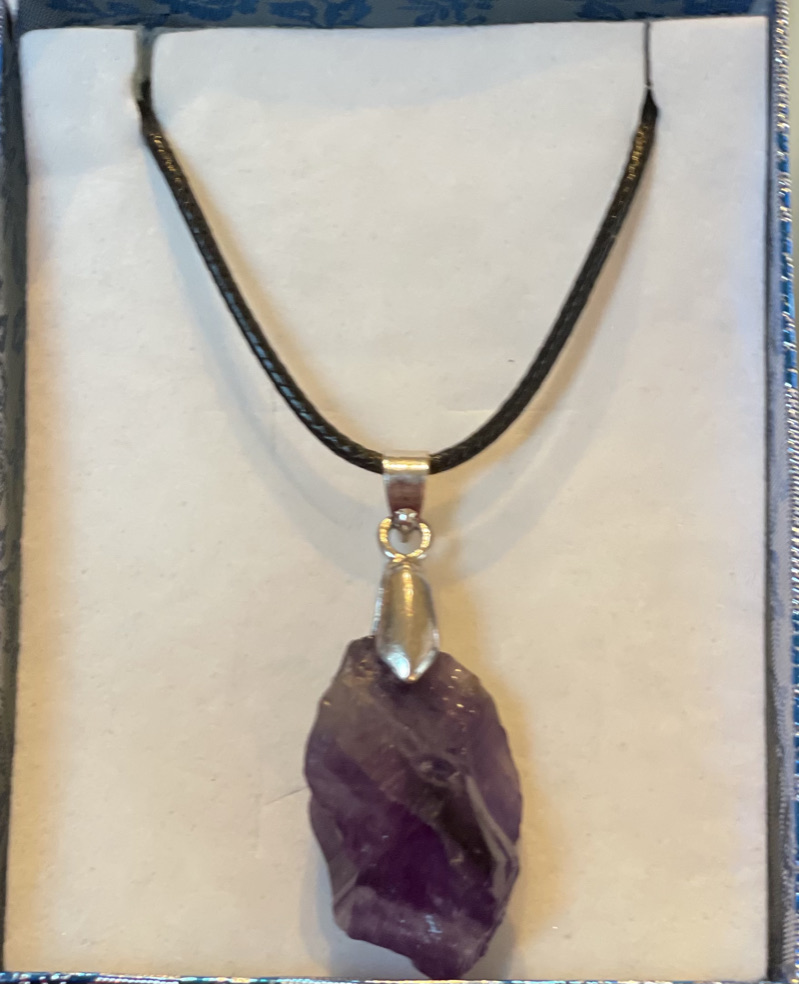 £ 22
Unisex pendant. Black cord chain.
Polished Amethyst Pendant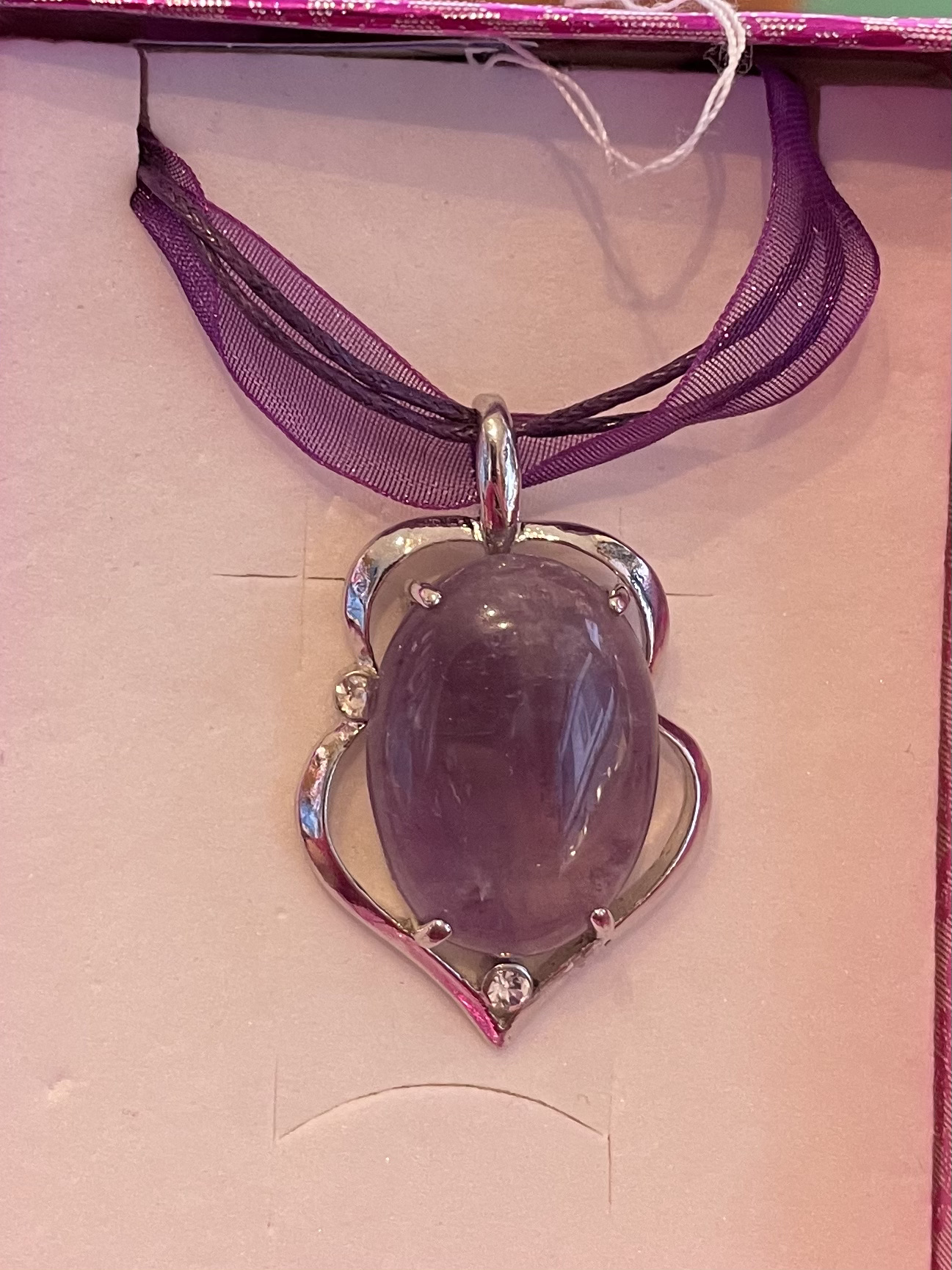 £ 22
Metal case with a AA grade Amethyst cabochon. Purple ribbon chain
Amethyst cluster pendant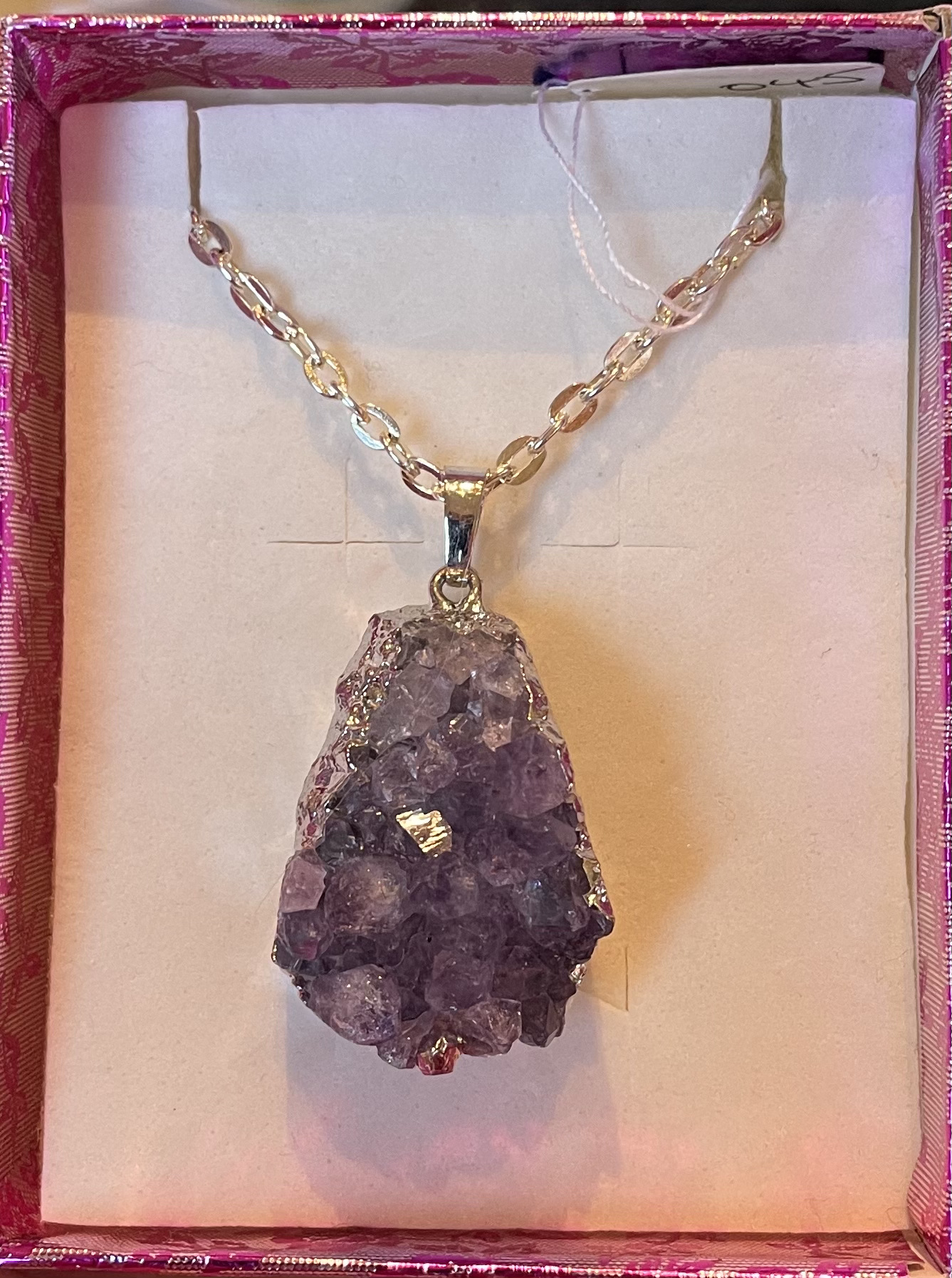 £ 27
Silver plated casing. Raw amethyst AA grade. Length of silver plated chain, is your choice.