No items come with the box. It can be purchased with the order , but the postal charge will be higher. Please contact us before you buy, so we can adjust the postage for you.
River wave Agate Pendant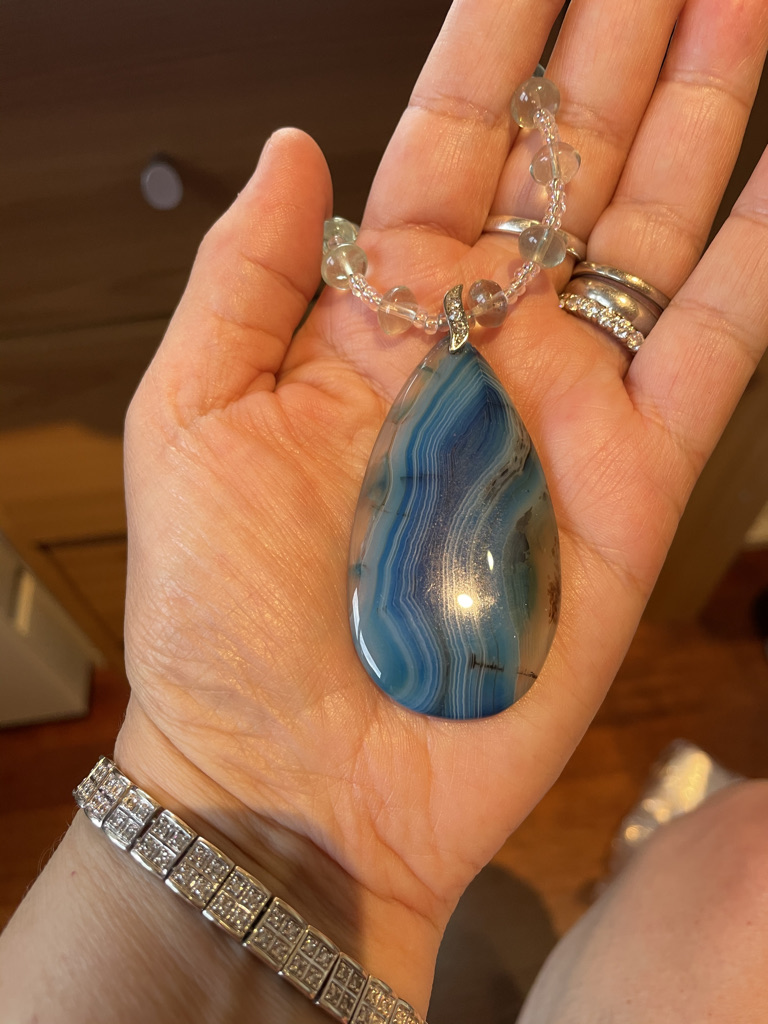 £ 25
Unique bespoke pendant. The river wave agate looks as if gentle waves are running through it. A beautiful crystal combined with the gentle healing of fluorite beads.
Rhodonite Necklace
£ 25
Rhodonite, bespoke necklace. Silver plated findings. Rhodonite is a stone of compassion, an emotional balancer that clears away emotional wounds and scars from the past, and that nurtures love. It stimulates, clears and activates the heart. ... Rhodonite aids in cases of emotional self-destruction, codependency and abuse. It encourages unselfish self-love and forgiveness.
Larvikite Pendant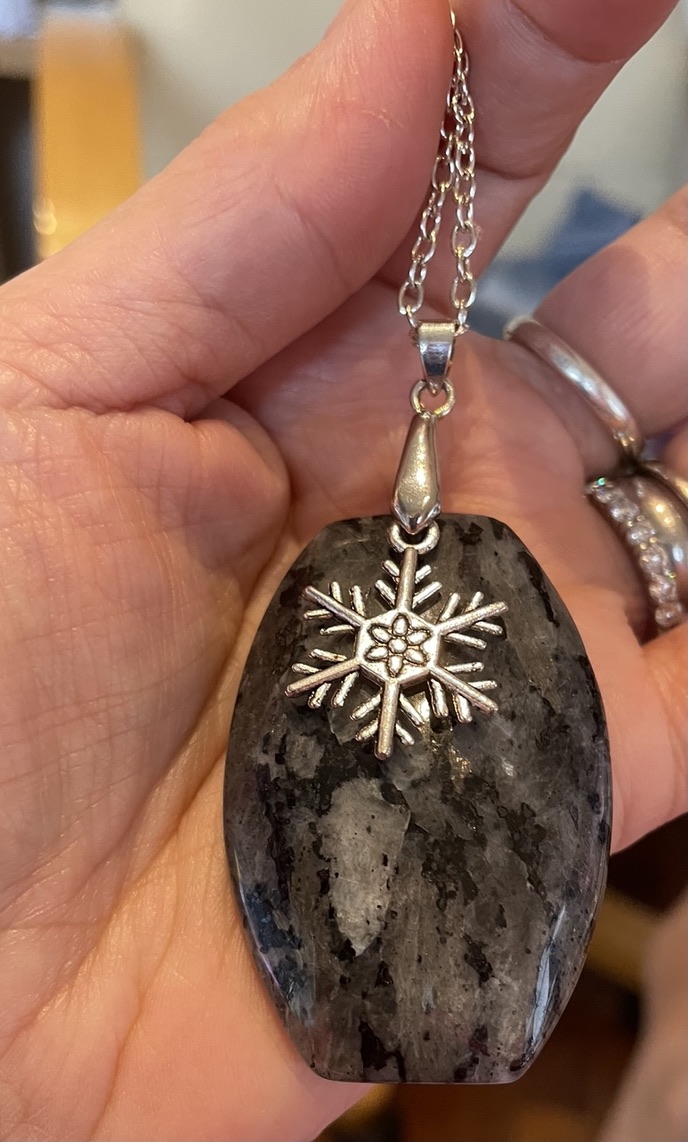 £ 25
The energies of this stone will protect you in your day to day activities, and it will offer protection even when you are asleep, or travelling. It is very cleansing to the body. It will remove the toxins and the negative energies from both the physical and etheric bodies. Anything that's harmful or no longer needed will be dispelled by this stone, and you will be able to enjoy a positive flow of energies.
Purple agate on a silk cord thread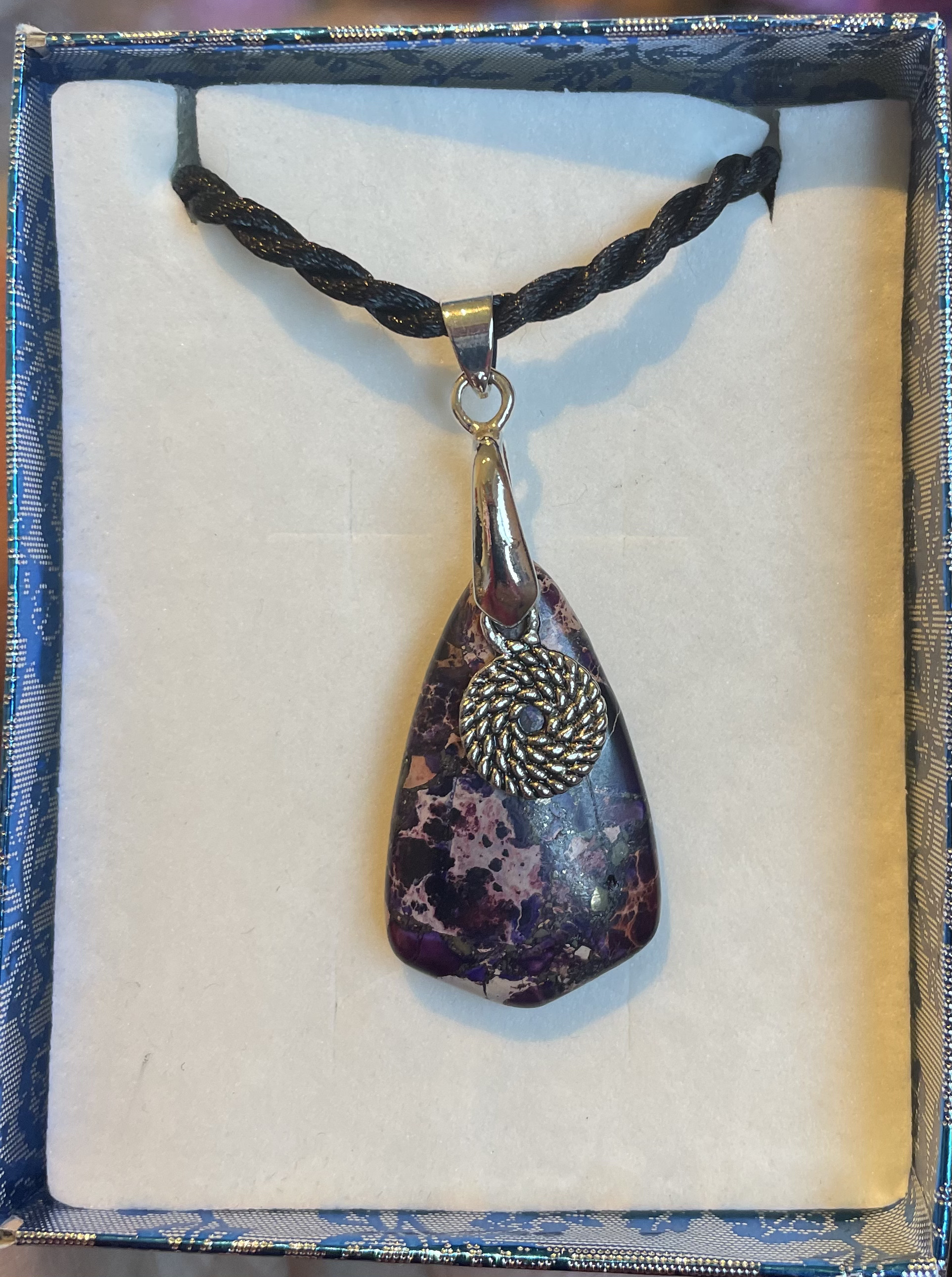 £ 25
A beautiful, delicate Agate pendant, on a silk thread with a silver plated charm.
Tree of life pendant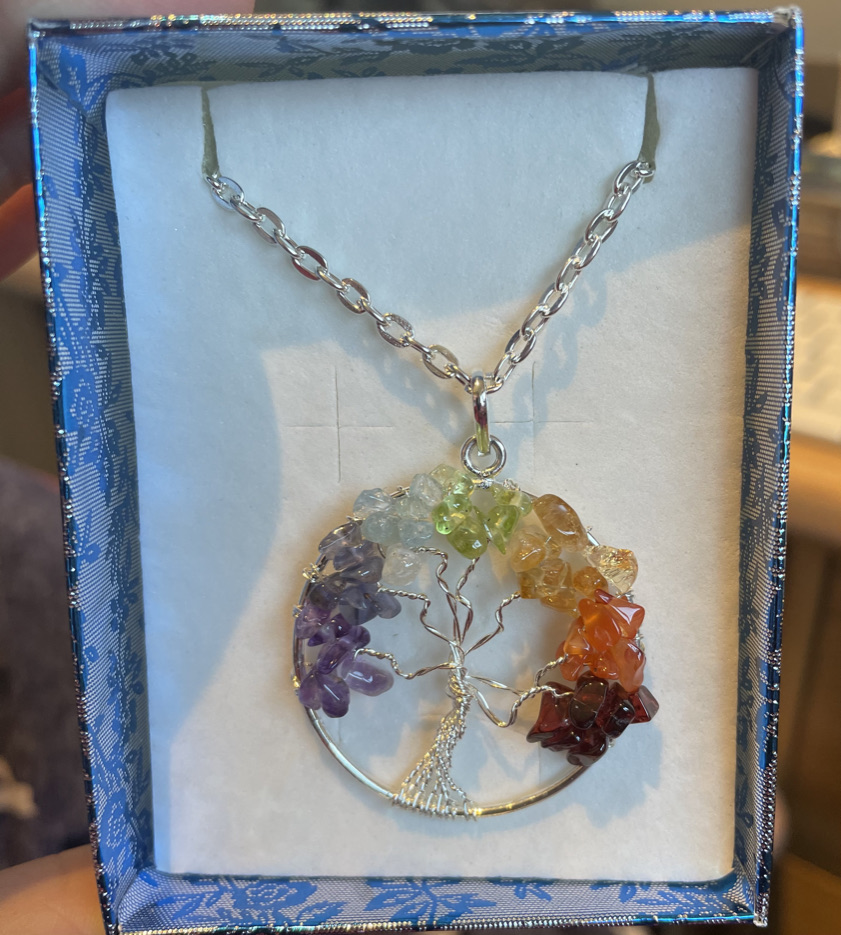 £ 25
Includes postage Beautifully made, tree of life chakra pendant. balance the body, whilst looking gorgeous.
Unisex black Onyx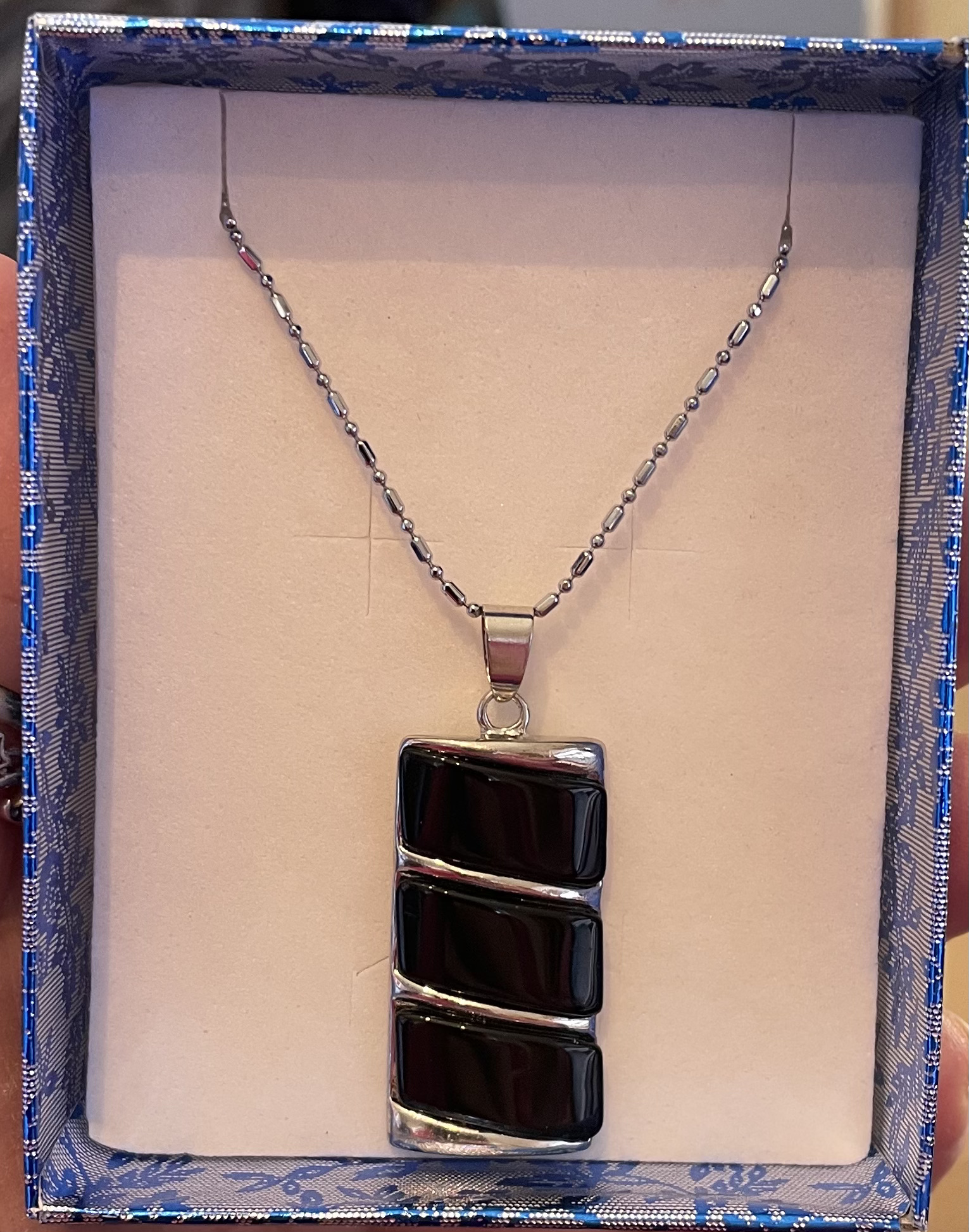 £ 25
Unisex black onyx on a silver plated chain. Please contact me if you wish to not have the box included in your order. The postage will go down. A powerful protection stone, Black Onyx absorbs and transforms negative energy, and helps to prevent the drain of personal energy. It aids the development of emotional and physical strength and stamina, especially when support is needed during times of stress, confusion or grief.
Crystal Pendant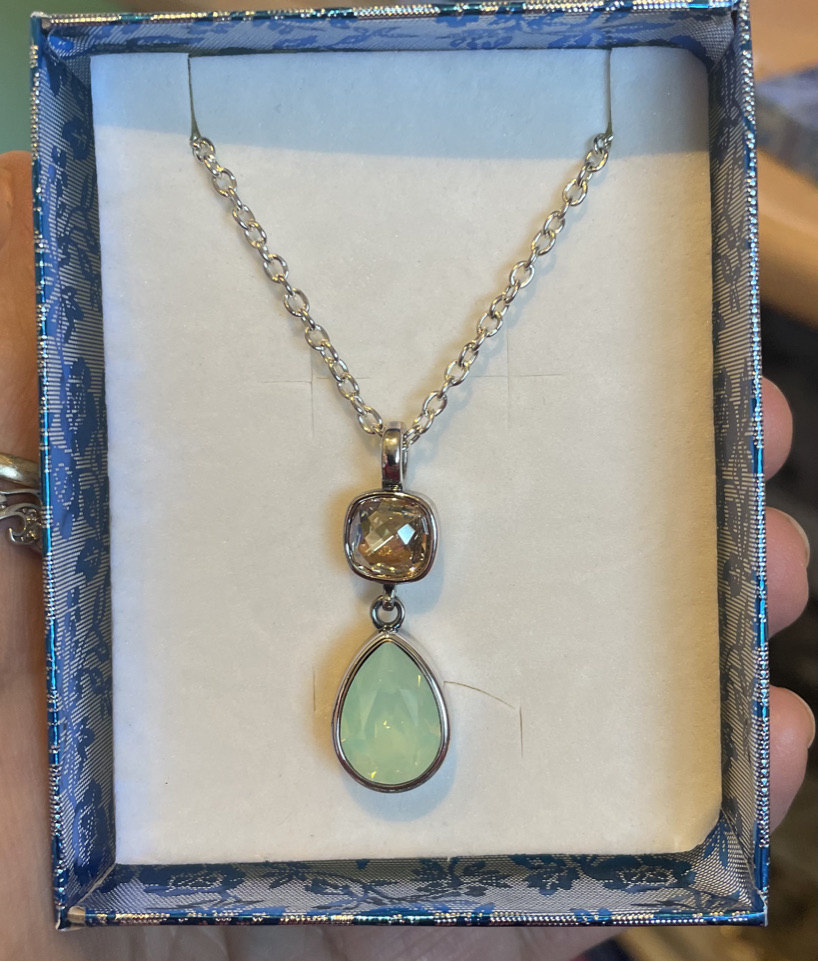 £ 22
Small delicate crystal pendant on a silver plated chain
Baryte and vanadinite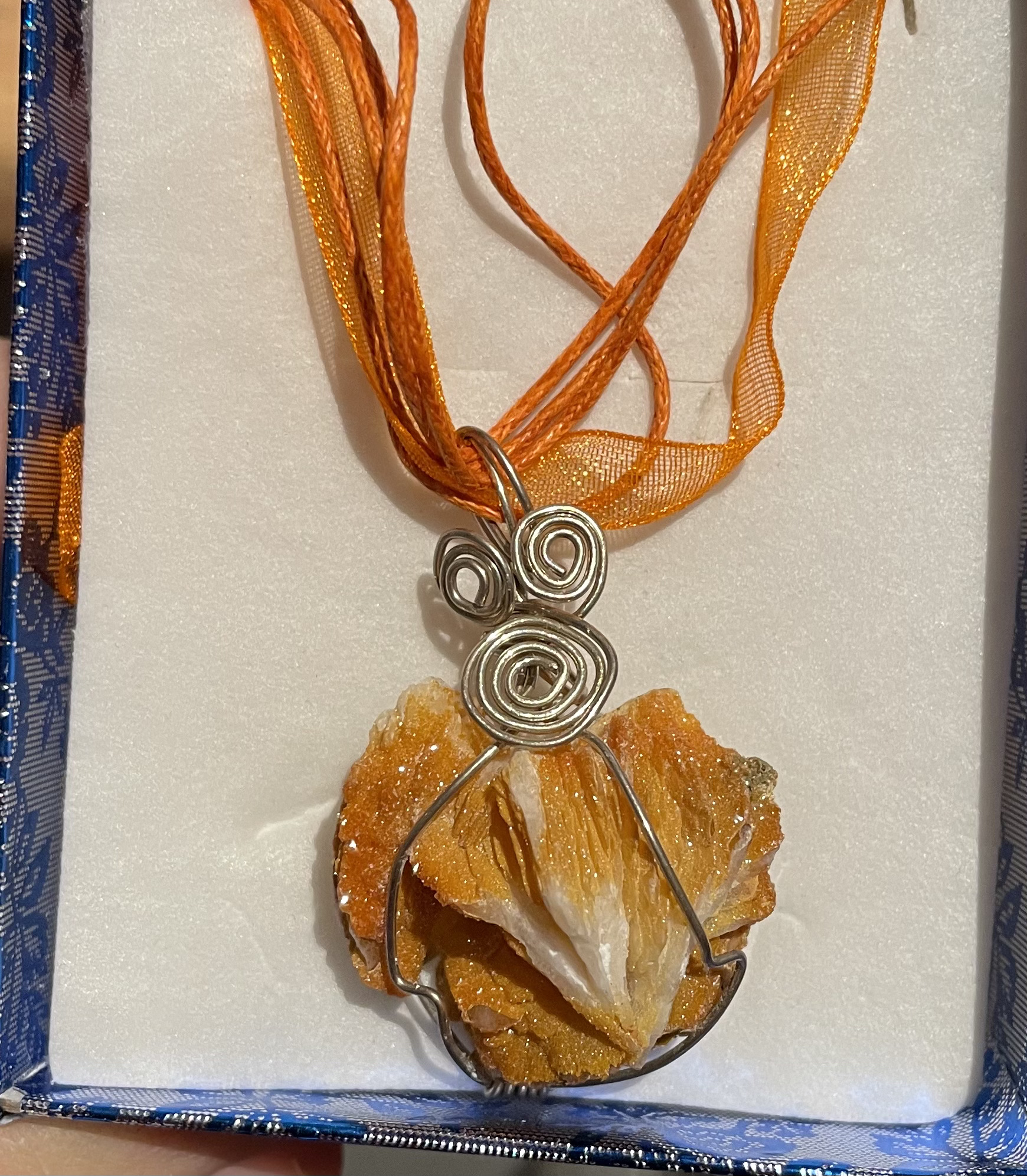 £ 27
This is an amazing combination. A healing tool with two elements working together. Vanadinite is a gemstone associated with the Fire Element and creates a flame of passion from within. it is a stone that encourages you to use your creativity and imagination to solve problems and to create new paths in your journey. it helps you clear negativity from your life and welcome positive power. This crystal gives you a positive boost during energy work. Vanadinite has often been used in invigorating sexual energy and helping you express your sexual energy. Barite is a wonderful crystal for helping you get in touch with your true self and achieving your goals in life. It encourages you to be at your best and use all the gifts and abilities to secure success. It is great to work with to strengthen your psychic abilities and sharpen your intuitive thoughts. Barite resonates with all of your Chakra
Rhodonite Pendant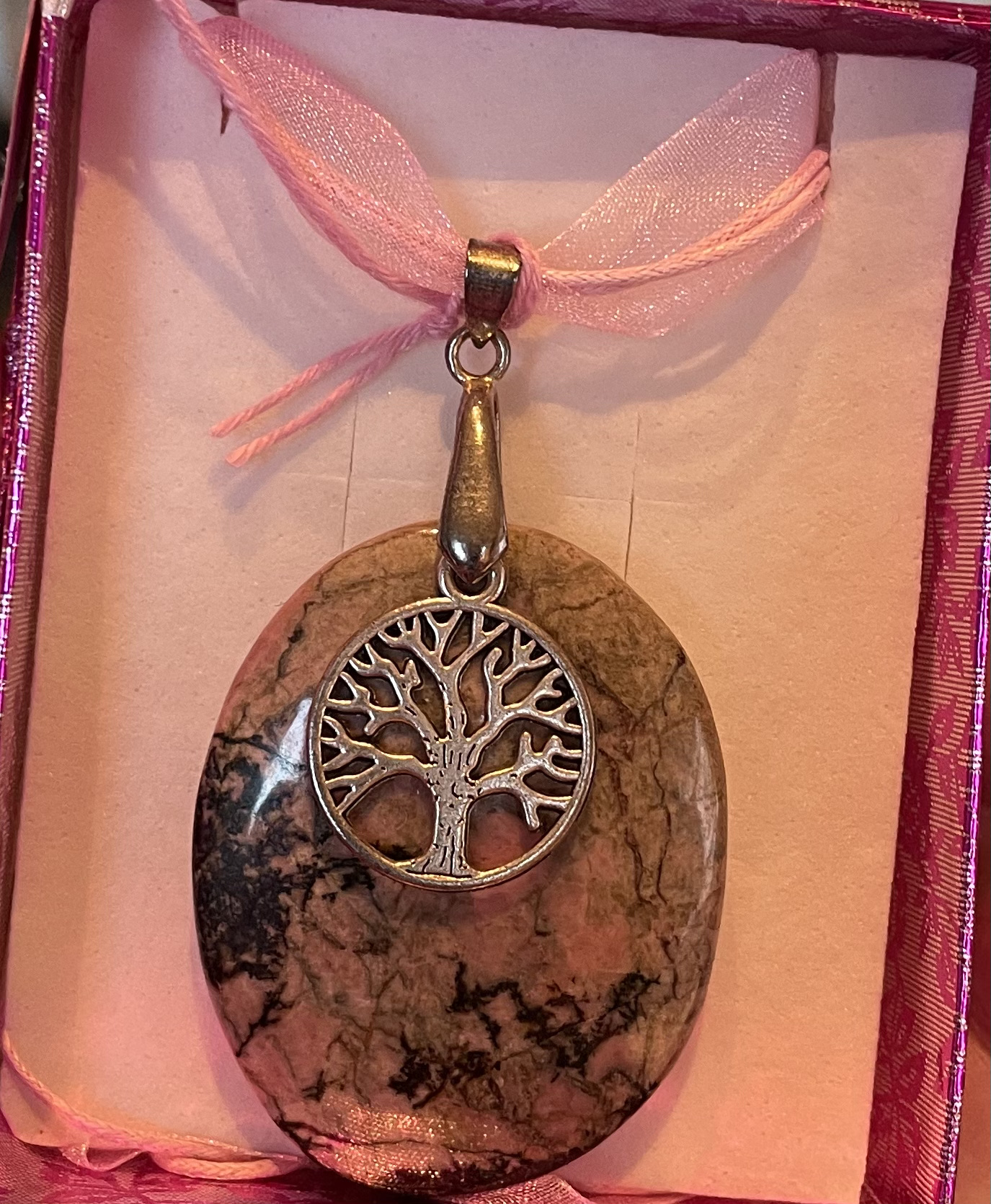 £ 25
Large Rhodonite pendant with the tree of life charm (silver plated) This is a bespoke, one off design. Pink ribbon chain.
Black Kyanite pendant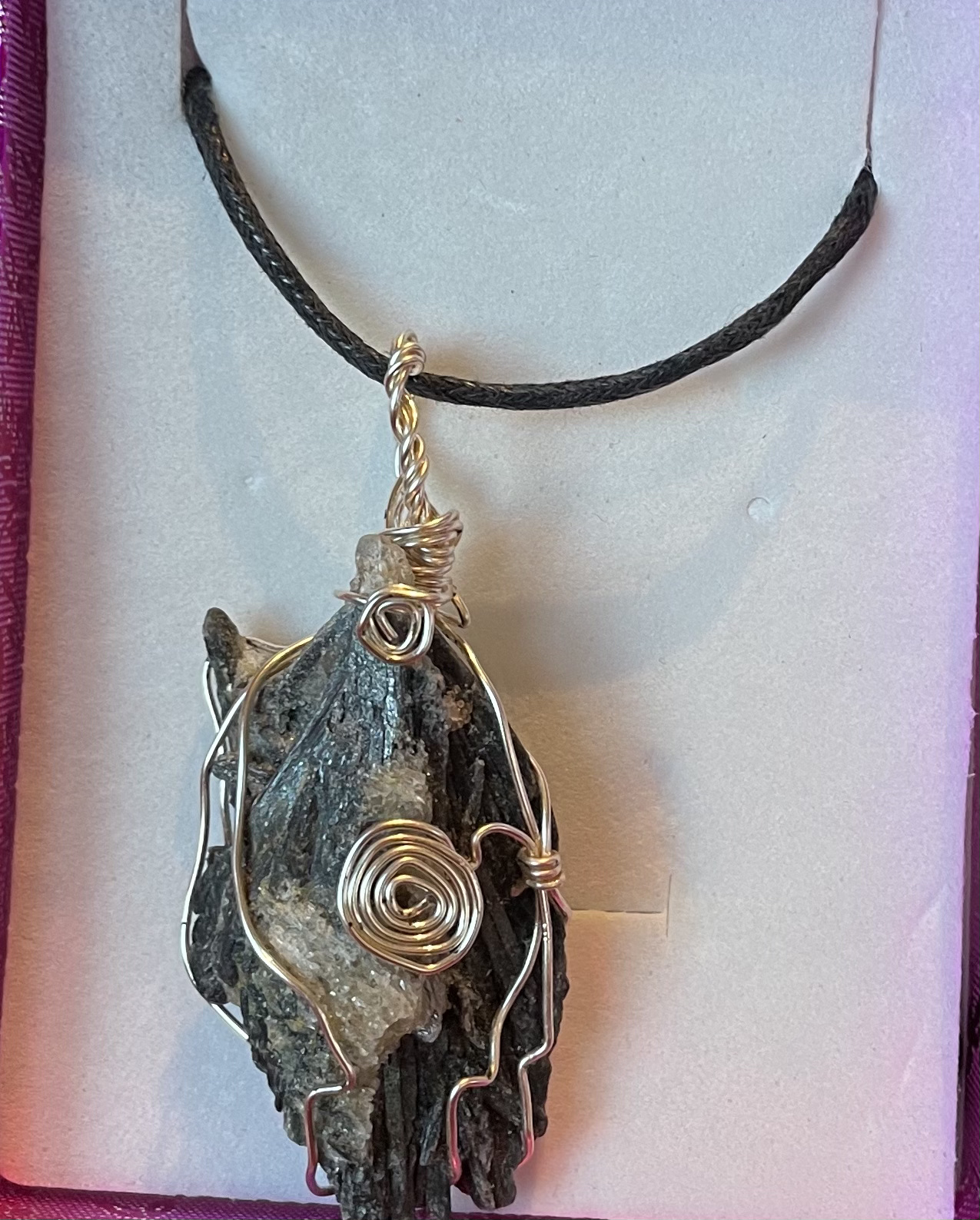 £ 22
Raw, wired black kyanite. Silver plated. Bespoke pendant.
Blue crystal Pendant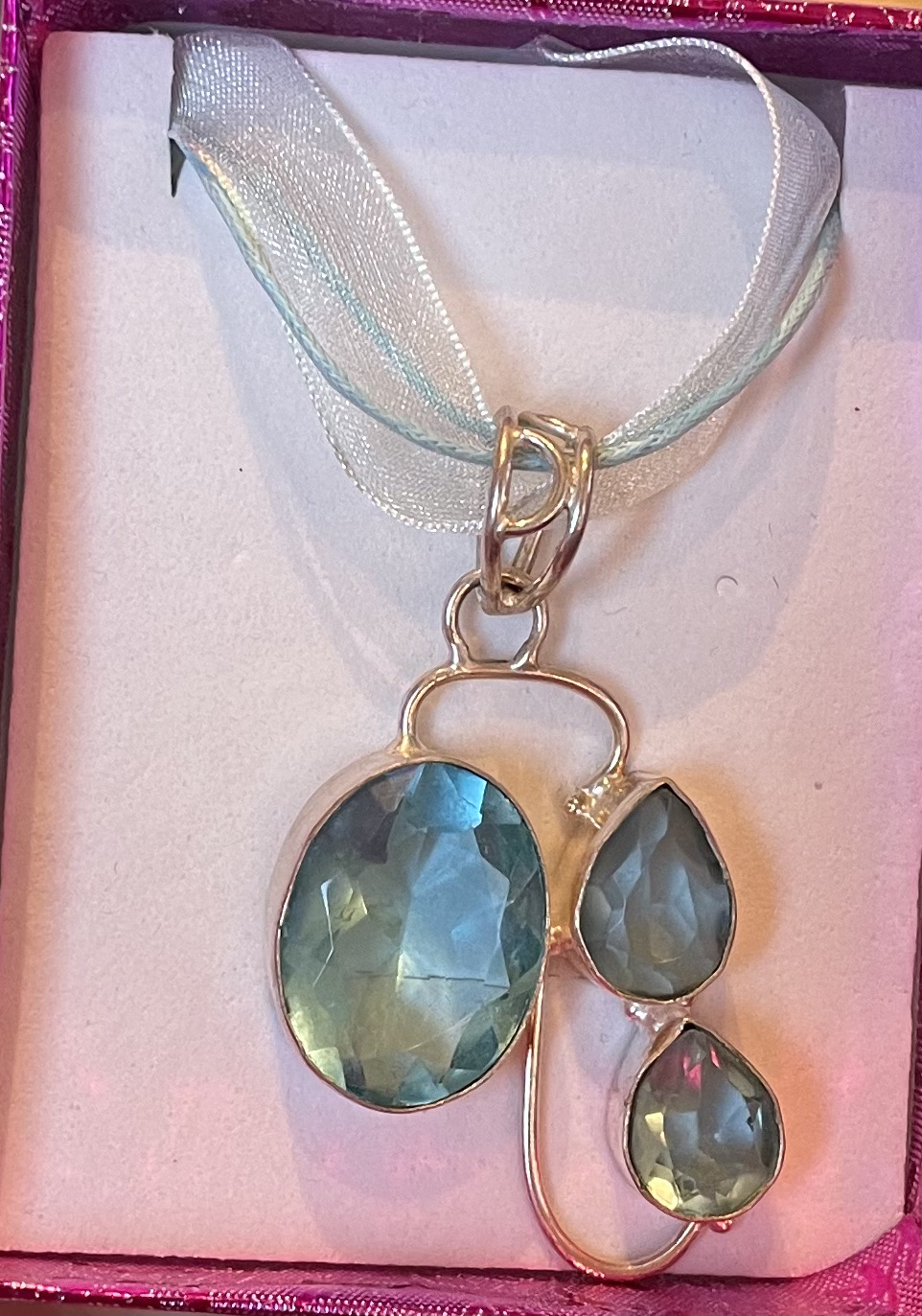 £ 22
Silver plated, medium sized pendant on a blue ribbon chain.
Purple Agate Pendant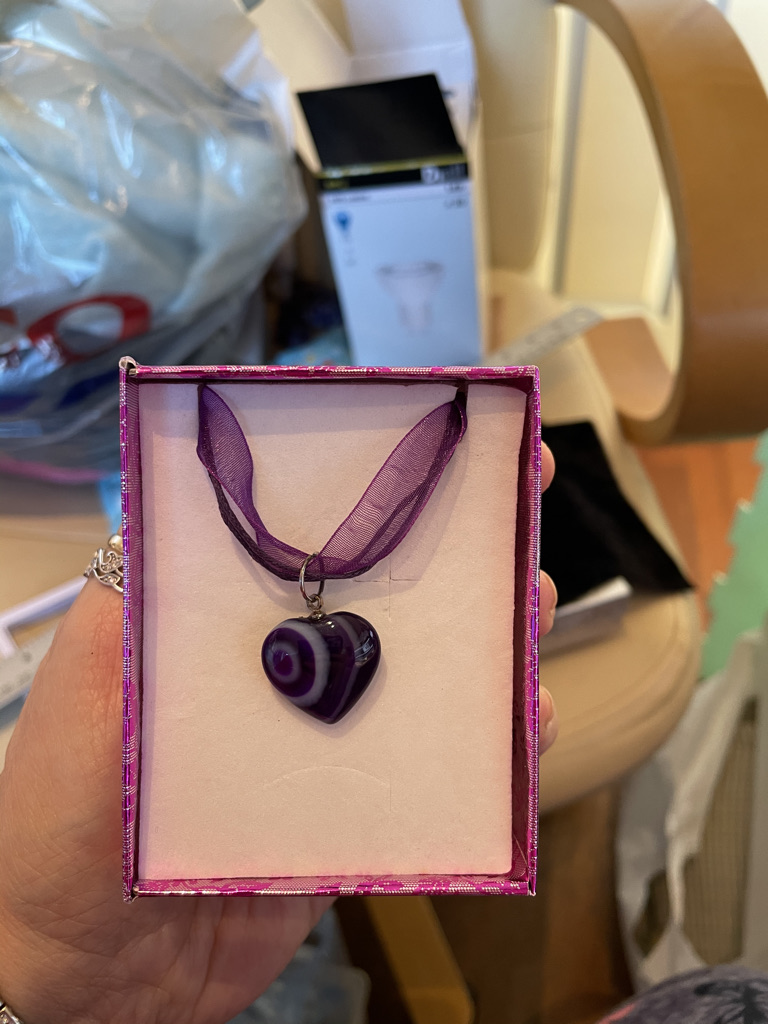 £ 22
Small purple agate pendant on a purple ribbon chain.
2/ Purple agate heart pendant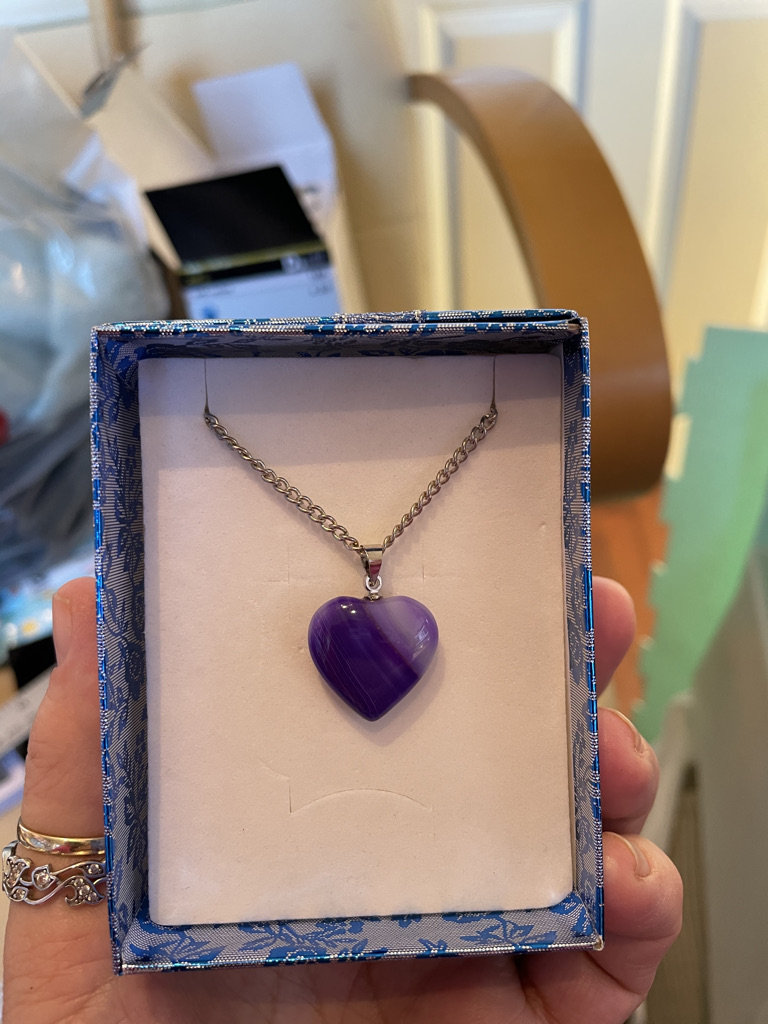 £ 22
small size purple agate pendant. Silver plated chain. Length of your choice. Box not included , but can be purchased separately.
Canvansite Pendant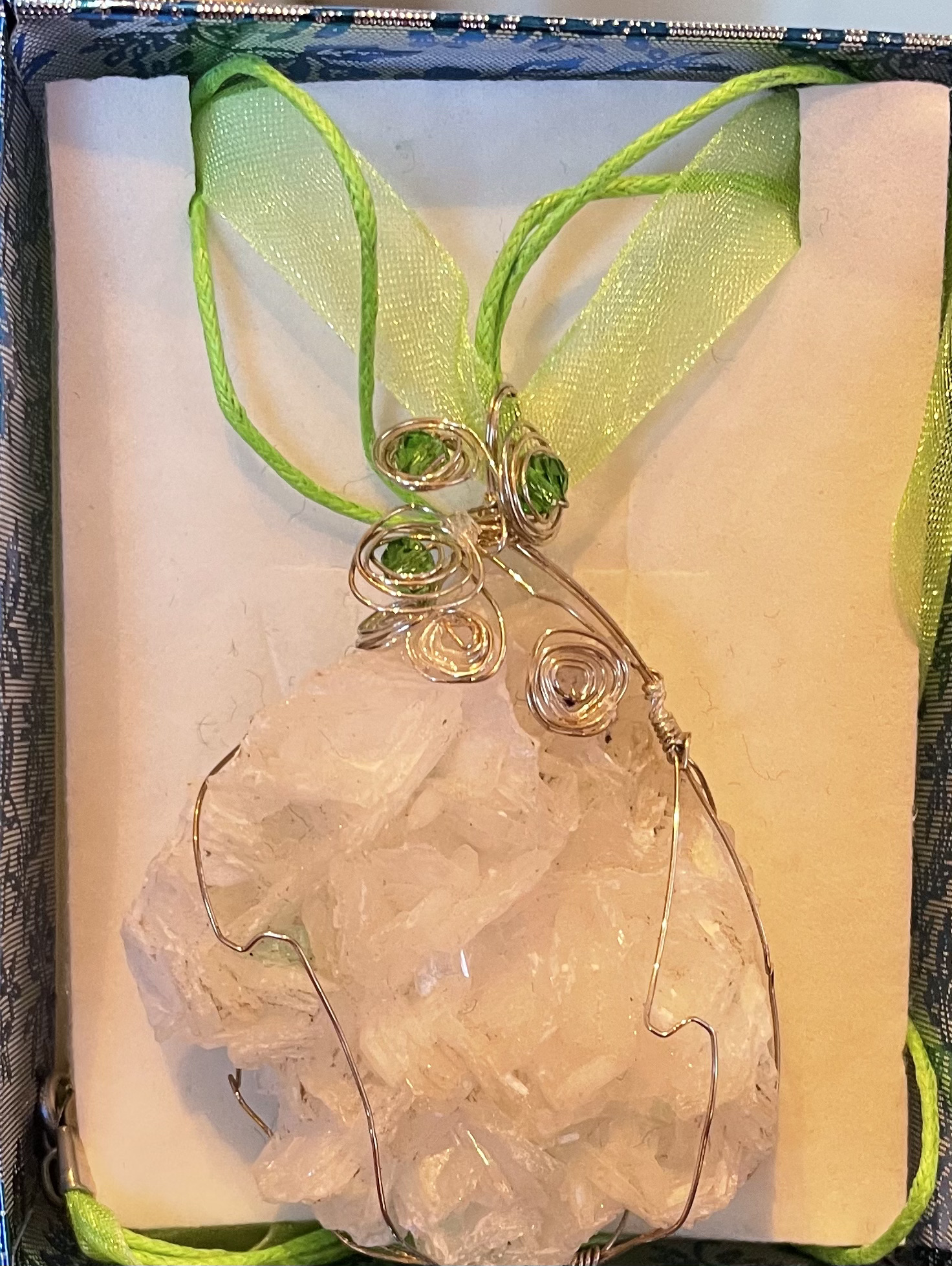 £ 25
Hand made bespoke pendant. Nickle free wire. Comes on a green ribbon chain. Green canvansite is also known as the healers healer. • It is an exceptional stone when it comes to communicating with the spirits. You can use the stone to establish a clear and deep connection with your spirit guides and Angels. • Aids in meditation - Use Cavansite during meditation and it will amaze you with its brilliant support in meditation. • Fills you with happiness - Occurring in form of rosettes and growing with the Stilbite stones, the Cavansite stone forms a matchless combination. The combination of the two wonderful stones results in amalgamated qualities of both beautiful stones. In other words, you get to experience pure happiness when you wear or use this stone. • Improves your creative side – It is also believed that the combination of Stilbite and Cavansite enhances creative powers to the wearer.
Rainbow colour healing pendant.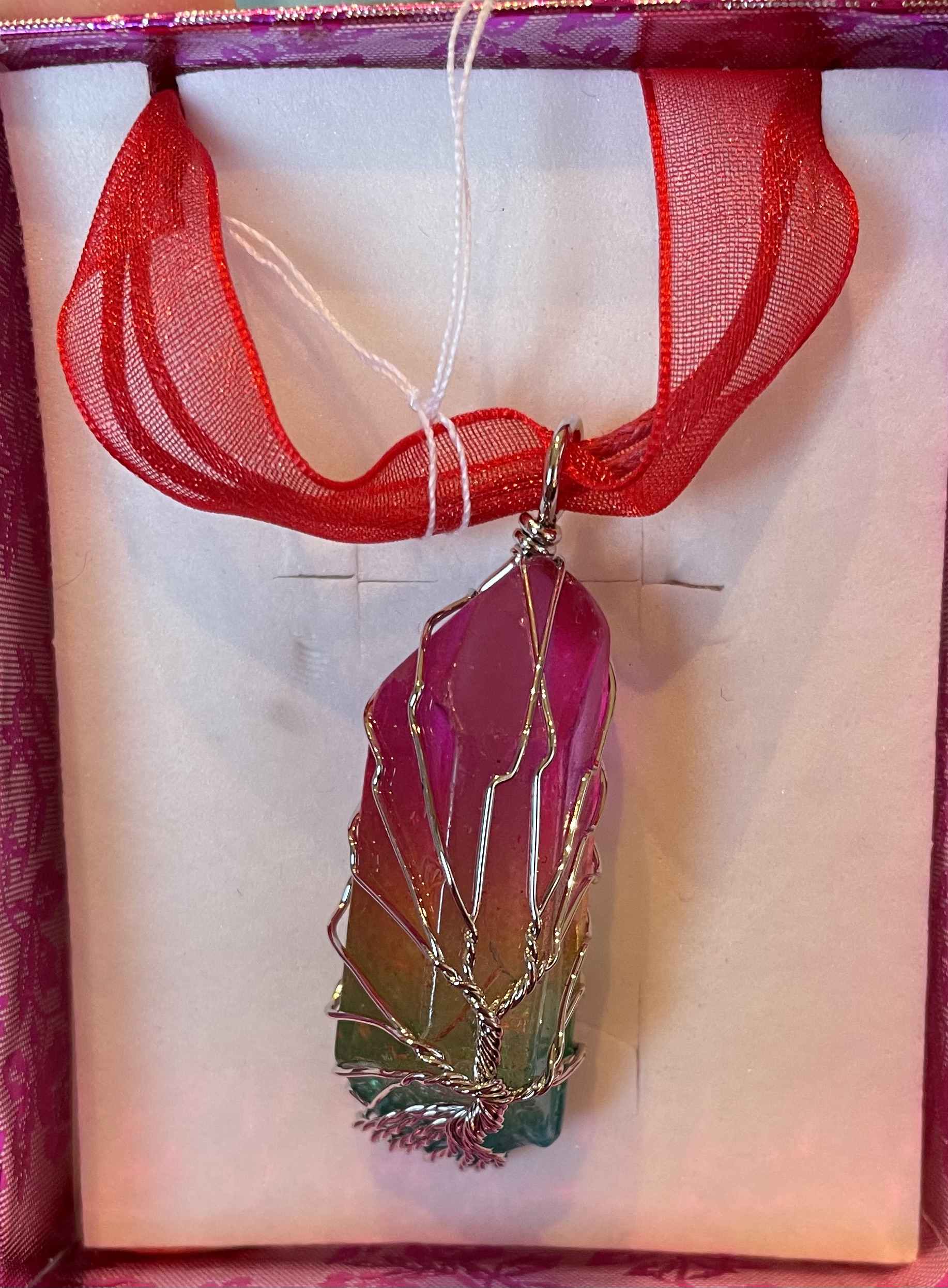 £ 22
This pendant is reiki charged and has beautiful healing colours for the mind, body and spirit. The tree of life wiring gives it a beautiful etheric look.