Disclaimer: Crystal healing should not be used to replace medical treatment or advice. It can be used as a supplement with modern day medicine. If you choose to use any form of crystal healing on yourself or others, you do so at your own risk. Please note Connections with Spirit is not responsible for items that break or become faulty after wearing, but we will give a full refund if you contact us within 14 days of purchase if a problem arises with your item.
labradorite pendant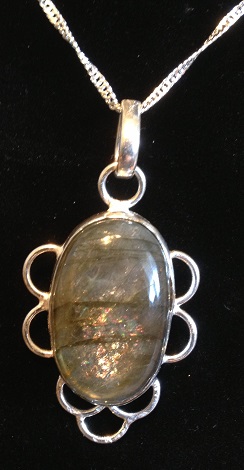 £ 16
Spectacular crystal in a silver plt surround. Come on a sterling sliver plt 16 inch chain.
Labradorite enhances the mental and intuitive abilities of clairvoyance and assists in communication with higher guides. This high vibrational crystal tempers the negative side of our personality that produces depression or guilt. Labradorite calms an overactive mind and energizes the imagination, bringing in new ideas.It is a wonderful crystal for returning joy and spontaneity back to one's life. It helps eliminate the emotional drain of daily routine or being weighed down by responsibility, and awakens a sense of adventure and change
1958/ Oval Rose Quartz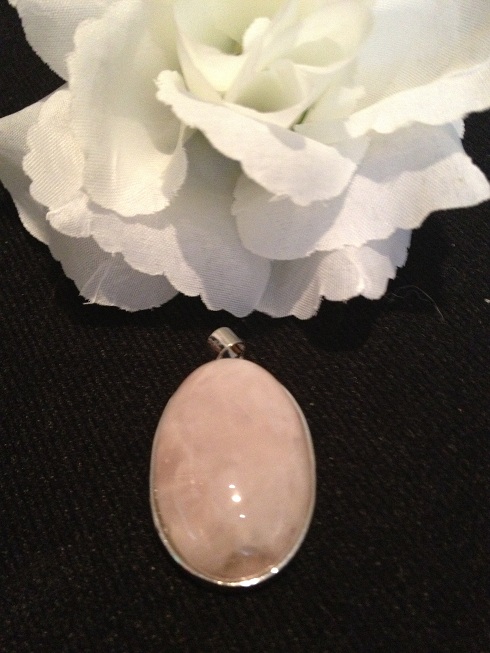 £ 22
Cute oval rose quartz on a silver plt chain.
This beautiful stone is great for emotional release, It allows you to build on your self worth and find your heart again.
Amethyst butterfly. 0001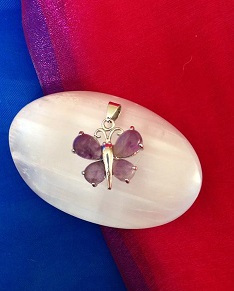 £ 18
Cute Amethyst butterfly. Silver plt
chain
Butterfly represent new beginnings and transformation. If your stressed, amethyst is for you. Great for Clairvoyance and can clear most headaches.code 0001

Black tourmaline pendant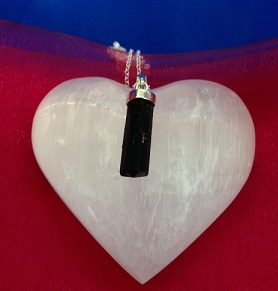 £ 20
Black tourmaline has been found to work very well with those suffering from fibromyalgia. It also
Encourages neutrality and relaxed outlook
Discharges tension and relieves stress
Powerful protection against negative energy
SOLD OUT
Rose quartz flower heart pendant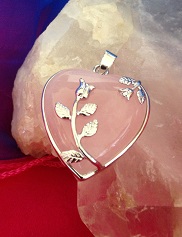 £ 18
Rose quartz heart pendant comes with a pink ribbon chain or silver plated chain. Your choice.
Rose Quartz is a stone of warmth, gentleness, acceptance and love. It encourages self acceptance, self love, confidence and personal worth. It opens the heart to the beauty within and all around us, and will begin its healing by helping forgiveness, and releasing old issues. It encourages kindness on all levels. It teaches forgiveness and tolerance bringing kindness and love into the heart for yourself and others.
It helps to emanate unconditional love and nurturing and helps us attract positive, gentle, non-judgemental love into our lives.
Snowflake Obsidian heart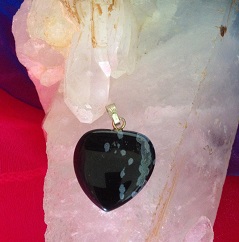 £ 17
The pendant comes with a silver plt chain. Snowflake Obsidian is a stone of purity. It balances mind body and spirit.

Placed on the sacral chakra, snowflake obsidian...
will calm and soothe and allow you to view
unhealthy patterns in your own behaviour, thus
opening the door to change. A very grounding and protecting stone
Snowflake obsidian point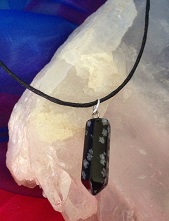 £ 17
Snowflake Obsidian is a stone of purity. It balances mind body and spirit.

Placed on the sacral chakra, snowflake obsidian
will calm and soothe and allow you to view
unhealthy patterns in your own behaviour, thus
opening the door to change. A very grounding and protecting stone
Black tourmaline bead pendant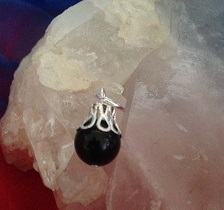 £ 15
Black tourmaline that comes with a
silver plt chain . This stone has been found to work very well with those suffering from fibromyalgia. As it can help with pain management
It also
•Encourages neutrality and relaxed outlook
•Discharges tension and relieves stress
•Powerful protection against negative energy
SOLD OUT
MW043/ Amethyst doughnut pendant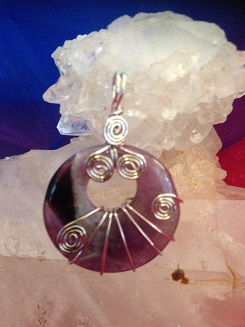 £ 10
Wired Amethyst doughnut. This will come with a silver plt chain or purple ribbon.
A master healer and great stress reliever.
1968/Garnet Pendant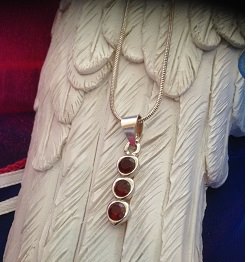 £ 24
Elegant garnet pendant encased with sterling Silver.

The Garnet is a stone of purity and truth as well as a symbol of love and compassion. This beautiful stone will help with feelings of insecurity and it aids spiritual awareness.
Chakra Amethyst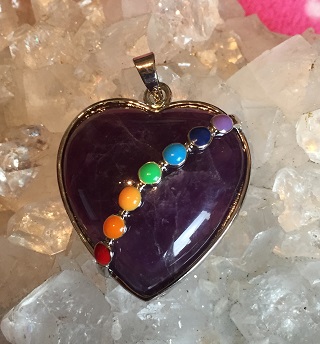 £ 18
Beautiful AA grade amethyst pendant encompasing all the chakra colours. Great for rebalancing the body.
1973a Rose quartz chakra pendant.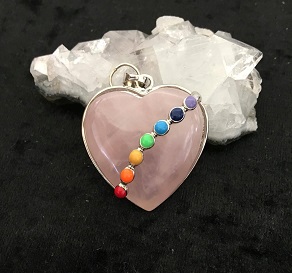 £ 20
Rose Quartz chakra pendant. . Comes with a chain or ribbon necklace.
You will never forget your chakra colours with this on. Plus it keeps you in perfect balance throughgout the day.
1978/ Hematite heart.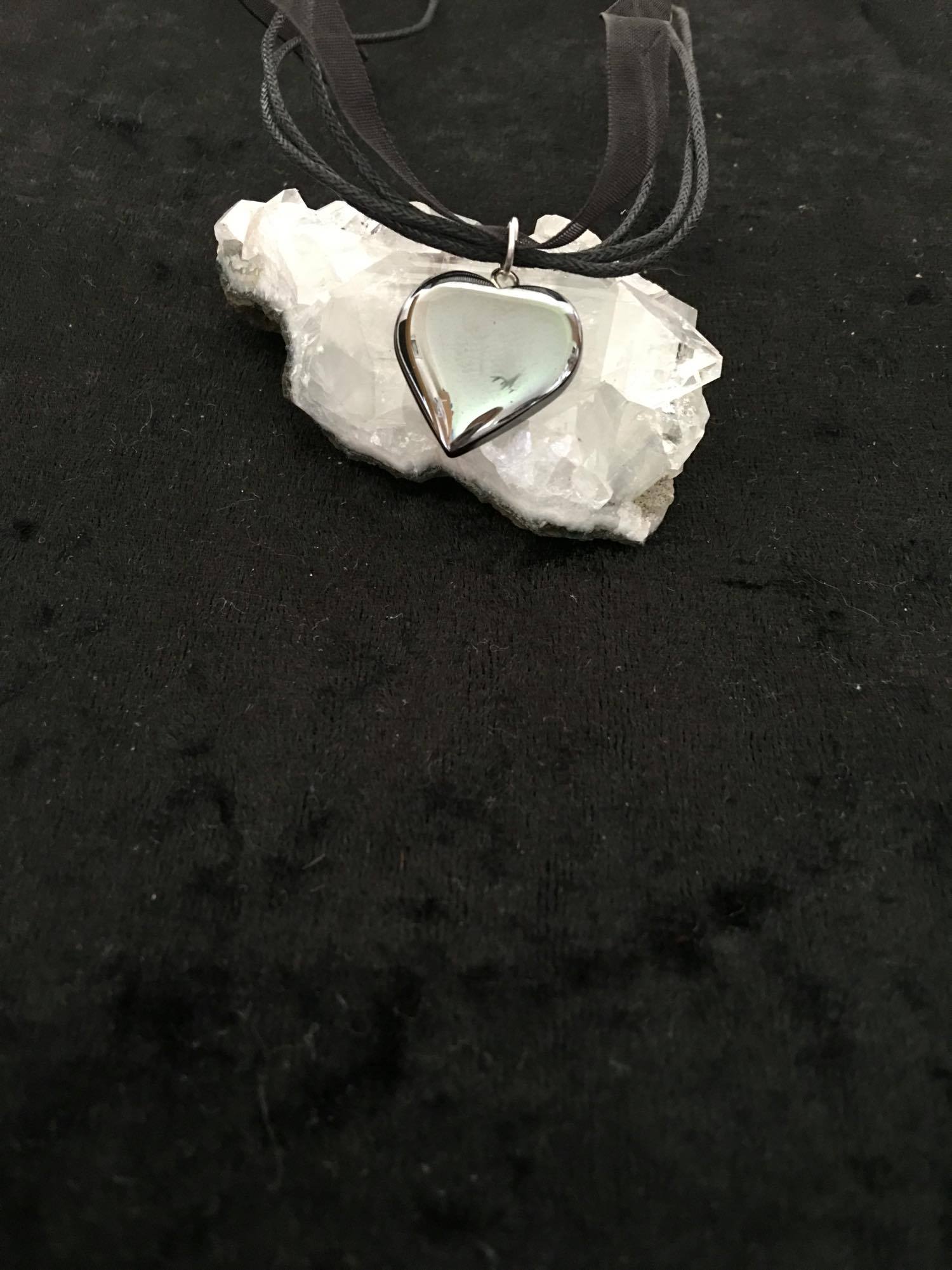 £ 17
Hematite is used to bring mental organization and is very grounding and calming. Emotionally, hematite decreases negativity. This lowering of negativity can benifit by helping balance the body/mind/spirit connection. It also is said to balance the meridiians, boost self-esteen, and self-confidence
MW0052/Loop pendant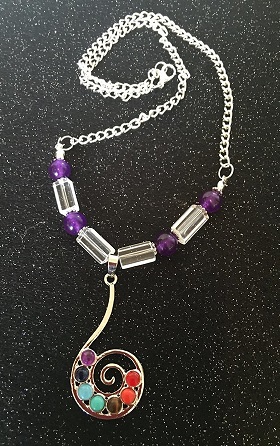 £ 15
crystal and bead pendant. 18 inch silver plated chain
Chakra tree of life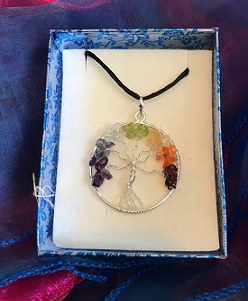 £ 18
Chakra Tree of life on black cord £18

A beautiful delicate pendant that will put the wearer into balance. perfect for those that wake up and your mood starts off a bit strange and encompasses your day but you don't know why .
B2/Smoky Quartz on gold effect chain 005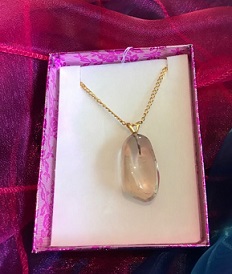 £ 18
Smokey Quartz on a.18 inch gold effect chain
Smoky Quartz protects your energy stopping negativity being picked up .If you work around lots of people this is ideal to wear. Look after yourself and don't let others wear you down .A very grounding crystal keeping you on your path rather than your haead in the clouds.
057 Pink Opal with silver leaf pendant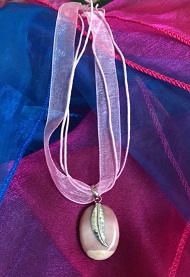 £ 20
A beautiful pendant with silver leaf detail on a pink ribbon thread.
opalite arerow head pendant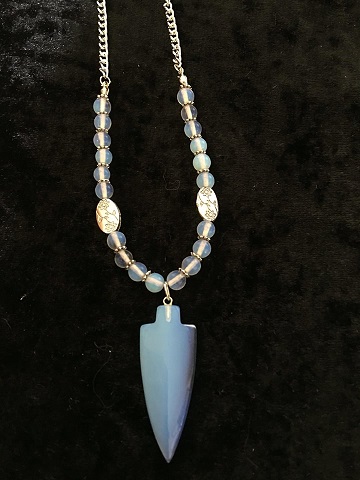 £ 24
Bespoke arrow point opalite necklace Top quality opalite beads with silver plated flower spacers. Length 18 inch. but we can make it longer or shorter if you wish. use the contact form to tell us what you requier after purchasing. Opalite is a high energy stone which removes blockages from chakras and meridians. It stabilises mood swings , over comes fatigue and helps with communication.
087 oval Aventurine pendant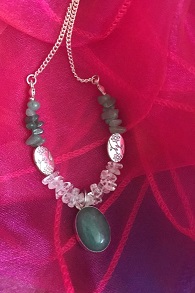 £ 25
size 1/2 inch pendant is 925 silver. The chain/findings are silver plated , 18inch chain that can me made to the size you wish.
Aventurine is a stone of prosperity. It reinforces leadership qualities and decisiveness. Promotes compassion and empathy. Encourages perseverance. Aventurine relieves stammers and severe neuroses. It stabilises one's state of mind, stimulates perception and enhances creativity. Calms anger and irritation. It encourages regeneration of the heart. Protects against environmental pollution.
088 magnetic necklace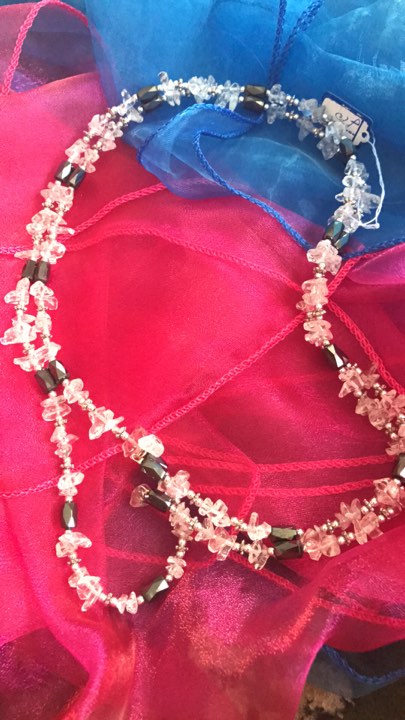 £ 22
This magnetic hemitite and clear quartz necklace can be work as a wraparound bracelet of a necklace. it has no catches.
106/Smokey Quartz.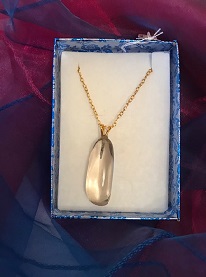 £ 20
A beautiful grade crystals om a gold tone chain. Smoky Quartz is one of the most efficient crystals for grounding and cleansing. Alone, or naturally blended with other Quartz, it provides some of the finest healing tools available.Smoky Quartz links with the Earth stimulating concern for the environment and inspiring ecological solutions. Use its protective energies to block geopathic stress and absorb electromagnetic smog given off by power lines and electronics. It is invaluable in layouts for environmental healing, and assists elimination and detoxification on all levels, ushering in positive energy in its place. Wear Smoky Quartz to relieve tension and stress, anxiety, or panic attacks; also to ward off negative thinking, and to eliminate worry and doubt when faced with chaos or confusion. sorrow or seemingly impossible obstacles.
B26/Sparkly Agate pendant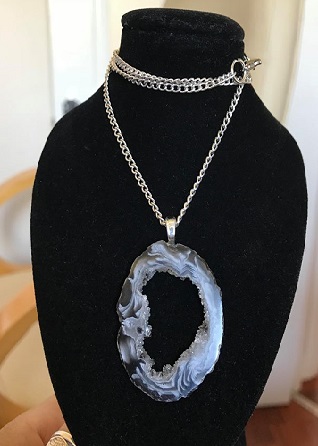 £ 25
. Natural stone with tiny crystals.Silver plated. Agate is an excellent stone for re balancing and harmonising body, mind and spirit. It cleanses and stabilises the aura, eliminating and transforming negativity. Agate enhances mental function, improving concentration, perception and analytical abilities. It soothes and calms, healing inner anger or tension and creates a sense of security and safety. Agate heals the eyes, stomach and uterus; cleanses the lymphatic system and the pancreas; strengthens blood vessels and heals skin disorders.
Chakra Set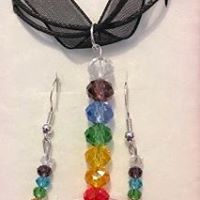 £ 25
Crystal chakra pendant and earring set.
B26 rhodonite pendant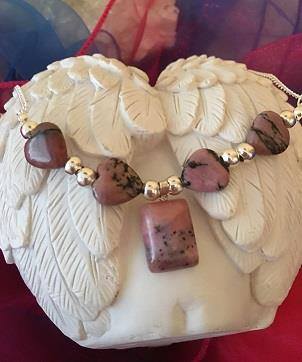 £ 26
Necklaces Tag photo Options Send in Messenger LikeShow More Reactions Comment Share.. Rhodonite is an outstanding stone for the restoration of physical energy that has been drained due to emotional trauma/drama. It is an ideal stone for processing and dispelling emotional pain. It clears away wounds and scars of the past, releasing abusive and self-destructive behaviors, feelings of hatred, anger or resentment, and allows one to see both sides of an issue
A3/ Clear quartz pendant set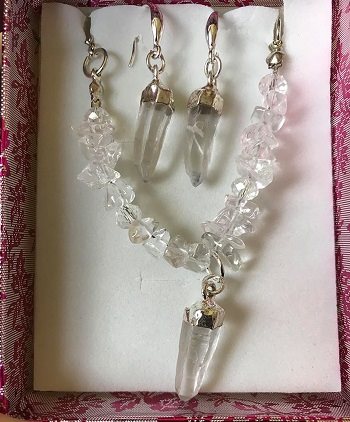 £ 30
Clear quartz pendant set. A master healer which works towards helping every illness
A!/Amethyst pendant set

£ 30
Amethyst is a powerful and protective stone. It guards against psychic attack, transmuting the energy into love and protecting the wearer from all types of harm, including geopathic or electromagnetic stress and ill wishes from others. Amethyst is a natural tranquiliser, it relieves stress and strain, soothes irritability, balances mood swings, dispels anger, rage, fear and anxiety. Alleviates sadness and grief, and dissolves negativity. Amethyst activates spiritual awareness, opens intuition and enhances psychic abilities. It has strong healing and cleansing powers. Amethyst encourages sobriety, having a sobering effect on overindulgence of alcohol, drugs or other addictions. It calms and stimulates the mind, helping you become more focused, enhancing memory and improving motivation. Amethyst assists in remembering and understanding dreams. It relieves insomnia. Encourages selflessness and spiritual wisdom. Amethyst boosts hormone production, tunes the endocrine system and metabolism. It strengthens the immune system, reduces pain and strengthens the body to fight against cancer. It destroys malignant tumours and aids in tissue regeneration. Cleanses the blood. Relieves physical, emotional and psychological pain or stress. Amethyst eases headaches and releases tension. It reduces bruising, swellings, injuries, and treats hearing disorders. Amethyst heals diseases of the lungs and respiratory tract, skin conditions, cellular disorders and diseases of the digestive tract
B30/ Aventurine pendant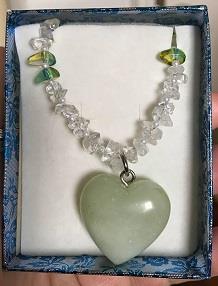 £ 28
Green Aventurine is a comforter and heart healer. It neutralises all sources of electromagnetic pollution, blocking out emanations from computers, television and other electronic equipment. Green Aventurine settles nausea and dissolves negative emotions and thoughts. It brings well-being and emotional calm. A good all-round healer.
Rhodonite Pendant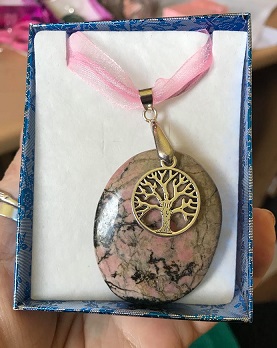 £ 25
Rhodonite is an ideal stone for processing and dispelling emotional pain. It clears away wounds and scars of the past, releasing abusive and self-destructive behaviors, feelings of hatred, anger or resentment, and allows one to see both sides of an issue. It stimulates, clears and activates the heart. Rhodonite grounds energy, balances yin-yang, and aids in achieving one's highest potential.
Moonstone pendant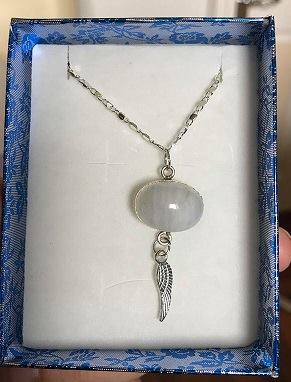 £ 23
A stone for "new beginnings", Moonstone is a stone of inner growth and strength. It soothes emotional instability and stress, and stabilises the emotions, providing calmness. Moonstone enhances intuition, promotes inspiration, success and good fortune in love and business matters. Moonstone aids the digestive system, assimilates nutrients, eliminates toxins and fluid retention, and alleviates degenerative conditions of skin, hair, eyes, and fleshy organs such as the liver and pancreas. It stimulates the pineal gland and balances hormonal cycles, being excellent for PMS, conception, pregnancy, childbirth, and breast-feeding. Moonstone is also beneficial to men in opening the emotional self
Purple agate pendant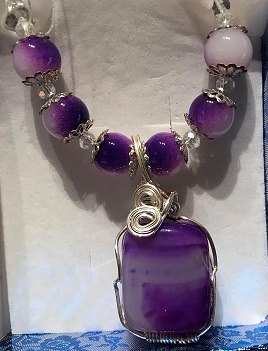 £ 28
Balances Yin and Yang of the mental, emotional, and physical. It stabilizes the aura and eliminates negativity. Aids in strengthening sight, and promote fidelity in a marriage. It has a connection to the violet flame of St. Germain. It brings a very loving and heart felt frequency to the carrier of this stone. It also connects to the crown chakra making this a powerful spiritual stone for the heart to the crown and down.
Black tourmaline pendant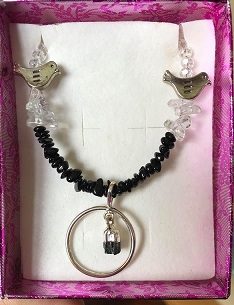 £ 26
Bespoke pendant. It is one of only a handful of minerals that have the ability to emit negative ions and far-infrared rays. •Helps detoxification. •Supports fat loss. •Reduces water retention. •Improves circulation. •Supports the liver and kidneys. •Promotes a healthy mood. •Helps eliminate toxic metals. •Reduces lactic acids and free fatty acids. Prevents the wearer picking up toxic energy. It helps you to be grounded and protected by the earths healing energy
So why are my crystals and jewellery better than your average sellers? Because I am an holistic therapist and I know how crystals work. Each of the crystal items I sell are cleansed and programmed to work on the conditions that I have stated. These are not just your average crystal necklaces, these are therapeutic as well as beautiful items of jewellery.