Disclaimer: Crystal healing should not be used to replace medical treatment or advice. It can be used as a supplement with modern day medicine. If you choose to use any form of crystal healing on yourself or others, you do so at your own risk. Please note Connections with Spirit is not responsible for items that break or become faulty after wearing, but we will give a full refund if you contact us within 14 days of purchase if a problem arises with your item that was through no fault of your own.


Each item is handmade. The wire, chains, clasps are silver plated. These items are one off designs. Connections with spirits jewellery is unique because there will only



ever be one designed in the style. You will own a very unique item and that is what makes it very special.
PLEASE NOTE: Some of these crystals are in their Raw state and are therefore very delicate. Please ensure you treat them with respect. DO NOT spray products onto them, DO NOT shower or sleep in them. Be careful when taking them off and on so they do not catch on clothing. It is NOT our responsibility to repair an item, if you break them through being heavy handed or dropping the pendant on a hard surface.
Gift vouchers are available for all treatments, private sittings and jewellery. contact me for details. I can E-mail vouchers if you would prefer.

1989/Sodalite pendant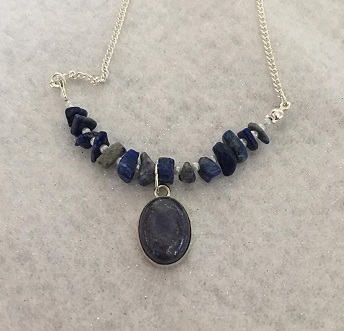 £ 26
Sodalite pendant with lapis lazuli chips and glass pearls. £23 + £2.99 silver plated chain. Pendant size is 1/2 inch and is 925 silver.
Sodalite brings inner peace. It helps with weightloss and gives confidence, combines with the lapis lazuli chips, thsi is a necklace of wellbeing for mind, body and spirit.
1990/Lapis lazuli pendant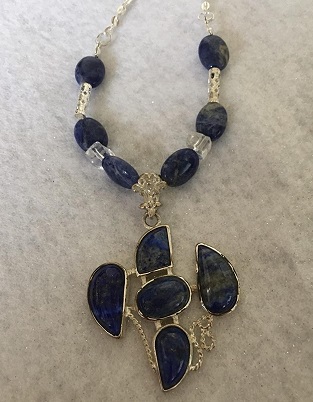 £ 25
1990/Lapis lazuli pendant with lapis and crystal beading. THIS HAS A small black mark FLAW ON ONE SIDE OF THE PENDANT. Hence the reduced price of £22 +
£2.99 PP
Lapis Lazuli is a useful stone to wear as it is said to relieve anger and negative thoughts, as well as easing frustrations causing the anger. It can help create and maintain a connection between the physical and celestial planes, creating a strong spiritual connectionAs a protection stone, Lapis Lazuli protects from psychic and physical attacks. It can help to overcome grief or trauma. it is great for pain releif, bones, heart, immune system, vertigo, fibro and insomnia
1991/Tree of life.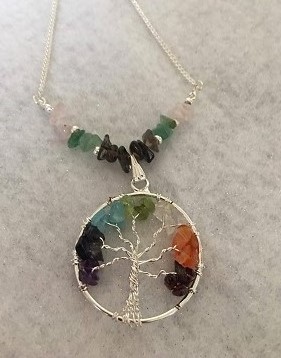 £ 25
pendant 1 inch in width. just over 1/2 wide. Beautiful tree of life pendant with a mix of stabilising crystals that work on the mind, body and spirit to bring calm and relaxation.
1991/Amethyst pendant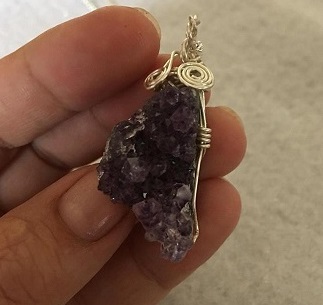 £ 28
Silver plated chain and findings. Size 1/2 inch x 1/2 inch. Amethyst eases tension headaches and releases tension. It reduces bruising, swellings, injuries, and treats hearing disorders. Amethyst heals diseases of the lungs and respiratory tract, skin conditions, cellular disorders and diseases of the digestive tract.
1994/ Green agate arrow with aventurine chips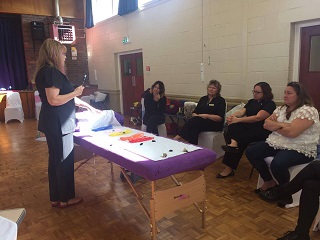 £ 22
Agates are grounding stones, bringing about an emotional physical and intellectual balance. They aid in centring and stabilising physical energy. A soothing and calming stone, agate works slowly and gently facilitates acceptance of ones self. This crystal overcomes negativity and bitterness of the heart. It heals inner anger and gives you the courage to start again. Agate stabilised the aura, eliminating and transforming negative energies. Its cleansing effect is powerful at the physical and emotional levels. Placed on the heart chakra it will heal the emotional disease that prevents acceptance of love. placed on the sacral chakra (abdomen) or taken as crystal water, agate stimulates the digestive process and relieves gastritis. It heals the eyes, stomach, and uterus, it cleanses the lymphatic system and pancreas, it strengthens blood vessels and heals skin disorders
Combined with the healing value of the aventurine, this is a very therapeutic item as well as being beautiful.
1995/Purple agate with amethyst beads and clear quartz chips.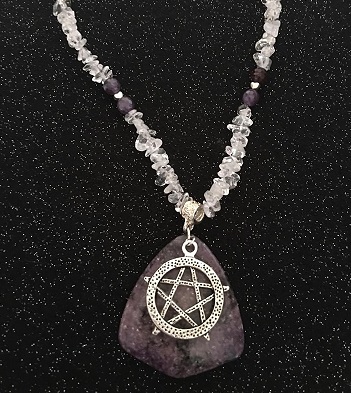 £ 25
Purple agates are stones of meditation and spiritual transformation. It assists in allowing trust with your intuition to step forward and it is a very grounding stone.
1996/ Opalite tear drop with beads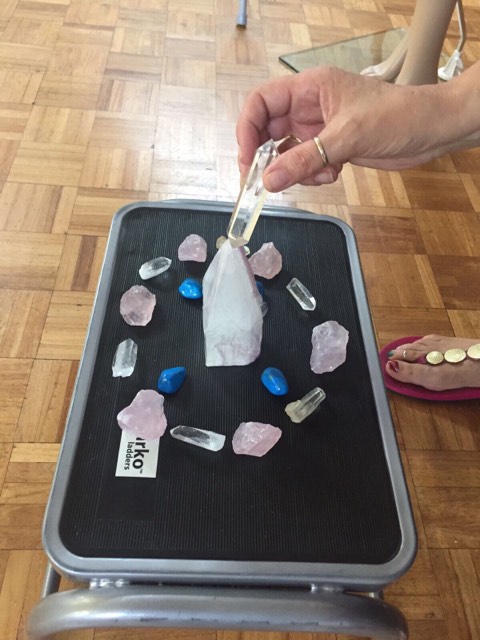 £ 25
Opalite just mesmerises you. its iridescent glow almost look etheric as it shimmers and changes colour with the light. A truly beautiful item of jewellery.
1998/Goldstone necklace.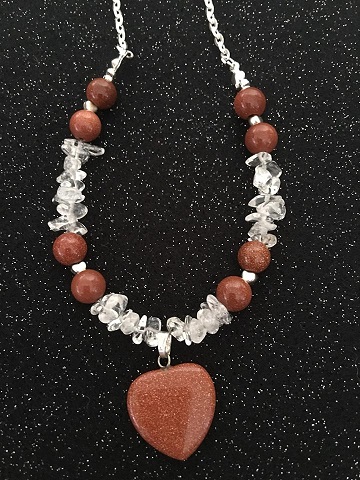 £ 25

Goldstone helps you attain goals and can also helpyou stay calm and stabilize the emotions. It can be used as an energy generator and can deflect unwanted energies, making it used as a protection stone. It is also used for long distance healing and revitalizing one's energy field. Goldstone also has many of the metaphysical properties of copper, including in crystal healing lore the strengthening the circulatory system, strengthening bones, and easing arthritis pain.
Amethyst Doughnut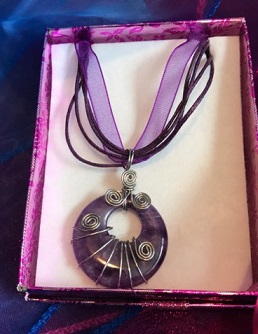 £ 15
Beautiful Amethyst doughnut pendant .
Amethyst soothes anger, releases stress headaches and is a wonderful crystal for those who want to keep their dreams at the front of their mind .
Each Item comes Gift boxed Code 024
Master Clear Quartz ,gold tone002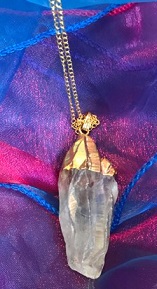 £ 19
Powerful Master Crystal Clear Quartz, dipped in gold tone on a gold tone metal chain
Clear Quartz is the master crystal which works on the whole body. It treats ALL areas of pain .Clear Quartz's healing vibration is quite powerful with its healing light that radiates through the body bringing you into vitality, joy and focus.
Yellow Horn 006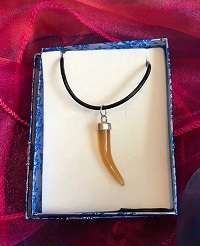 £ 14
Yellow horn pendant on a. 16 inch black cord , extends to 18 inches
Yellow is connected to the solar plexus . It stimulates mental ability and concentration.It brings in energy for those that can feel depleated through working too much and not enough social time . £14 code 006
Selenite and Black Tourmaline 034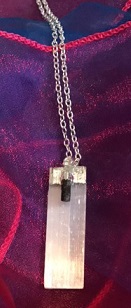 £ 24
Selenite and Tourmaline.pendant which is About 2 inches long.
Wearing this piece is said to improve skin tone.It is an Angelic crystal that also is very gentle on the bodys own vibration. This is a very special combination as the tourmaline will ground you allowing you to make sensible decisions whilst bringing in the Angelic guidance we all need £24 code 034
Rose Quartz Chakra heart 015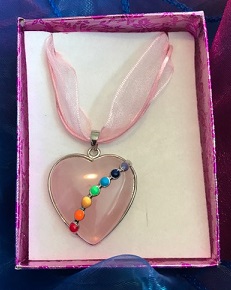 £ 16
Rose Quartz Chakra heart pendant on pink ribbon.£16
This is a pendant that helps with emotional people, wether you are sensitive to other peoples words or you are in need of emotional healing,having the colours of the chakras on this heart will keep you in balance allowing you to feel stronger and in control of your emotions rather than a blubbering wreck
Agate slice with clear quartz point ,s-quartz chips,ek035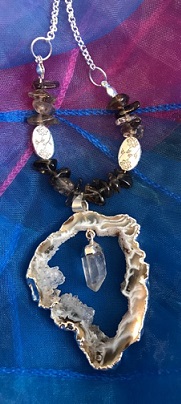 £ 28
Agate and Smoky Quartz chips with a Clear Quartz point in the centre.
Not only does this item look beautiful , it brings the wearer grounding and clear thinking allowing you to focus. Alleviating the fog of the mind.
great for protection , healing and calming . Code ek035
Colour Therapy Mandala ek023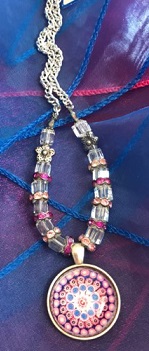 £ 13
Colour therapy mandala pendant .
Colour is very important to us for it has a huge relevance on the physical, emotional and spiritual levels of our well being.It helps to stimulate us as well as keep us in balance.
Rose Quartz quirky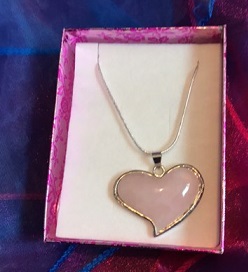 £ 13
Rose Quartz quirky heart on a silver plated Chain .
Rose quartz is connected with Archangel Chamuel who is the angel that works with emotions.
Blue Agate heart ek016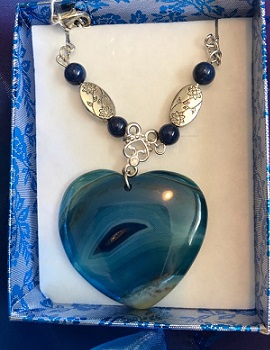 £ 23
Blue Agate heart shape pendant code ek016
bringing in the balance between the positive and the negative, lifting the wearers spirits. Agate helps keep eyes healthy too.


Rose Quartz Oval 0014

£ 15
Rose Quartz Oval on a Ribbon chain
This crystal is an emotional stabilizer. Helping with self worth, self love. Everyone deserves to be loved by others as well as seeing their true beauty.
Wolf howling -blue background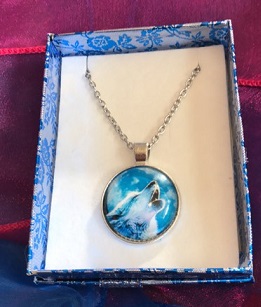 £ 13
Wolf howling in the calm evening sky cabochon

Call upon the wolf to give you strength, instinct and awareness.
grey wolf 029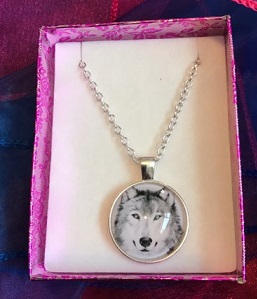 £ 13