C/1 - Sterling silver garnet flower earrings

£ 24
Garnet can act as a strong help to balance the energy system, stimulate desires and uplift your attitude. As a balancer stone, Garnet can prevent fears of insecurity and even money losses. Use Garnet to increase your positivity, thus enhancing your personal self-esteem
C/2 - Sterling silver garnet butterfly earrings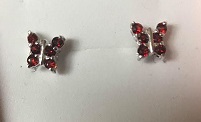 £ 24
Garnet can act as a strong help to balance the energy system, stimulate desires and uplift your attitude. As a balancing stone, Garnet can prevent fears of insecurity and even money losses. Use Garnet to increase your positivity, thus enhancing your personal self-esteem
C/4- Sterling silver Seraphinite Pendant
£ 30
Seraphiniteis a stone of spiritual enlightenment. It is said to be among the most important stones discovered for connecting and communicating with higher energies, such as angels. It facilitates conscious awareness on many higher planes. It is excellent for accessing self-healing. Seraphinite promotes living from the heart. It cleanses the aura, strengthens, activates and balances all chakras. Causes old patterns of disease or imbalance to fall away, thus creating space for new patterns of well-being to form. Seraphinite is healing for nerves and brain cells. It activates the spinal cord and its links to the etheric body (aura). Seraphinite releases muscle tension up into the neck. It overcomes chills. Can help in promoting weight loss
C/5 - Sterling Silver Genuine Citrine.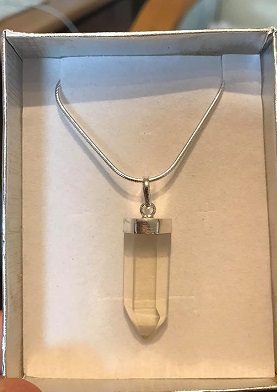 £ 45
Natural Citrine does not hold or accumulate negative energy, but rather transmutes, dissipates, and grounds it, making it extremely protective for the environment. It works out problems on both the physical and subtle levels, transforming negative thoughts and feelings into positive ones. It is one of only two crystals on Earth that never needs to be cleared or cleansed .Citrine opens the higher mind to accept joy in one's life, releasing anger and negative feelings, deep-seated fears and destructive tendencies. An excellent crystal for overcoming depression. A very rare and special crystal
C/6 - Sterling Silver seraphinite.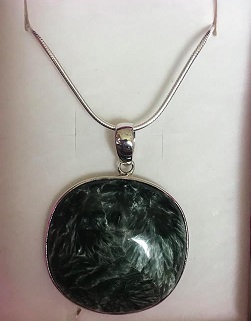 £ 45
I am so excited about this pendant as its huge and so beautiful. It measures 1 1/2 inches. This beautiful angel stone looks like feathers . Seraphinite is a stone of spiritual enlightenment. It is said to be among the most important stones discovered for connecting and communicating with higher energies. It facilitates conscious awareness on many higher planes. It is excellent for accessing self-healing. Seraphinite promotes living from the heart. It cleanses the aura, strengthens, activates and balances all chakras. Causes old patterns of disease or imbalance to fall away, thus creating space for new patterns of well-being to form. Seraphinite is healing for nerves and brain cells. It activates the spinal cord and its links to the etheric body (aura). Seraphinite releases muscle tension up into the neck. It overcomes chills. Can help in promoting weight loss
C/7- Sterling silver green Onyx.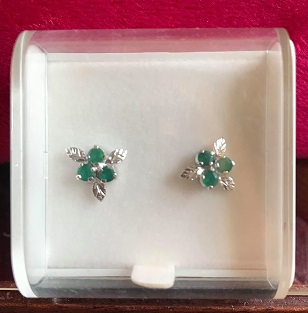 £ 24
Onyx stones are strength-giving, providing support in difficult or confusing times, as well as during times of enormous mental or physical stress.
C/8 - Sterling silver Larimar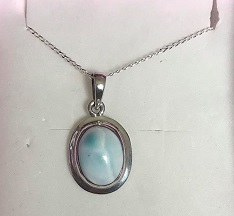 £ 29
Larimar is a serene crystal that can promote relaxation and calm. It is a popular choice for a "worry stone," as it can help to relieve anxiety. Larimar's connection with the element of water – which is the element that rules our emotions – means that it is a wonderful stone to use for all manner of anxiety related to emotional issues, such as that caused by relationships, social anxiety, guilt, or anxiety caused by "thinking bad thoughts."
C/9 - Sterling silver lapis lazuli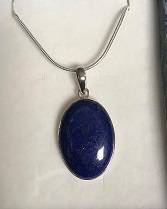 £ 30
Encourages self-awareness, allows self-expression and reveals inner truth, providing qualities of honesty, compassion and morality to the personality. Stimulates objectivity, clarity and encourages creativity. Lapis Lazuli assists to confront and speak one's truth and inspires confidence. Helps with depression and migraines.
C/10 Aquamarine circle of life pendant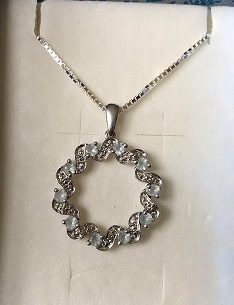 £ 30
. £25 + £3.49 pp This stunning aquamarine, sterling silver pendant can help to regulate hormones and growth. Boosts the immune system and may help to alleviate hayfever or allergies. This beautiful crystal is a stone of courage. Its calming energies reduce stress and quiet the mind. Aquamarine has an affinity with sensitive people. It can invoke tolerance of others and overcomes judgmentalism, giving support to those overwhelmed by responsibility. Clarifies perception, sharpens the intellect and clears confusion. Useful for closure on all levels. Promotes self-expression. Soothes fears and increases sensitivity. Sharpens intuition and opens clairvoyance. Shields the aura and aligns the chakras
C/11 Sterling silver sugalite pendant.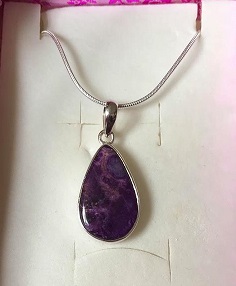 £ 34
Sugilite is a crystal that offers you many gifts that may allow you to make your life better. It is also one of the strongest crystals to wear to give protection from negative entities, and its energy helps to remove negative attachments. Because it is connected to the violet flame, it is a wonderful aid for healing. It accelerates positive feelings and it a lovely emotional healer
C/12 Grade A amethyst silver earrings.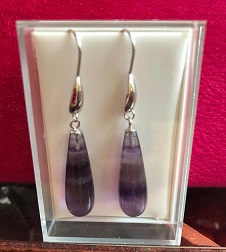 £ 25
Amethyst is another master healer and works on the emotions ans well as the mind.It is a powerful and protective stone. It guards against psychic attack, transmuting the energy into love and protecting the wearer from all types of harm, including geopathic or electromagnetic stress and ill wishes from others. Amethyst is a natural tranquiliser, it relieves stress and strain, soothes irritability, balances mood swings, dispels anger, rage, fear and anxiety. Alleviates sadness and grief, and dissolves negativity. Amethyst activates spiritual awareness, opens intuition and enhances psychic abilities. It has strong healing and cleansing powers
C/14 - Sterling silver garnet heart earrings

£ 25
Garnet can act as a strong help to balance the energy system, stimulate desires and uplift your attitude. As a balancer stone, Garnet can prevent fears of insecurity and even money losses. Use Garnet to increase your positivity, thus enhancing your personal self-esteem
C15/ Pre-loved topaz heavy pendant.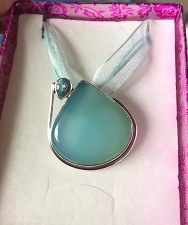 £ 28
Blue Topaz is known to soothe, recharge, heal, stimulate, and redirect the energies of the body to where they're required the most. It's a stone that will enhance forgiveness and truth, and bring a lot of joy, abundance, generosity, and good health. It's known as the gemstone of love, affection, and good fortune.It is a stone of peacefulness, calming to the emotions, and ideal for meditation. It is a natural magnifier of psychic abilities, assisting those who wish to attune to inner guidance, as well as those who serve others through readings or spiritual healing
C16/ Clear quartz Bird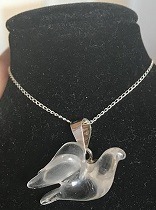 £ 26
Clear quartz is one of the master healers and is good for all conditions of the mind body and spirit
C17/Genuine turquoise pendant.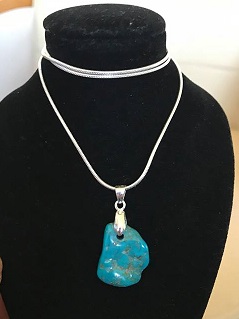 £ 35
Turquoise is associated with meanings of refreshing, feminine, calming, sophisticated, energy, wisdom, serenity, wholeness, creativity, emotional balance, good luck, spiritual grounding, friendship, love, joy, tranquility, patience, intuition, and loyalty.It dispels negative energy and can be worn to protect against outside influences or pollutants in the atmosphere.Itr can benefit the whole body, with special strengths in healing ailments of the immune, respiratory, waste and skeletal systems
C18/Genuine turquoise nugget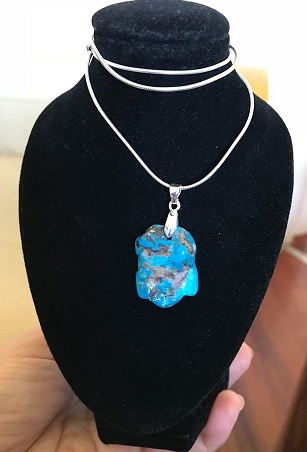 £ 39
Turquoise is associated with meanings of refreshing, feminine, calming, sophisticated, energy, wisdom, serenity, wholeness, creativity, emotional balance, good luck, spiritual grounding, friendship, love, joy, tranquility, patience, intuition, and loyalty.It dispels negative energy and can be worn to protect against outside influences or pollutants in the atmosphere.tr can benefit the whole body, with special strengths in healing ailments of the immune, respiratory, waste and skeletal systems