Items for the man in your life.
Disclaimer: Crystal healing should not be used to replace medical treatment or advice. It can be used as a supplement with modern day medicine. If you choose to use any form of crystal healing on yourself or others, you do so at your own risk. Please note Connections with Spirit is not responsible for items that break or become faulty after wearing, but we will give a full refund if you contact us within 14 days of purchase if a problem arises with your item.
I can post these out to any country, but there is a £9.00 charge PER item as the parcel will need to be tracked. Please add this onto your items price when you pay for it.
International Postage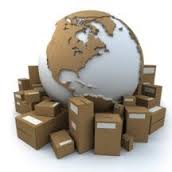 £ 9
Please click here to pay for the postage of your item after you have paid for it. Items are tracked to their destination.
1934/Unisex Black raw tourmaline pendant.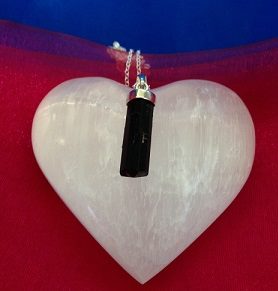 £ 18
Unisex Black tourmaline pendant. £18
Tourmaline is a great protector on all levels. It pushes negativity clean away from you and removes the stagnant energy from past negative issues.
1949/ Mens Agate Pendant.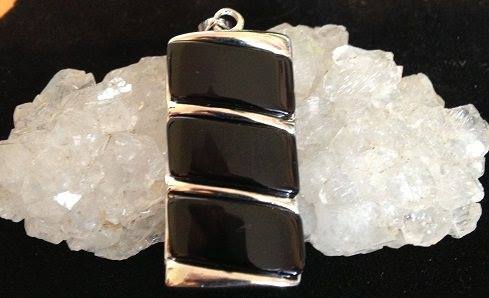 £ 20
Mens Agate Pendant. 1.7 inches long. stainless steel chain. gift boxed.
I love black Agate as it brings the Great Spirit into our
life
Attracts good fortune. Increases concentration and clarity. Promotes good will. Aids in overcoming flaws, fears, and loneliness. Helps to eliminate bad luck. Has a calming effect during times of stress. Gives a sense of strength and courage. Encourages fertility. Powerful healer. Especially beneficial for bone marrow and allergies..
Brown Agate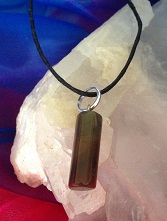 £ 15
Brown Agate on black cord.

Great for grounding for those who lead a chaotic life. Unisex. A great gift for anyone you feel has stress in their life.
.
Agate point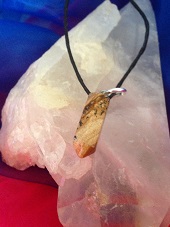 £ 17
Agate point. This can be used as a pendulum as well. Comes on a black cord. A powerful crystal for grounding, if you feel a bit stressed.
Cream and beige agate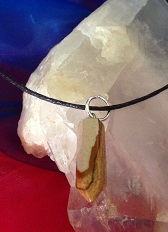 £ 16
Polished two tone agate. This can be used as a pendulum too. Agate, is a talisman that attracts wealth and protects its wearer against negativvity. Further more communication within a relationship is stimulated by this stone as well as inner stability.
Grey Agate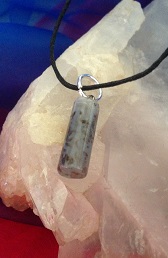 £ 16
Grey agate works slowly but brings great strengths to the wearer. Its useful for any kind of emotional trauma and aids in seeking out hidden truths. A powerful grounding stone.
Polished Tourmaline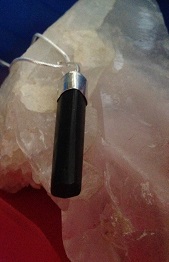 £ 17
Tourmaline is a great protector on all levels. It pushes negativity clean away from you and removes the stagnant energy from past negative issues
1923/Rose quartz Horn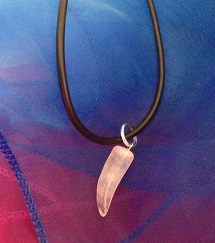 £ 18
Bring a little peace into your life with this gentle emotional stabiliser
1928/Blue howlite pendant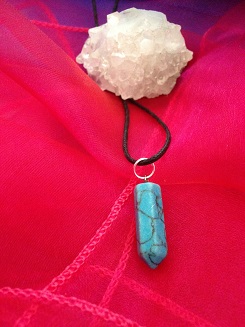 £ 17
A really vibrant colour blue howlite pendant, comes on a black cord.

Blue howlite aids communication, increases awareness and can remove blockages that staret to hold yopu back in life. Howlite stills the mind making it a fantastic aid for meditation, it can also aid astral travel
1975/ Cylinder Agate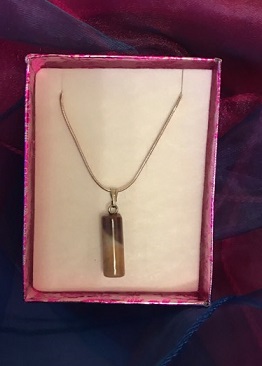 £ 22
Beautfull brown agate with unusual markings, making it a total one off design. A great grounding unisex stone for those who feel a bit of balance is needed in their life. It comes with a silver plated chain or a black cord. Let us know what you'd prefer when ordering.
1977/Wolf Pendant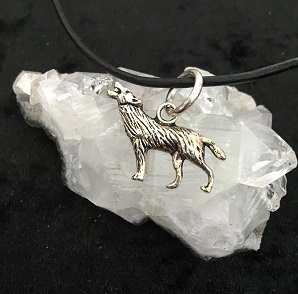 £ 17
Spirit of the wolf. Tibetan silver wolf pendant.
The wolf offers some of the most striking animal meanings in the realm of spirit animals. The power of the wolf brings forth instinct, intelligence, appetite for freedom, and awareness of the importance of social connections. This animal can also symbolize fear of being threatened and lack of trust. When the wolf shows up in your life, pay attention to what your intuition is telling you.