Disclaimer: Crystal healing should not be used to replace medical treatment or advice. It can be used as a supplement with modern day medicine. If you choose to use any form of crystal healing on yourself or others, you do so at your own risk. Please note Connections with Spirit is not responsible for items that break or become faulty after wearing, but we will give a full refund if you contact us within 14 days of purchase if a problem arises with your item.
I can post these out to any country, but there is a £9.00 charge PER item as the parcel will need to be tracked. Please add this onto your items price when you pay for it.
Gift vouchers are available for all treatments, private sittings and jewellery. contact me for details. I can E-mail vouchers if you need one urgently.
International Postage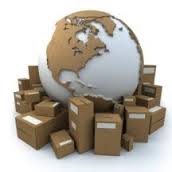 £ 9
Please click here to pay for the postage of your item after you have paid for it. Items are tracked to their destination.
Small chakra set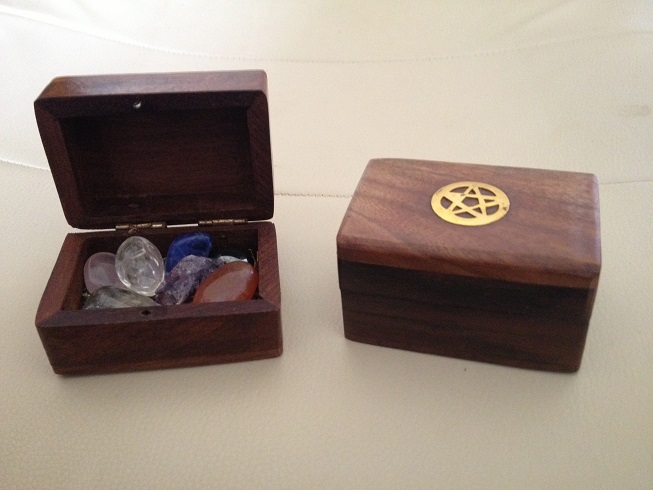 £ 16
AA grade crystals that are cleansed and programmed to work on the body.
Large Rose Quartz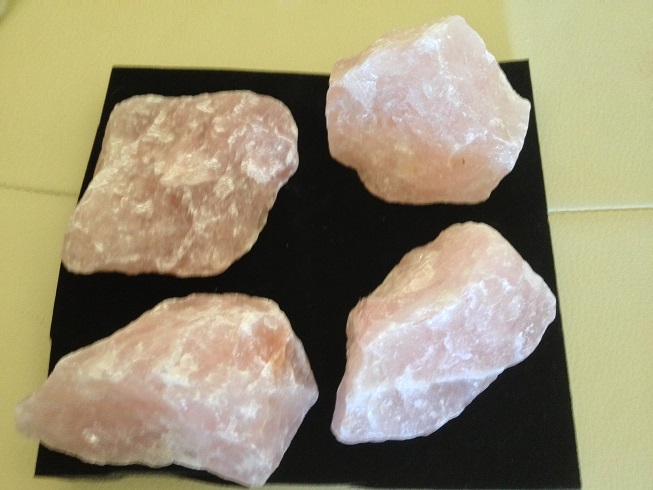 £ 8
These are £8 EACH. Beautiful, raw, large crystals to have in a room to bring calm and peace. They will arrived cleansed, programmed and full of angelic reiki to give you a wonderful crystal healing session when you hold them. If you want to find inner peace and love yourself. This is the crystal for you.
Large Amethyst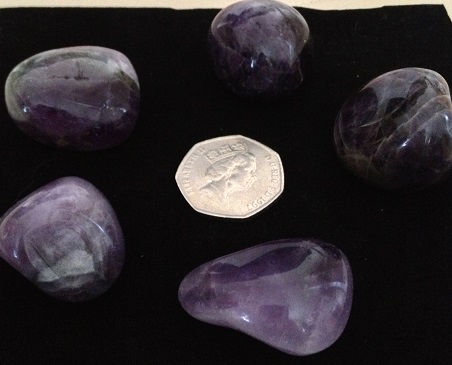 £ 4
Large AA grade amethyst. £4 EACH
Cleansed and full of healing reiki. Great for headacxhes, stress or anxiety.
Angel Bag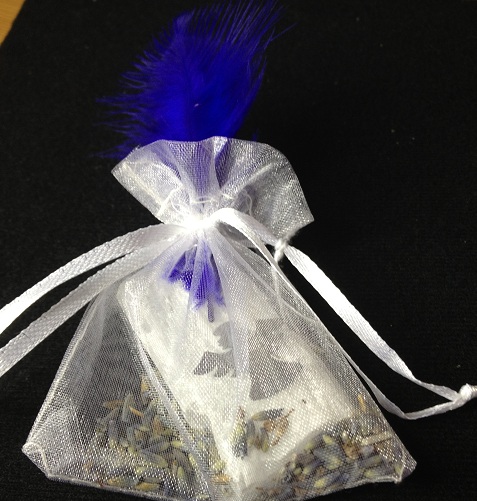 £ 9
Beautiful block of selenite. This crystal is remarkably peaceful. They carry a very high vibration, and instill clarity of mind and a deep sense of inner peace. Selenite will assist you in opening your crown chakra and it can even assist you in contacting your Spiritual Guides and Angels.
Another wonderful property of Selenite. is that it has the power to cleanse and clear other crystals and negative energies. You will never need to cleanse or recharge your Selenite crystal, as you need to do with many metaphysical stones.
Selenite is one of the more powerful healing stones for the new age and spiritual work. It is excellent for meditation, and ensures a peaceful environment when they are placed around the home.
Chakra bag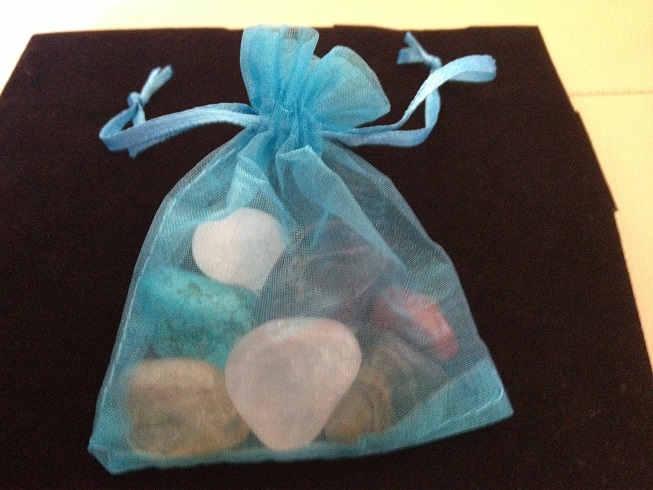 £ 10
Place these balancing crystals in the bath, shower or just place them on your body for a great all round detoxifyer. Beautiful self healing kit.
Selenite cross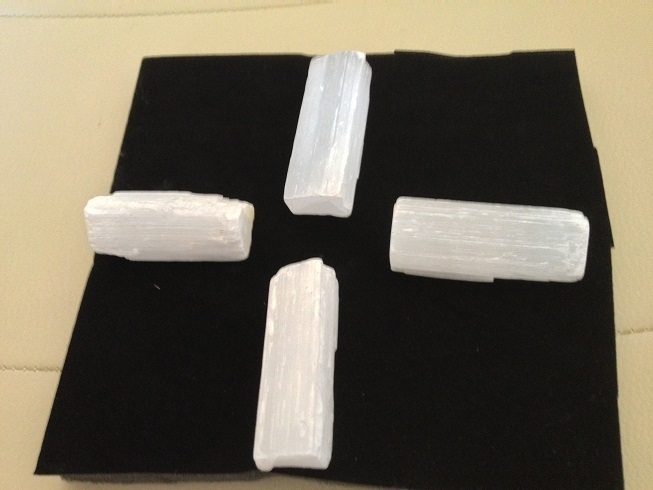 £ 15
Four large blocks of selenite. Place any crystals in the centre of the cross for a powerful cleansing and recharging gift. Plaxce a picture of a sick loved one in the centre and the selentite will send them angelic healing.
Small Smokey quartz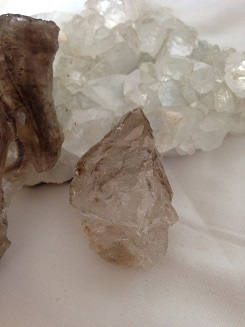 £ 17
Smokey Quartz ELESTIAL crystal.
This crystal has an extremely high vibration and is attuned to the vibration of the higher spiritual realms. They are an excellent crystal to keep nearby as they continuously receive spiritual vibrations, which they regulate and attune to the energy of those who are nearby and receiving it. This also allo
...
ws you to receive an infusion of the love and light from the angelic realms for your personal growth and healing, without it impacting you in a way that may be uncomfortable.
These are a stone for our times, as they aid attunement with the higher vibrations and open doorways to higher dimensions. They are an amazing stone to aid change in your life, and provide a stronger connection to spirit and to the angelic realms.
Aventurine pendulum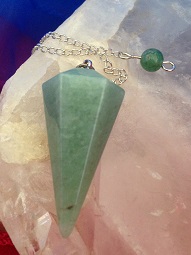 £ 15
Aventurine pendulum I don't know when I've seen a more beautiful crystal . This pendulum will release old patterns, enhance motivation and creativity . A wonderful healing tool
Jasper Pendulum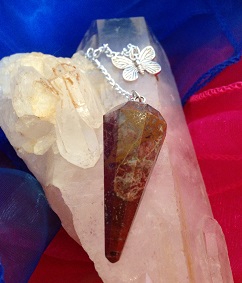 £ 17
Jasper Pendulum
Hugely grounding crystal that I have found works well for sealing aura holes. NOTE: this has an owl , not a butterfly at the end.
Agate Pendulum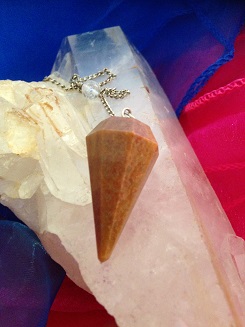 £ 17
Agate is used for stomach upsets. Place the agate on the solar plexus. The agate can't change emotions, but helps to change our level of acceptance of the emotion. Such as when you are very sad the agate will let you know that this will pass and help you get on to another and better day. This is why the Agate is considered so powerful as it gives us the strength to carry on.
Clear quartz pendulum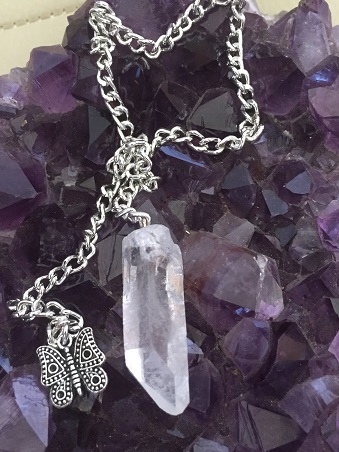 £ 16
Bespoke, raw clear quartz master healer that can be used for all conditions of the body and chakara clearing. You cannot buy these anywhere else and each one is individual.