Disclaimer: Crystal healing should not be used to replace medical treatment or advice. It can be used as a supplement with modern day medicine. If you choose to use any form of crystal healing on yourself or others, you do so at your own risk. Please note Connections with Spirit is not responsible for items that break or become faulty after wearing, but we will give a full refund if you contact us within 14 days of purchase if a problem arises with your item that was through no fault of your own.


Each item is handmade. The wire, chains, clasps are silver plated. These items are one off designs. Connections with spirits jewellery is unique because there will only



ever be one designed in the style. You will own a very unique item and that is what makes it very special.
PLEASE NOTE: Some of these crystals are in their Raw state and are therefore very delicate. Please ensure you treat them with respect. DO NOT spray products onto them, DO NOT shower or sleep in them. Be careful when taking them off and on so they do not catch on clothing. It is NOT our responsibility to repair an item, if you break them through being heavy handed or dropping the pendant on a hard surface.
Gift vouchers are available for all treatments, private sittings and jewellery. contact me for details. I can E-mail vouchers if you would prefer.

Blue howlite/1801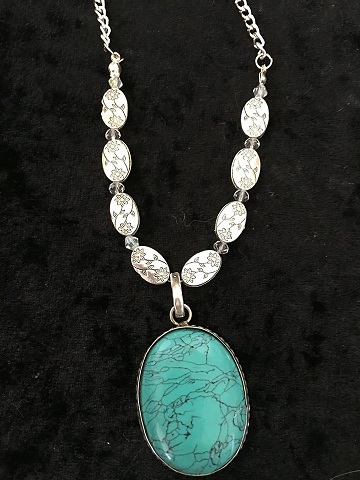 £ 27
Blue howlite oval pendant in tibetan silver mount.
Length 18 inch. but we can make it longer or shorter if you wish. use the contact form to tell us what you requier after purchasing.
Howlite is a very calming stone. It is an excellent remedy for insomnia and is calming for overactive mind meaning that it can also be used as an aid for meditation. Howlite aids patience and removes rage and anger, including any anger directed towards its owner.
Opalite arrow head /1803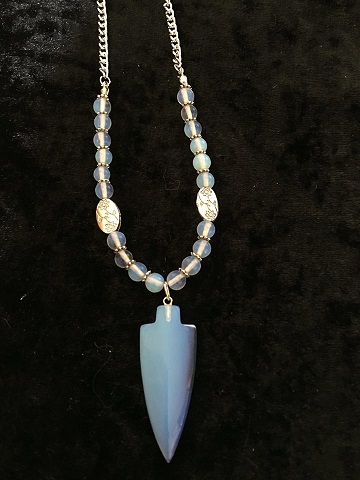 £ 27
Bespoke arrow point opalite necklace £20 + !.99pp. Top quality opalite beads with silver plated flower spacers. Length 18 inch. but we can make it longer or shorter if you wish. use the contact form to tell us what you requier after purchasing. Opalite is a high energy stone which removes blockages from chakras and meridians. It stabilises mood swings , over comes fatigue and helps with communication.
Angel Wings/blue beads /1804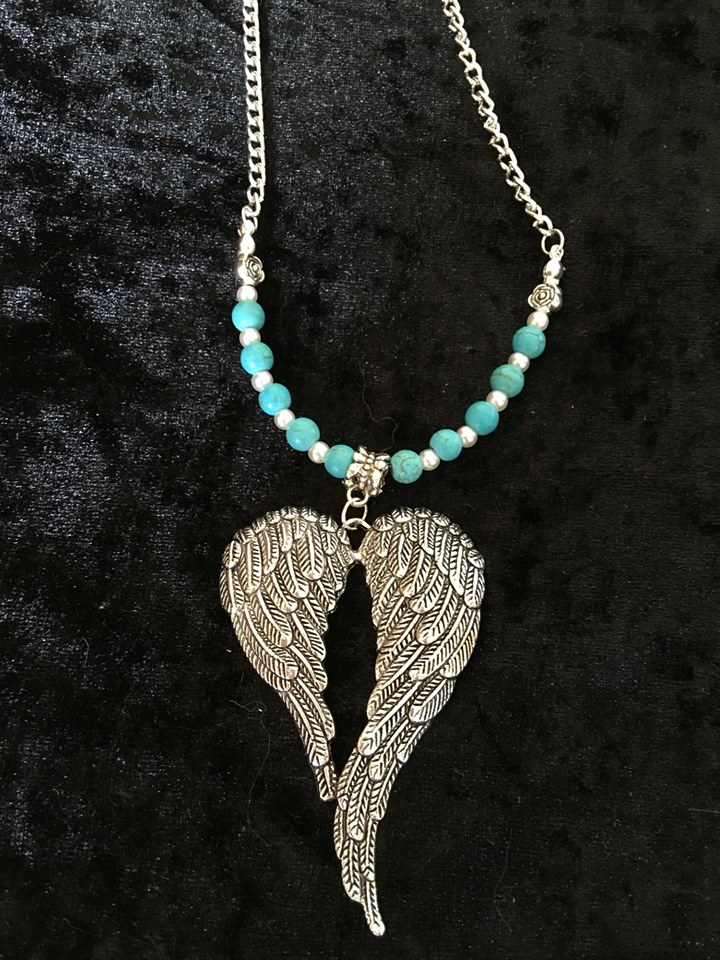 £ 28
These stunning wings have become our top sellers and we have them in many designs. The beads are blue howlite, with tiny pearls giving that soft calming energy vibration. The colour blue works on our communication skills, so this is great to wear if you are going for an interview, or need more claification if you are speaking in a situation. Chain length is 18 but i can do any length you require.
Angel wings/purple hearts/1805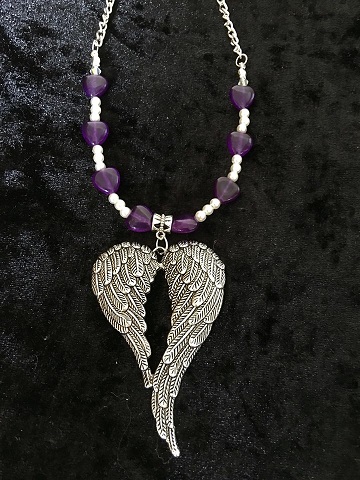 £ 28
1805/ Angel wings with delicate pearls and purple hearts.
A necklace that just projects love to the wearer. They enhance personal integrity and help to provide a focus to ones attention. Pearl symbolises purity and is known as a "stone of sincerity". It brings truth to situations and loyalty to a "cause". Combined with clur of spirit, this really is a beautiful connection to the angels
1807/ Red seasediment/Pearl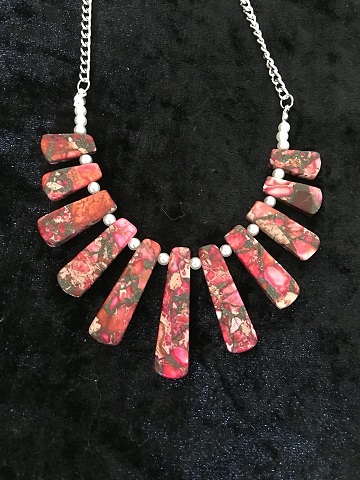 £ 35
This necklace needs to be work to see its actual beauty shine. A combination of the gentle vibraton of pearl and the protection of the seasediment jasper, make this a wonderful theraputic necklace.Jasper is recognised as the "supreme nurturer". It holds and supports during times of stress, bringing a sense of completeness and tranquillity. It is often used to help with dream recall and shamanic journeying. it is also a powerful protection against things that are not good for you and it eases emotional stresses, making it a wonderful gemstone to wear.
1810/Opalite Necklace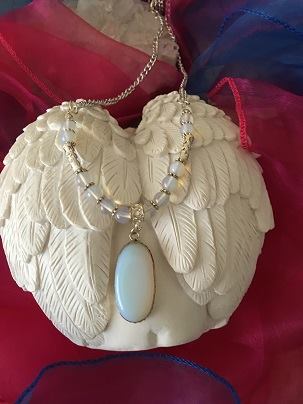 £ 28
Opalite/bead pendant. 189 inch length
Opalite is subtle yet highly energetic. It is ideal for meditation. Opalite improves communication on all levels, especially the spiritual. It removes energy blockages of the chakras and meridians. Emotionally, Opalite helps by assisting during transitions of all kinds. It engenders persistence and gives us strength in verbalising our hidden feelings. It can also help us to be successful in business.
1811/ Agate Heart Pendant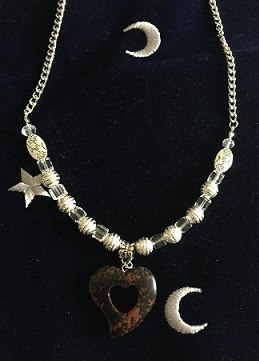 £ 25
This unique heart is a brown agate. These crystals are very grounding and can bring you back to earth when you feel like things are getting away from you a bit. There is a mix of crystal and spheres, to give it a lovely moonlight sparkle
1913/ Rhodonite Pendant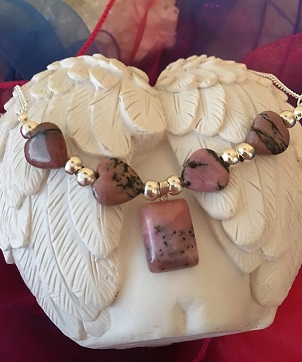 £ 30
AAA grade Rhodonite square/heart pendant, with silver plated beads to give it an added sparkle. Rhodonite is an outstanding stone for the restoration of physical energy that has been drained due to emotional trauma/drama. It is an ideal stone for processing and dispelling emotional pain. It clears away wounds and scars of the past, releasing abusive and self-destructive behaviors, feelings of hatred, anger or resentment, and allows one to see both sides of an issue.
1814/Mandala Necklace.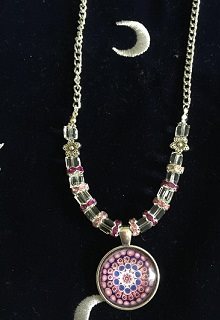 £ 22

A mandala represents wholeness, a cosmic diagram reminding us of our relation to infinity, extending beyond and within our bodies and minds.

Anything is possible when we put our minds to it. By just looking at this colour therapy pendant, it is possible to absorb its energy. Mixed with the clear quartz beads, the vibration of this pendant is amazing. It makes you feel on top of the world.

1914/ Buddah Necklace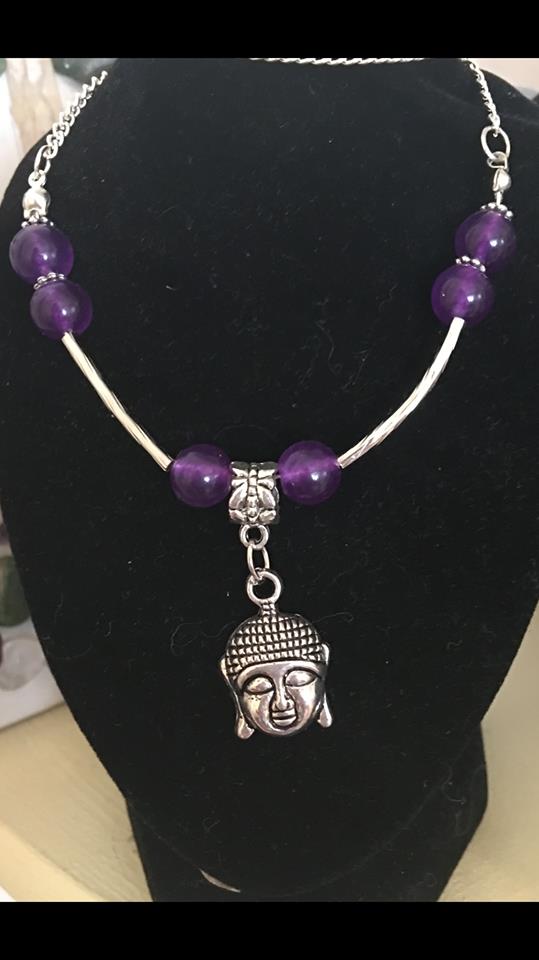 £ 22

When things go wrong in our lives we tend to regard the situation itself as the problem. If we respond to difficult situations with a positive or peaceful mind they would not be problems for us. Problems arise only if we respond to difficulties with a negative state of mind. Allow this pendant to bring you clarity
1915/ Amethyt Pendant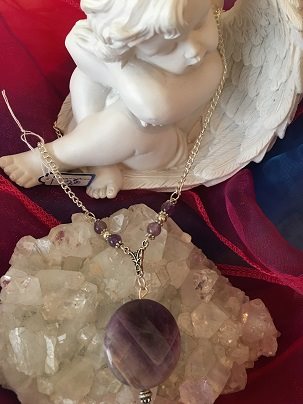 £ 25
This is an AA grade polished crystal and thus has its own individual formation.
You can never have too much amethyst. Its a crystal that actively promotes good health, reduces pain, headaches and enhances psychic awareness.
1815/Coloured Mandala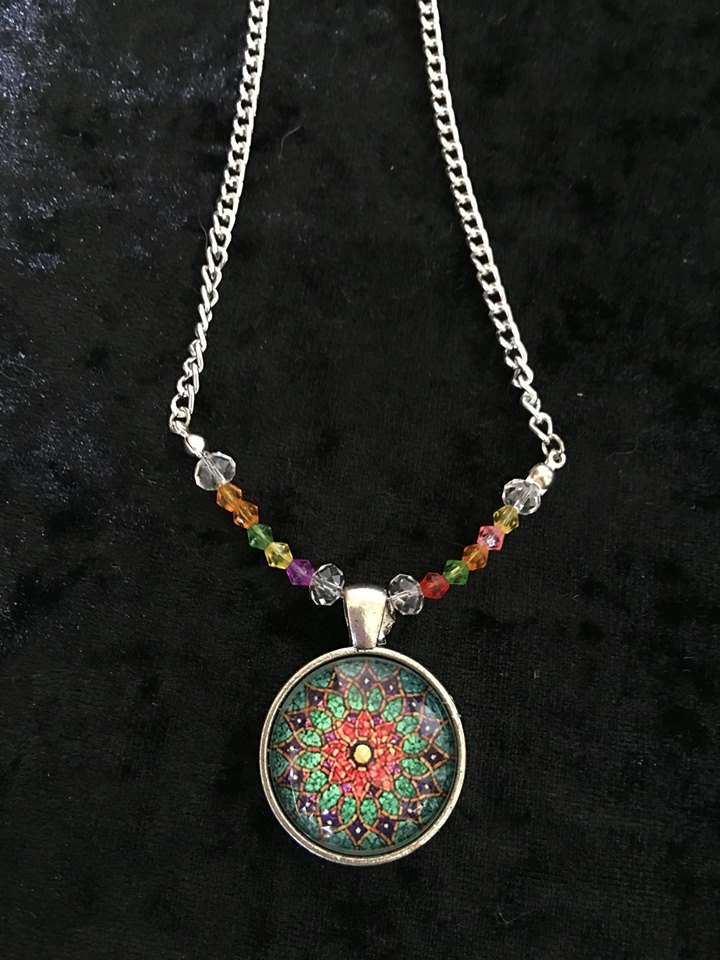 £ 22
Everyone needs colour in their life and this little pendant brings just that. It fills the body with a beautiful healng combination of colour that brings a spring to your step by just looking at it. Tiny crystals make it sparkle. So even on a dull day, you are shining like the sun.
1971/ Cat Pendant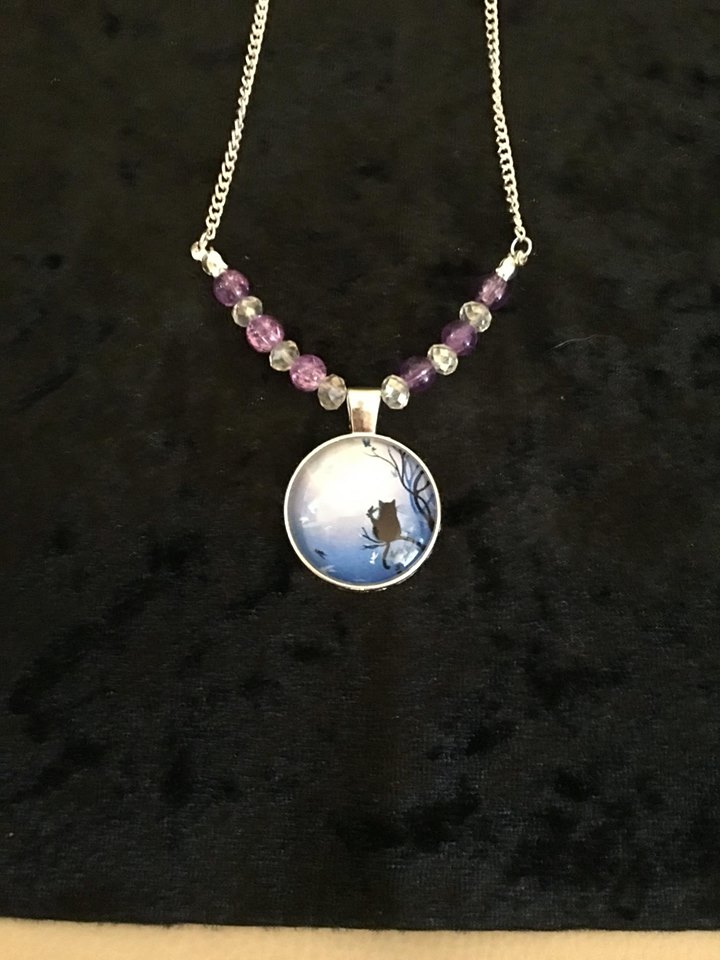 £ 17
Cute cat pendant with Purple and crystal beads
1981/Raw black kyanite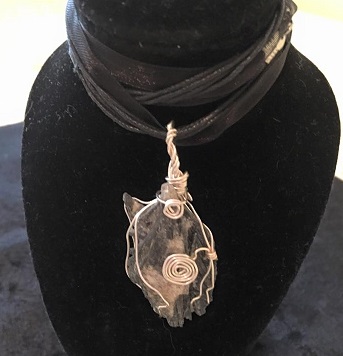 £ 25

Beautiful black kyanite encourages self expression, so it's great to wear when addressing a group. For those who feel they have lost their way, this stone will guide them to walk a different path . This comes on a plain cord or ribbon and is unisex .
1502, Yellow Amethyst Pendant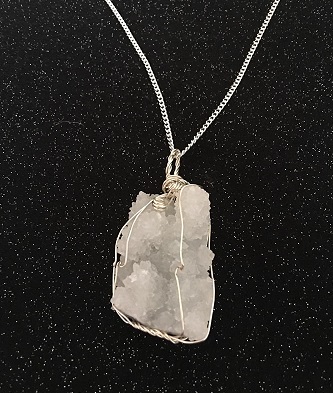 £ 27
Yellow amethst pendant on a 17 inch silver plated chain and chip combination.
1505/Clear quartz pendant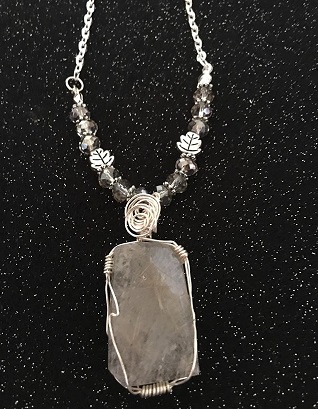 £ 29
Wired in silver pkated, nickel free wire, this clear quartz on a partial clear quartz and crystal chain, is a master healer of the mind, body and spirit. The crystal is 11/2 inches long on a 17 inch chain that i make make whatever size ytou wish.
1507/Titanium quartz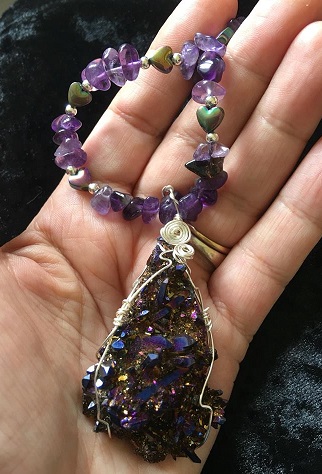 £ 35
1507/Natural titainium Aura quartz formation, with rainbow hemitite hearts and amethyst chips. 18 inch silver plated chain. This crystal centres erratic emotions and allows you to access postive emotions more clearly.. Removes energy blockages from the chakras, whilst clearing and balancing them. Relieves depression and helps with pain releif. This quartz carrys all the colours oif the rainbow
1514/Amethyst and Rose Quartz pendant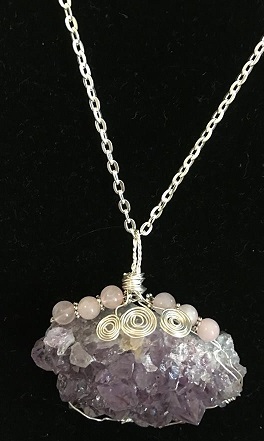 £ 35
This is a large design and not for the faint hearted. Contrary to belief, the larger designs are not heavy around the neck. As the crystal vibrates with the body, it becomes as light as air. This is a rose quartz bead design on an amethyst bed.. The wire and chain are silver plated. This is a great cystal to ease stgrfess headaches and pain related conditions. Its also a great spiritual protection stone too.
1513/Amethyst and purple bead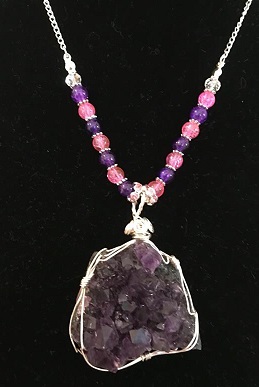 £ 30
1513/ Amethyst with pink&purple beads. crystal is 4x4 cm . Chain
is silver plated and 16 inches.
Contrary to belief, these larger pendants are not toon heavy. As they blend with your vibtration, they become as light as air. Great for pain relief
, stress headaches and psychic protection.
1516/Amethyst and chip pendant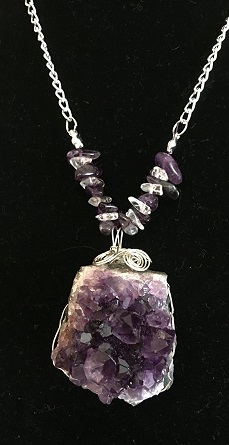 £ 30
1516/Amethyst and chip beads. Silver plated wire and chain.Crystal is length and 3 cm wide.Contrary to belief, these larger pendants are not toon heavy. As they blend with your vibtration, they become as light as air. Great for pain relief, stress headaches, pschic protection.
1510/Ice Quartz and flourite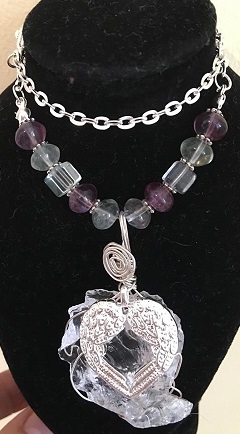 £ 30
Ice Quartz with silver plated angel wings.
Flourite make this a beautiful angelic vibrational pendant. fluorite has a wide range of colors including yellow, blue, pink purple and green. It is an interesting and beautiful stone because often more than one color occurs in a single stone. Holistically, it can also
help with ulcers as well as the respiratory tract by stimulating cell regeneration in these areas.
1511/ice quartz and bead pendant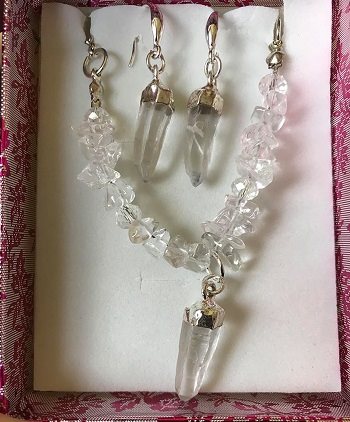 £ 25
A master healer that works on all conditions of the body.
1508/Ice quartz and rose quartz bead pendant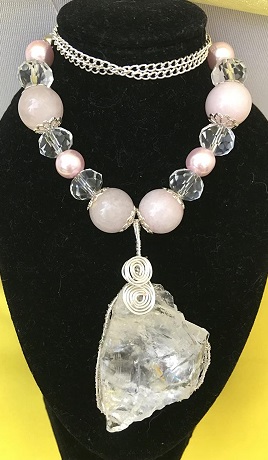 £ 30
A necklace that brings instant calm to the wearer. Great for those who suffer from confidence issues or for those who need a bit of gentle peace in their life.
1509/Lepidolite pendant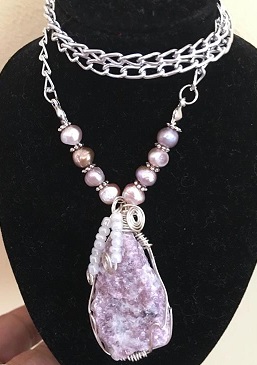 £ 30
Lepidolite is a beautiful stone.of calm, trust, and acceptance. It has a strong relaxing, balancing and calming effect. It brings hope in dark times by lending a sense of balance and calm. Lepidolite is a stone of transformation in that it helps one get through transitions with trust that everything will ultimately turn out for the best. It engenders and enhances self-love, patience, and optimism.
1515/Rose quartz pendant
£ 30

A stone of love and peace. Rose quartz will bring you a gentle calm when things around you are chaotic. It balances the emotions and allows you to think clearer.
1985/Clear quartz, master healer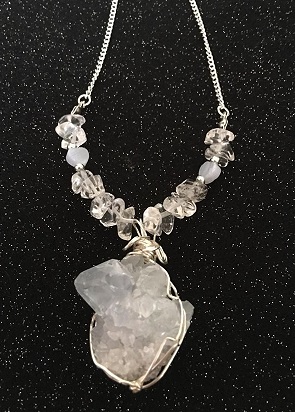 £ 25
size. 1inch x 1inch. Silber plated wire and chain. 18 inch chain, but the length can be made to your requirments. This is a crystal in its raw state. Clear Quartz is known as the "master healer" and will amplify energy and thought, as well as the effect of other crystals. It absorbs, stores, releases and regulates energy. Clear Quartz draws off negative energy of all kinds, neutralising background radiation, including electromagnetic smog. It balances and revitalises the physical, mental, emotional and spiritual planes. Cleanses and enhances the organs and subtle bodies and acts as a deep soul cleanser, connecting the physical dimension with the mind. Clear Quartz enhances psychic abilities. It aids concentration and unlocks memory. Stimulates the immune system and brings the body into balance. harmonises all the chakras and aligns the subtle bodies.
1986/Aventurine pendant.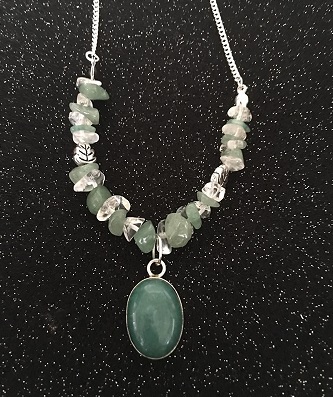 £ 25
size 1/2 inch pendant is 925 silver. The chain/findings are silver plated , 18inch chain that can me made to the size you wish.
Aventurine is a stone of prosperity. It reinforces leadership qualities and decisiveness. Promotes compassion and empathy. Encourages perseverance. Aventurine relieves stammers and severe neuroses. It stabilises one's state of mind, stimulates perception and enhances creativity. Calms anger and irritation. It encourages regeneration of the heart. Protects against environmental pollution.
1987/Druzy crystal.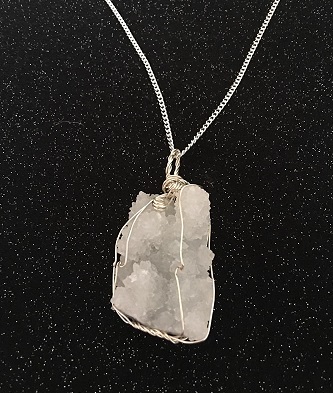 £ 26
size 2 inch x 1inch. silver plated.
Care must be taken with regard to the drusy stone. Avoid knocking or banging it repeatedly as it will, most assuredly break. Also avoid immersing the gem material into harsh chemicals or ultrasonic cleaners. To clean it, simply wipe it clean with a very soft dry cloth.
Drusy purifies and amplifies the body's natural healing properties and strengthens the spirit. It is also believed to provide the balance necessary to avoid depression or unnatural feelings of fear or dread. It reducing stress levels, re-energize the body and can be emotionally uplifting.
It can help to open blocked energy and assist its wearer find their own inner light and it strengthens the circulatory and immune systems and purifies the reproductive system.
1987/Mahogany Obsidian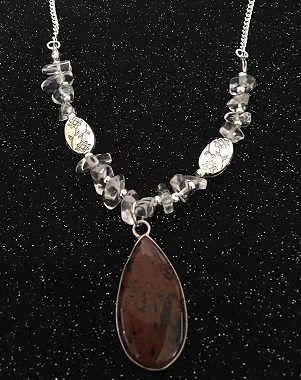 £ 25
1987/Mahogany Obsidian with clear quartz chips and glass bead pearls. pendant size 1 inch length.
Mahogany Obsidian is used to remove energy blockages, including psychic cords, that sap inner strength. It is also used for protection from psychic attack. It is said to strengthen the aura, further protecting the person. As a root chakra stone, it is excellent for stabilizing and grounding for lightwork or simply for improvement of life in general. Great emotional stabilser
1988/Tormilated Quartz.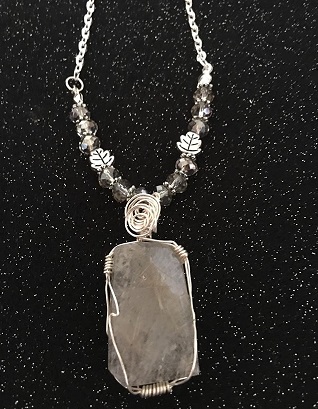 £ 26
Tormilated Quartz. with smoky crystal beads. pendant size 1 inch lenght. Silver plated. 18 inch chain which i can change to your size.
This crystals encourages a large amount of light to encircle your body, and this will help to heal you on many levels. This is because this combination of the Black Tourmaline and Clear quartz crystals, amplifies both energies.
Tourmalinated quartz have a strong spiritual grounding energy as well as being potent psychic protection stones. They can clear your auric field of negativity, keep you safe, and shield you from harm.
1989/Sodalite pendant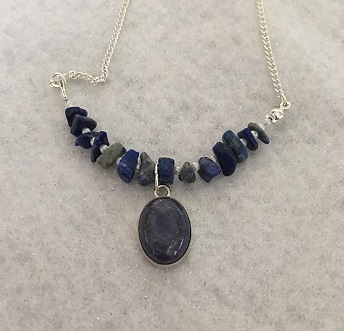 £ 26
Sodalite pendant with lapis lazuli chips and glass pearls. £23 + £2.99 silver plated chain. Pendant size is 1/2 inch and is 925 silver.
Sodalite brings inner peace. It helps with weightloss and gives confidence, combines with the lapis lazuli chips, thsi is a necklace of wellbeing for mind, body and spirit.
1990/Lapis lazuli pendant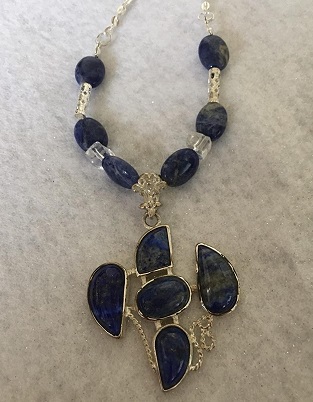 £ 25
1990/Lapis lazuli pendant with lapis and crystal beading. THIS HAS A small black mark FLAW ON ONE SIDE OF THE PENDANT. Hence the reduced price of £22 +
£2.99 PP
Lapis Lazuli is a useful stone to wear as it is said to relieve anger and negative thoughts, as well as easing frustrations causing the anger. It can help create and maintain a connection between the physical and celestial planes, creating a strong spiritual connectionAs a protection stone, Lapis Lazuli protects from psychic and physical attacks. It can help to overcome grief or trauma. it is great for pain releif, bones, heart, immune system, vertigo, fibro and insomnia
1991/Tree of life.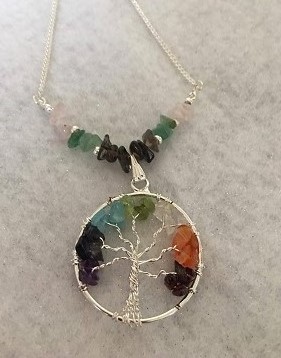 £ 25
pendant 1 inch in width. just over 1/2 wide. Beautiful tree of life pendant with a mix of stabilising crystals that work on the mind, body and spirit to bring calm and relaxation.
1991/Amethyst pendant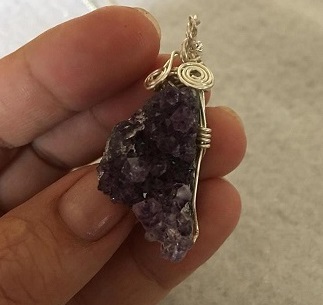 £ 28
Silver plated chain and findings. Size 1/2 inch x 1/2 inch. Amethyst eases tension headaches and releases tension. It reduces bruising, swellings, injuries, and treats hearing disorders. Amethyst heals diseases of the lungs and respiratory tract, skin conditions, cellular disorders and diseases of the digestive tract.
1994/ Green agate arrow with aventurine chips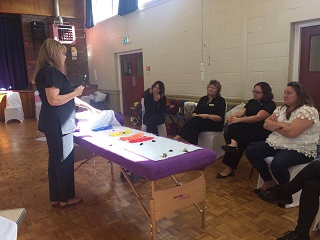 £ 22
Agates are grounding stones, bringing about an emotional physical and intellectual balance. They aid in centring and stabilising physical energy. A soothing and calming stone, agate works slowly and gently facilitates acceptance of ones self. This crystal overcomes negativity and bitterness of the heart. It heals inner anger and gives you the courage to start again. Agate stabilised the aura, eliminating and transforming negative energies. Its cleansing effect is powerful at the physical and emotional levels. Placed on the heart chakra it will heal the emotional disease that prevents acceptance of love. placed on the sacral chakra (abdomen) or taken as crystal water, agate stimulates the digestive process and relieves gastritis. It heals the eyes, stomach, and uterus, it cleanses the lymphatic system and pancreas, it strengthens blood vessels and heals skin disorders
Combined with the healing value of the aventurine, this is a very therapeutic item as well as being beautiful.
1995/Purple agate with amethyst beads and clear quartz chips.
£ 25
Purple agates are stones of meditation and spiritual transformation. It assists in allowing trust with your intuition to step forward and it is a very grounding stone.
1996/ Opalite tear drop with beads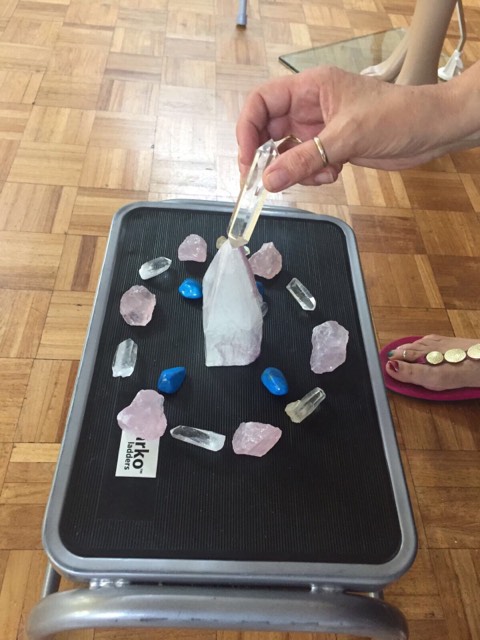 £ 25
Opalite just mesmerises you. its iridescent glow almost look etheric as it shimmers and changes colour with the light. A truly beautiful item of jewellery.
1998/Goldstone necklace.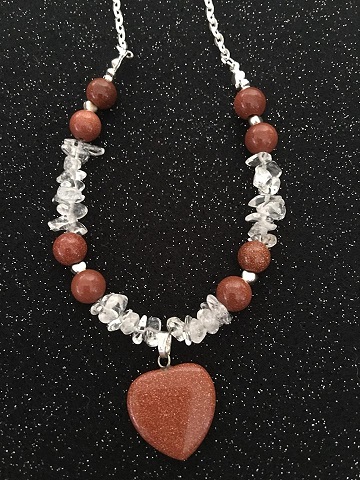 £ 25

Goldstone helps you attain goals and can also helpyou stay calm and stabilize the emotions. It can be used as an energy generator and can deflect unwanted energies, making it used as a protection stone. It is also used for long distance healing and revitalizing one's energy field. Goldstone also has many of the metaphysical properties of copper, including in crystal healing lore the strengthening the circulatory system, strengthening bones, and easing arthritis pain.