Disclaimer: Crystal healing should not be used to replace medical treatment or advice. It can be used as a supplement with modern day medicine. If you choose to use any form of crystal healing on yourself or others, you do so at your own risk. Please note Connections with Spirit is not responsible for items that break or become faulty after wearing, but we will give a full refund if you contact us within 14 days of purchase if a problem arises with your item.
I can post these out to any country, but there is a £9.00 charge PER item as the parcel will need to be tracked. Please add this onto your items price when you pay for it.
Gift vouchers are available for all treatments, private sittings and jewellery. contact me for details. I can E-mail vouchers if you need one urgently.
International Postage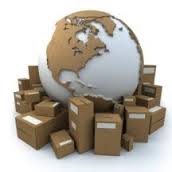 £ 9
Please click here to pay for the postage of your item after you have paid for it. Items are tracked to their destination.
Fluorite Angel Pendant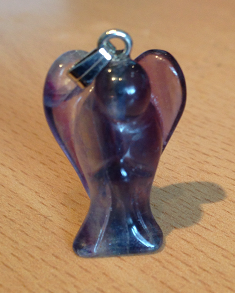 £ 16
Angel on a silver plt chain
Fluorite cleanses and stabilises the aura. It absorbs and neutralises negative energy and stress. Fluorite increases our powers of concentration, self-confidence and helps us in decision-making. It encourages positivity, balances the energies, and improves balance and coordination, both physically and mentally.
Tibetan silver Angel Wings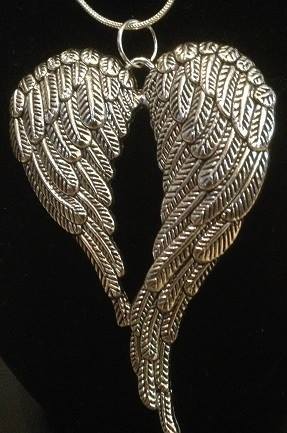 £ 18
Gorgeous Tibetan silver Angel wing pendant
comes on a 925 silver plt chain. The picture does not do these stunning wings justice at all. Everyone should have angels around them.
Rose Quartz heart , Tibetan Angel wings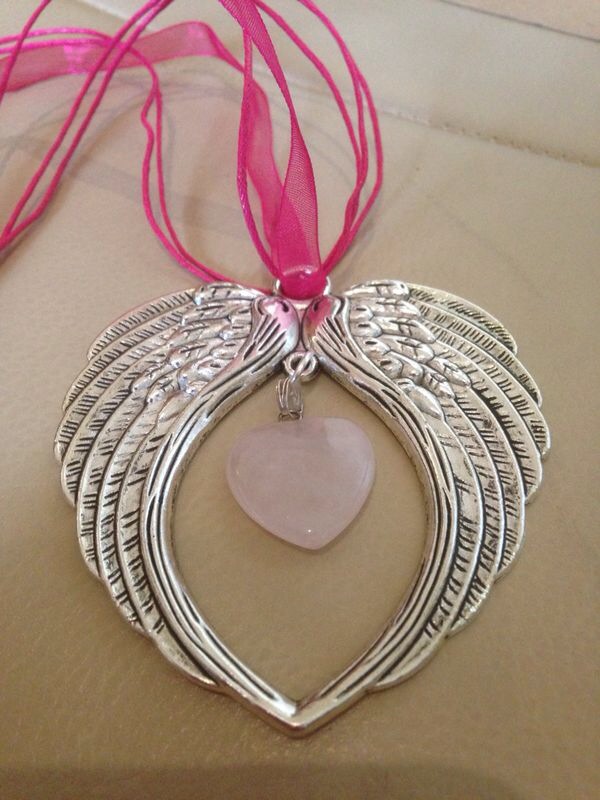 £ 25
This is a beautiful active Rose Quartz heart protected by Tibetan silver angel wings.
Rose quartz purifies and opens the heart at all levels,and brings deep inner healer and self love.It strengthens the physical heart and circulatory system releasing impurities from body fluids.Rose Quartz is helpful in Alzheimer" s,Parkinson"s and senile Dementia.
Clear Quartz Heart, Tibetan silver Angel Wings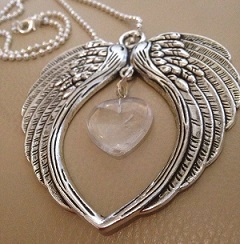 £ 23
Blue Howlite Tibetan silver wings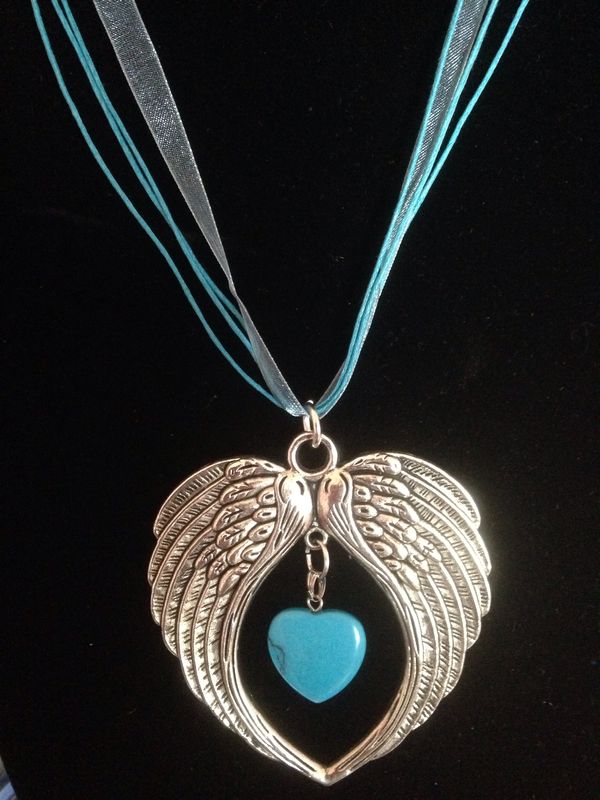 £ 25

A beautiful active blue howlite crystal heart surrounded by the protective Tibetan silver wings of an angel.A piece of blue howlite , placed by your bed is said to help you remember and understand your dreams.
It also helps calm your own anger and to absorb anger directed at you. It's soothing energy can also reduce tension and anxiety and can help still the mind before sleep and meditation

Angel snowdrop Pendant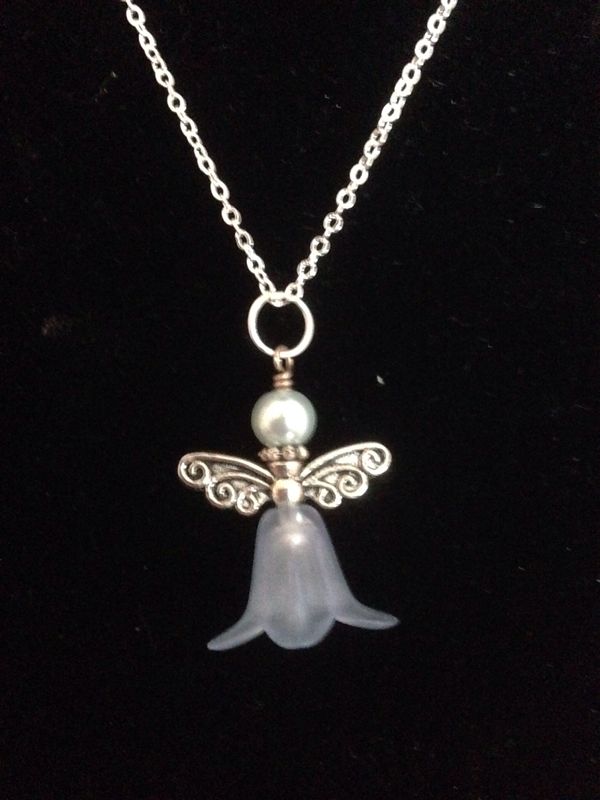 £ 15
This pretty little Angel pendant reminds me of the snowdrop flowers , A breath of fresh air. She has Tibetan silver wings and a pearl bead head. Snowdrop comes on a silver chain and is handmade. Exquisite beauty.

Angel pendant/clip on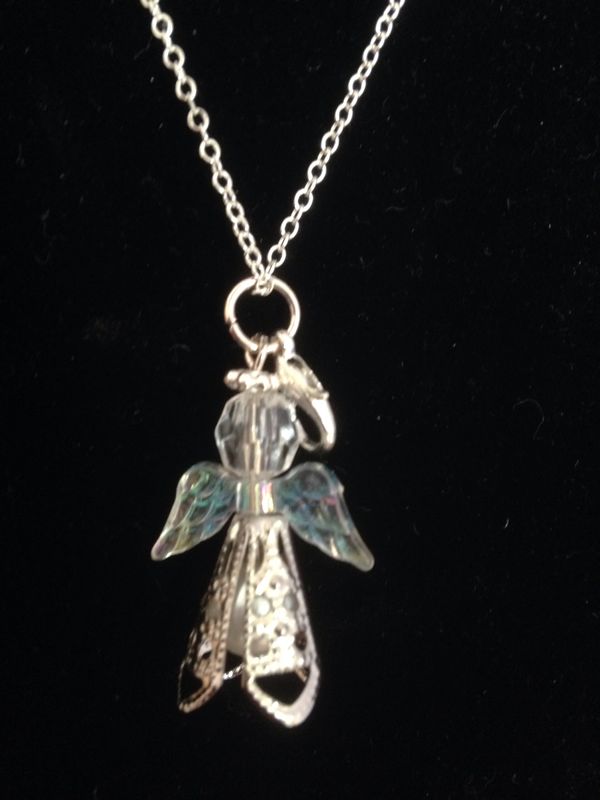 £ 14
This can be either a pendant as shown or a clip on Angel to your handbag/purse/zips etc
This little girl is handmade and the only one in existance..
Small Angel crystal pendant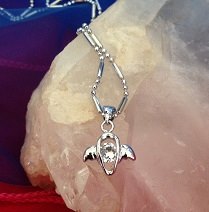 £ 15
Beautiful small Angel wing silver pendant with clear crystal in the centre
Tibetan Angel Wings Surrounding a Amethyst Heart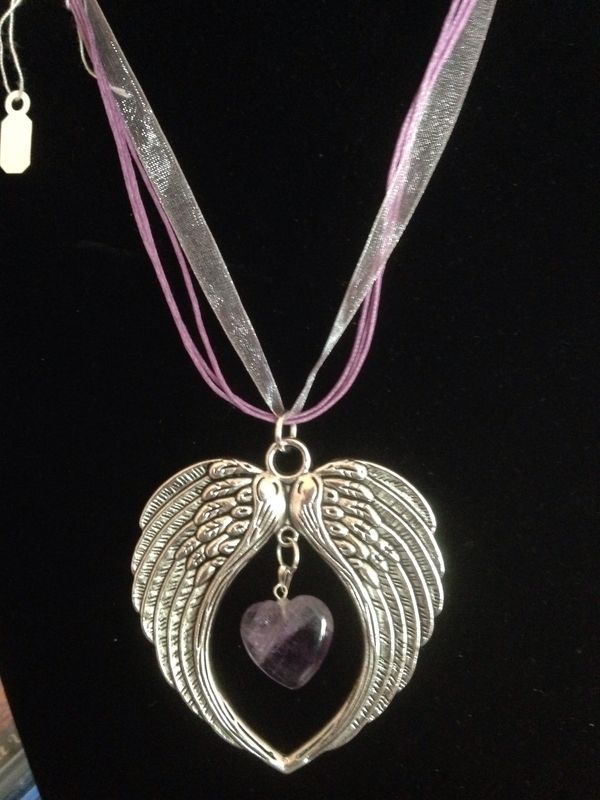 £ 25
A beautiful active Amethyst crystal heart surrounded by the protective Tibetan silver wings of an angel, on a purple ribbon necklace. This picture does not do it juistice. This is hand made by margaret and cannot be bought elsewhere.

1928/ Red ribbon angel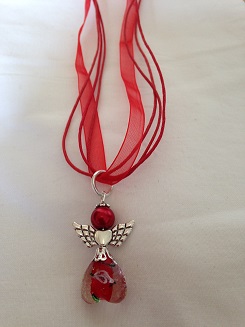 £ 20
Cute angel on an extendable organza ribbon. These beads are individual so no two necklaces will ever be the same.
Red is the colour of courage. If you are ambitious, red will empower that. Red gives you enthusiam for life. Wear the angel and become empowered.
Angel Mix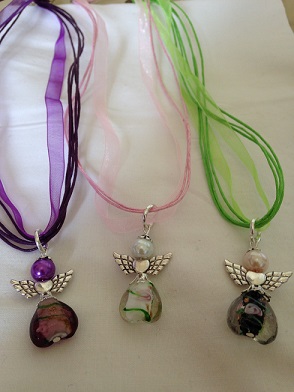 £ 16
Choose an angel to love. These are priced as single angels. All are handmade and unique in their apearance.
Angel in angel wings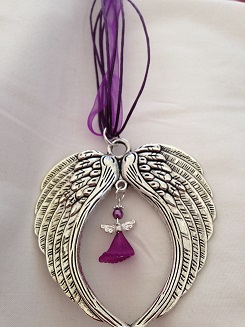 £ 25
Hand made angels within angels.
May an angel always be beside you.
Purple is the colour of Archangel Zadkiel who comes in on a energy of spiritual growth , bringing comfort to us , helping us to heal from past emotions
Single Tibetan Angel wing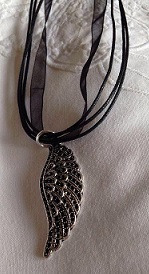 £ 10
Single Tibetan Angel wing on a black ribbon cord which connects you to Archangel Metatron. Metatron teaches people how to use their spiritual power for good. Urging you to change negative thoughts into positive ones allowing you to lead a healthy life.
£10 plus £1.99p+p
Tibetan Silver Single Angel wing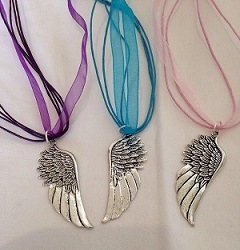 £ 15
Tibetan silver single Angel wing on a colored ribbon cord.
please state which colour you would like.
The colour of the ribbon is significant to which angel you are needing contact with.
Purple is Archangel Zadkiel who brings in peace and calming energy allowing you to be cleansed, release past painful memories, find forgiveness and increase your connection with joy.

Blue is Archangel Michael who comes in on a calming energy allowing you to speak clearly of your feelings , express whats bothering you allowing you to be noticed rather than pushed aside.Als

Pink is Archangel Chamuel who works via the heart chakra.helping you to find that inner love and peace helping to release the negative energys allowing you to break the pattern and move forward.
Dainty Angels surrounded in Tibetan silver Wings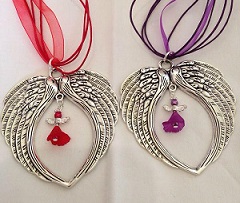 £ 25
Gorgeous dainty angel surrounded by Tibetan silver Angel wings on a coloured ribbon cord.
which one are you drawn to???
Purple is the colour of Archangel Zadkiel who comes in on a energy of spiritual growth , bringing comfort to us , helping us to heal from past emotions

Red is the colour of Archangel uriel who assists us with balance and enabling us to be stable in our life whether it is within our carrer or our home life.


1919/20- Angels in Angel Wings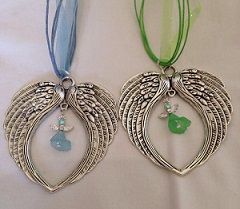 £ 25
Gorgeous dainty Angel surrounded by loving Tibetan Angel wings on a coloured ribbon cord. These are priced individually.
Which colour are you drawn to????

Blue is the colour of Archangel Michael who works with us on communicating, via the throat chakra, are you holding back your words? do you need peace and calmness or even to be surrounded by his blue cloak for protection.

Green is the colour of Archangel Raphael who comes in with unconditional love , Raphael is the healing energy, maybe your in pain and need him to heal and bring balance? sold out of green


1916/17 Orange and pink angels in wings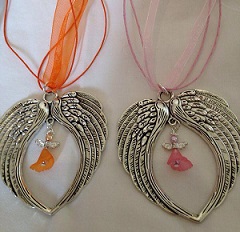 £ 25

Gorgeous dainty Angel surrounded by loving Tibetan Angel wings on a coloured ribbon cord.
Pink is the colour of Archangel chamuel who assists us with relationships enabling us to open our heart, also helps with self confidence.
Orange is the colour of archangel Gabriel who helps with those suffering with bereavement and loss. Gabriel enhances creativity ,optimism, helps ease fears and phobias.


Tibetan Silver Angel wings -Malachite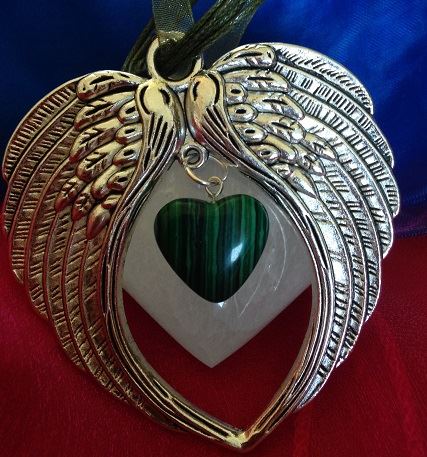 £ 25
Malachite angel wings.
Malachite is called the ' mirror of the soul' as it reaches your deepest feelings. A wonderful protective stone that protects you as you travel and aids you success in business. NOTE: this must not be worn if you are feeling depressed as it can magnify this negative emotion.
Purple Dainty Angel bell set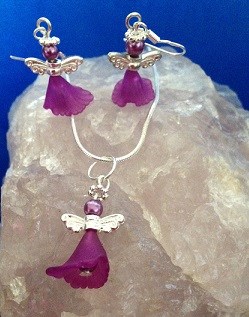 £ 18
Cute angel necklace and matching earrings. Silver ear wires. You cant buy this anywhere else as it is hand made and designed by margaret.

M&E Designs Tibetans silver angel wings /dancing howlite angel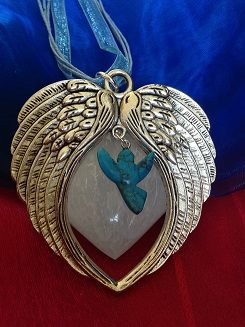 £ 23.99
An angel that dances with your soul. £23.99 beautiful design by M&E designs, who make one off unique items that cannot be duplicated.
Howlite has an extremely calming energy and can be used to relieve anxiety, tension and intense emotions. It is said to be able to calm the mind reducing fretful thoughts and helping you to relax in preparation for sleep or meditation.
Tibetan silver Angel wings-Carnelian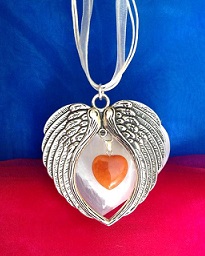 £ 25
A beautiful active Carnelian crystal heart surrounded by the protective Tibetan silver wings of an angel. This is designed and made by margaret so you cannot buy this elsewhere.


Carnelian is connected to the sacral chakra. it increases ambition, drive, and confidence also bringing warmth, sociability , and restores self-esteem. A beautiful addition to add to your jewelery box.

1920/ Angel wings /Green Agate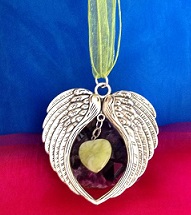 £ 25
1920/ This is a beautiful active green agate heart protected by Tibetan silver Angel wings.£22 & £2.99 pp

Green agate promotes compassion and empathy, encouraging perseverance. It helps the heart to heal and for the wearer to refind themselves and love them self again.
Angel blessings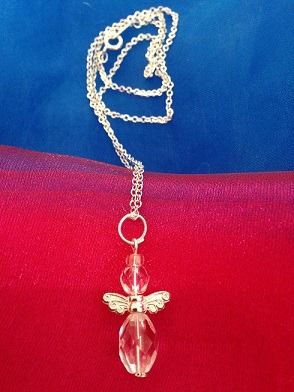 £ 15
Just an inch high this angel brings blessings and love to you. Wear this little angel to uplift you and bring you comfort on days that seem a bit hard to get through..
Tiny clear crystal wings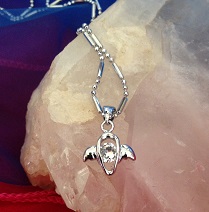 £ 15
Tiny angel winged crystal pendant. Silver plated. This really sparkles and the picture does not do it justice at all.
1957/ Angel with heart pendant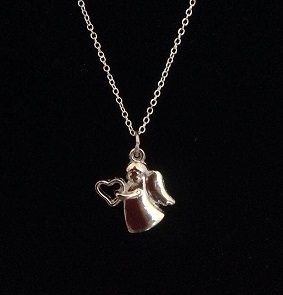 £ 16
A silver plated Angel holding out a heart pendant , comes on a silver plt chain.
An ideal present for children or for those who love the angels.
1920/ Angel Cameo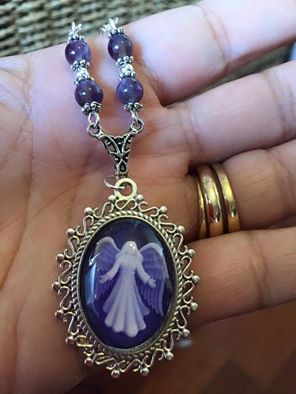 £ 22
Angel cameo necklace. 16 inch chain. International; buyers, the postage for this will be different from uk postage. Please email me before buying.
1808/ Angel wing/ orange beads beads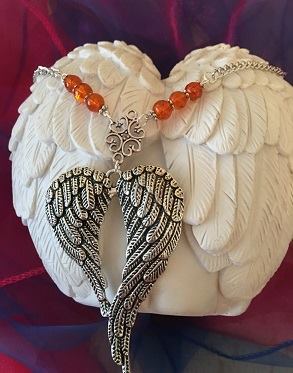 £ 25
A beautiful angel necklace, almost vibrating from the powerful flame vibration of the beads. Orange is such a creative colour, that inspires those who have a creative flair. This is a necklace that just makes you smile when it is on. Archangel urial flames through the orange ray and works through this pendant to inspire and uplift you. length 18 inches
1907/goldstone/quartz wing pendant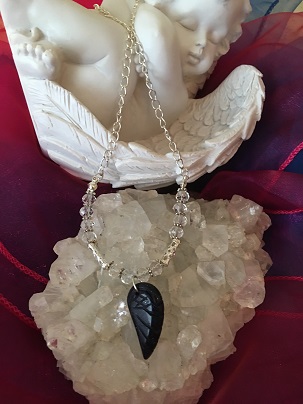 £ 22
Blue goldstone is a good deflector of unwanted energies, and is highly regarded in the spirit realm as a protection mineral. It is a nervous system stimulant and enhances transmission of healing energies from the hands; therefore it is applicable to long distance healing. It connects to archangel micheal, who helps those cut the fear base ties which hoild them back in life.
1909/Rose Quartz/ Amethyst angel pendant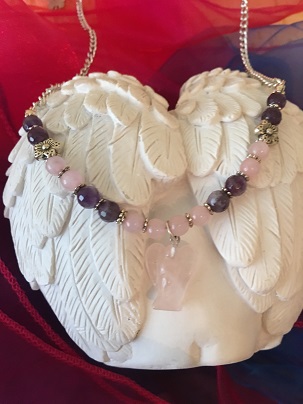 £ 29
1909/Rose quartz/Amethyst necklace.
Combining the force of chamuel and the purple of pure spirit, you have a calming ,de-stressing crystal combination which works on the mind, body and spirit. Length 18 inches

1906/ Sodalite heart Angel wings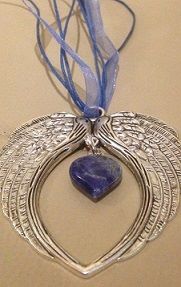 £ 25
This is a beautiful active Sodalite puff heart protected by Tibetan silver Angel wings, om a blue 16/18 inch ribbon.
Sodalite is wonderful for bringing inner peace to the wearer. it"s great for the Thyroid. Wear it to aid weight loss, build confidence with communication. Sodalite balances the metobalism, overcomes calcium deficiencies, and cleanses the lymphatic system and organs boosting the immune system
1907/Rose quartz butterfly angel wings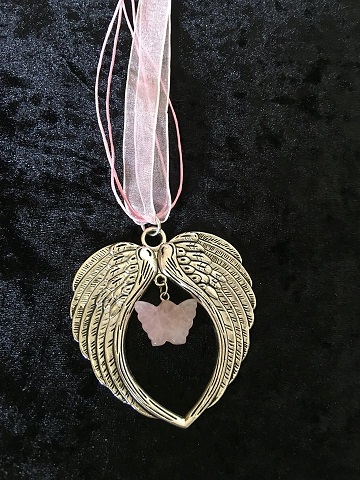 £ 25
Angel wings are symbolic of the love we need in our lives. The rose quartz butterfly symbolises transformation that is needed in our life. If you feel drawn to this, does your life feel like its standing still? A confidence builder necklace because you have the angels love and the crystal of ;ove, guiding you through the changes. 16/18 inch ribbon chain.
1908/Rose quartz and clear quartz angel necklace.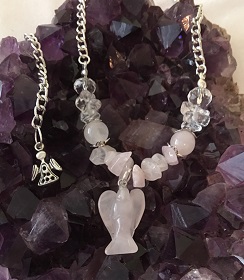 £ 27
This beautiful crystal works in many different ways. Self-Acceptance, caring, kindness, platonic and romantic love. It Opens the heart and encourages us to be tender, peaceful and gentle. . Because the wearer will emanate unconditional love it helps to attract positive, gentle, non-judgemental love into their lives. This vibrates to archangel chamuel. The perfect necklace for those who are sensitive to emotions. Lenght 18 inches

1910/Rose quartz angel wing.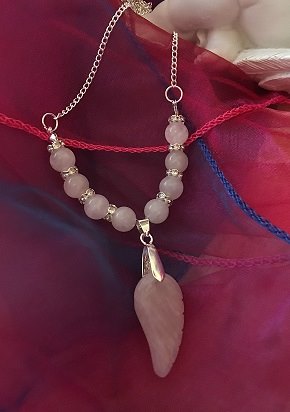 £ 30
Rose Quartz pendant. This is made with AA grade crystal and its been attuned to archangel chamuel who works on the pink ray and helps us deal with low self esteem, self dislke and emotional instability. This angel also protects the wearer from slander, malice and misunderstandings. Rose quartz is well known for bringing deep healing to the wearer. It helps you to recieve loe and assimilate it in a healthy way. A very beautful healing necklace.
1911/Tigers eye necklace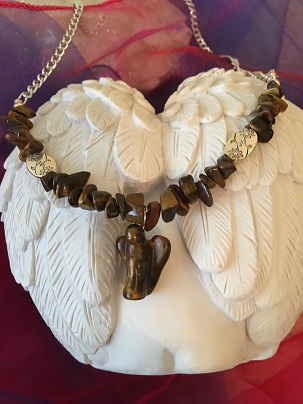 £ 28

If you are an earthy person, and vibrate to the energy of the solar plexus, you may find that this stone aids you to bring through a variety of psychic gifts.
Tigers eye irradiates gentle, soft vibrations that promote peace and calm, even in the times of great changes and disturbances. It is especially suited for meditation where it increases courage, determination, alertness, patience, brings positive energy and relives depression. It can promote unity, self-integration and autonomy; as well as enhance life energy by controlling the sexual and emotional energy
1912/Opalite Angel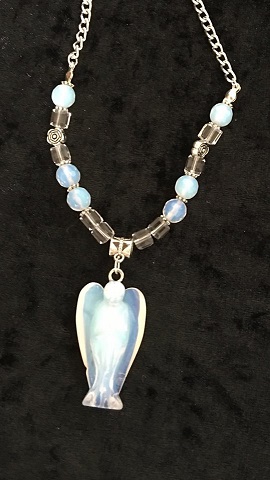 £ 30
This large opalite angel looks so much more beautiful in real life. It does not matter what angel i take the picture, she positivly glows all the time. Opalite is a high energy stone which removes blockages from chakras and meridians. It stabilises mood swings , over comes fatigue and helps with communication.
1972/ Angel wing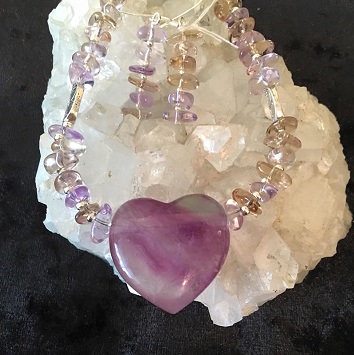 £ 17
Tibetan silver wngel wings. Really an eye catchpiece of 'must have' ite,m of jewellery.
Come with any colour ribbon. What angel is working with you at the moment and do they have a colour?
Did you know our jewellery is on Facebook too. Please pop by and add us here