Disclaimer: Crystal healing should not be used to replace medical treatment or advice. It can be used as a supplement with modern day medicine. If you choose to use any form of crystal healing on yourself or others, you do so at your own risk. Please note Connections with Spirit is not responsible for items that break or become faulty after wearing, but we will give a full refund if you contact us within 14 days of purchase if a problem arises with your item.
I can post these out to any country, but there is a £9.00 charge PER item as the parcel will need to be tracked. Please add this onto your items price when you pay for it.
So why are my crystals and jewellery better than your average sellers? Because I am an holistic therapist and I know how crystals work. Each of the crystal items I sell are cleansed and programed to work on the conditions that I have stated. These are not just your average crystal necklaces, these are therapeutic as well as beautiful items of jewellery.
International Postage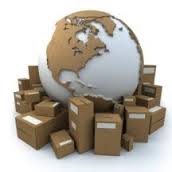 £ 9
Please click here to pay for the postage of your item after you have paid for it. Items are tracked to their destination.
1610/Amethyst Angel Charm bracelet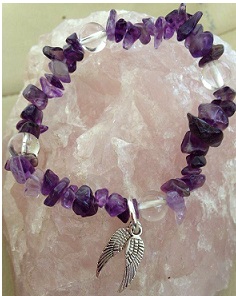 £ 15
Beautiful Amethyst crystal bracelet with a set of Angel wing charms.
Amethyst connects you to Archangel Zadkiel who gives us healing allowing us to forgive past situations .Helping us with confidence, empowerment and inner peace.
Tibetan Silver Bracelet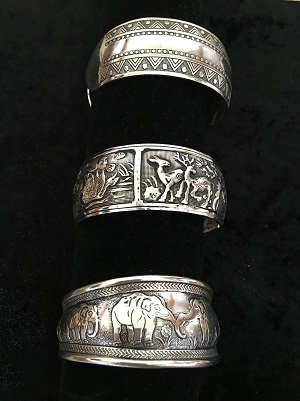 £ 15
Tibetan silver cuff bracelets.
Fit any size, these bracelets are for all occasions. Really a conversation peice when worn. Please quote the code when ordering
Elephant - 1602
Stag - 1603
Pattern - 1604
1606/Garnet Bracelet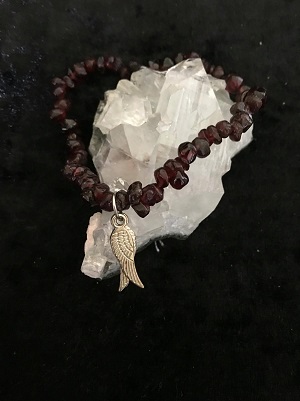 £ 15
Beautiful garnet angel bracelet. Fits anyne. Emotionally, considered a stone of increasing commitment, honesty, hope, and faith. It is a stone of positive thoughts which is said to dispel and relieve depression
1608 Amethyst and dragon fly bracelet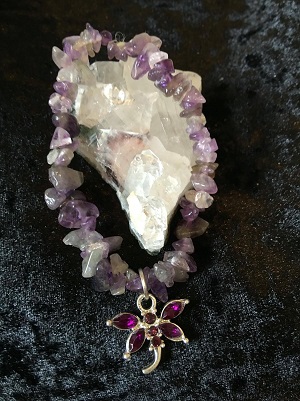 £ 15

The spiritual meaning of dragonfly symbolises going past self created illusion that limit your growth. They are the embodiment of transformation. They remind you of the divine message of light that tell you that you are caopablke of moving in all directions, do not limit yourself.
1612/Clear Quartz bracelet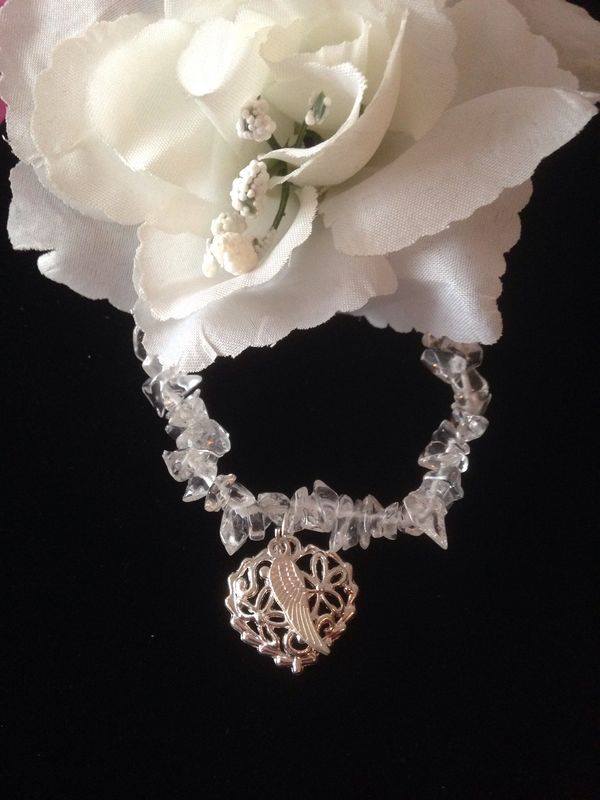 £ 16
Clear Quartz bracelet with a little Tibetan silver Angel wing and silver plated heart. .
A master healer that works on all conditions. Margaret reiki's her crystals, so each one becomes a lovely healing tool
087/BLA Bracelet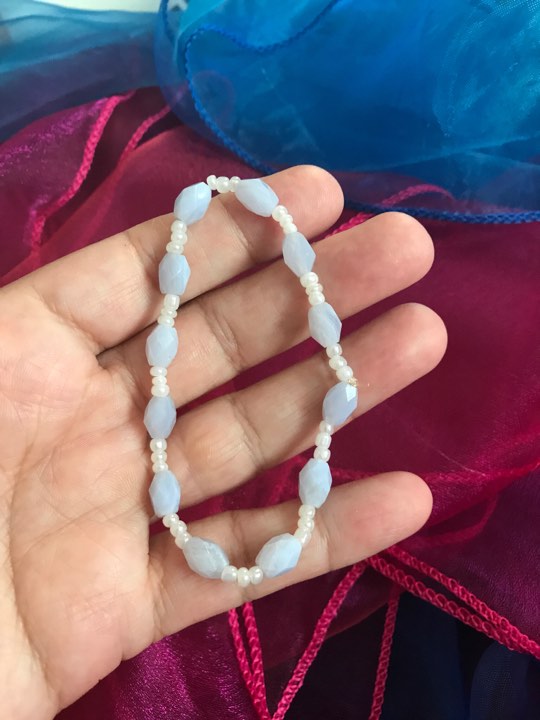 £ 16
Blue Lace Agate with glass pearl beads. This is on eleastic so it will fit most wrists. The perfect calmer during stressful periods of your life
084 flourite and glass pearl bead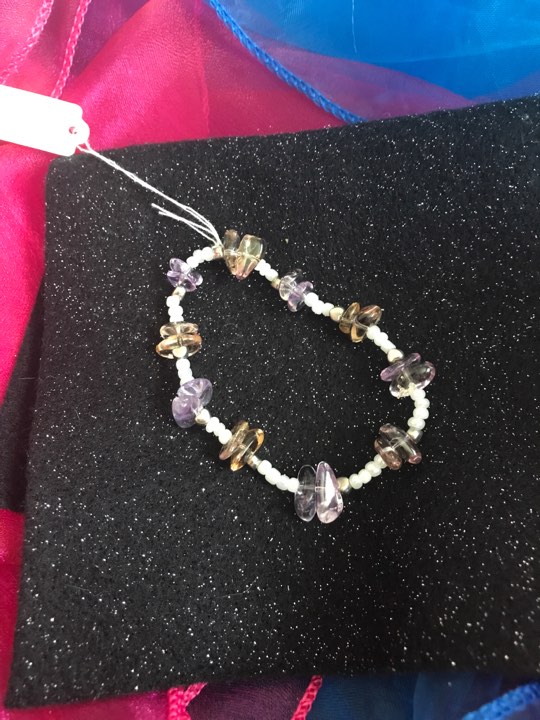 £ 16
1617/ Beautiful flourite and glass pearl beads. This is on eleastic so it will fit most wrists. Flourite helps to release negative thoughts and enhances concentration.
1618/ Angel love bracelet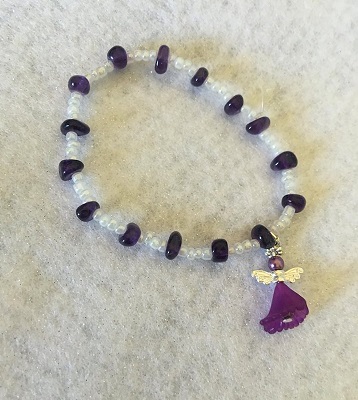 £ 16
Amethyst and pearl glass bead.This is on eleastic so it will fit most wrists. With a cute angel charm. Amethyst helps to calm the mind, body and spirit. £13 + £2.99 pp
085 - Amethyst love bracelet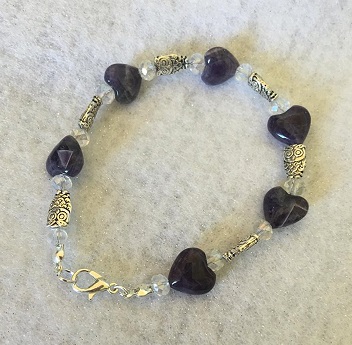 £ 15
Amethyst heart bracelet. A crystal therapy item of jewellery to calm the wearer during stressful times.
1620/ Amethst and pearl bracelet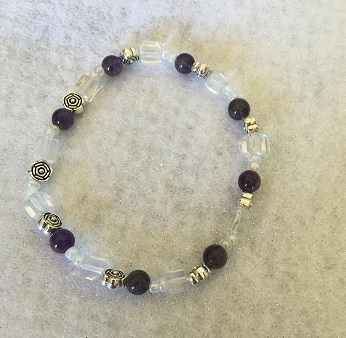 £ 16
Amethyst bead design bracelet on elastic, so it will fit most wrists..
089 Tigers eye bracelet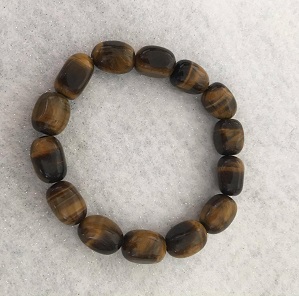 £ 15
Chunky tigers eye bracelet. Fits most wrists.
Tiger's Eye is a stone of protection that is also very stabilizing and grounding. It enhances integrity, willpower, self-confidence, practicality and correct use of power. It is a stone that enhances good luck, and brings prosperity, often in the form of money. Tiger's eye is also a very protective stone which is especially protective during travel. It can also help one see clearly without illusion.
MW040/Sodalite bracelet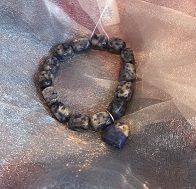 £ 15
Chunky sodalite bracelet which will fit most wrists. Sodalite is associated with the thyroid so it is perfect in a necklace. Wear it when you want to lose a few pounds as well. It helps in communicating and will give confidence to speak more. Sodalite brings inner peace and is a stone of logic, rationality, and efficiency. It is good for healing breaches in communication. It is a stone of truth, and brings this to all communications. It is called a Poet's Stone. It can help end arguments or other disagreements. It is particularly useful for honesty of emotions and love. It increases intelligence, knowledge and learning, and can unite the logical with the spiritual. Physically, in crystal healing, it can be beneficial for the glands, diabetes, digestive system, lymphatic cancer, relieving insomnia, and decreasing calcium deficiency. It is also used in crystal healing for quicker relief of head colds.
Lapis Lazuli anklet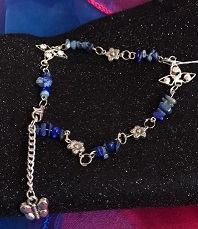 £ 15
Cute adjustable silver plated ankle bracelet
050 butterfly anklet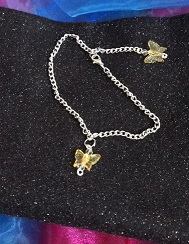 £ 15
Cute adjustable butterfly angle bracelet.
081 Blue bead bracelet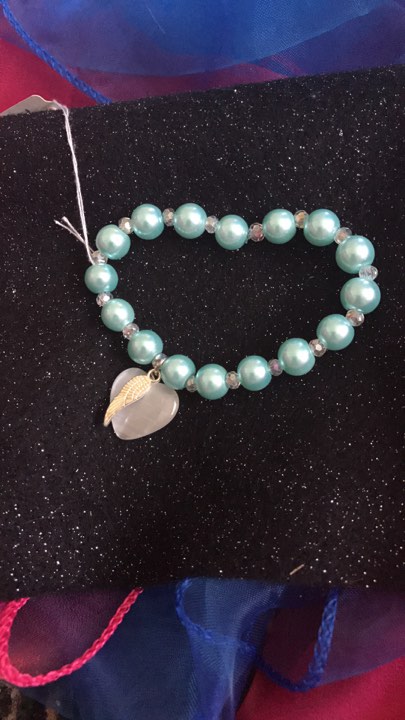 £ 15
Bead bracelet with agate heart and angel wing. One size fits all.