Disclaimer: Crystal healing should not be used to replace medical treatment or advice. It can be used as a supplement with modern day medicine. If you choose to use any form of crystal healing on yourself or others, you do so at your own risk. Please note Connections with Spirit is not responsible for items that break or become faulty after wearing, but we will give a full refund if you contact us within 14 days of purchase if a problem arises with your item.
I can post these out to any country, but there is a £9.00 charge PER item as the parcel will need to be tracked. Please add this onto your items price when you pay for it.
International Postage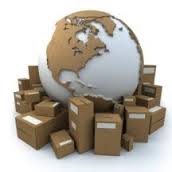 £ 9
Please click here to pay for the postage of your item after you have paid for it. Items are tracked to their destination.
We have more earrings listed on our facebook album page
1962/ Angel wing thumb ring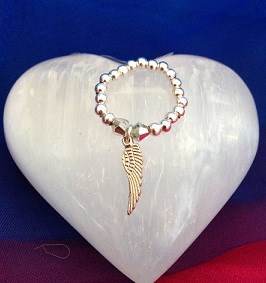 £ 15
Silver plated angel wing thumb ring. So pretty.

1961/ Feather Earrings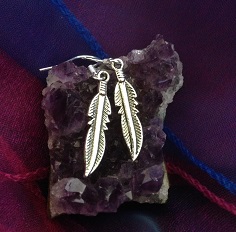 £ 17
Small tibetan earrings with sterling silver hooks.
1960/ Native American feather Earrings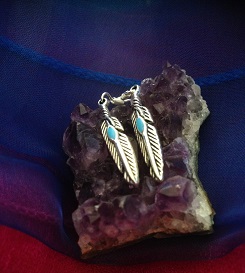 £ 17
Baed on the native American feather and the good luck it brings to the wearer. Sterling silver hooks.
1958/ Crystal angel wing earrings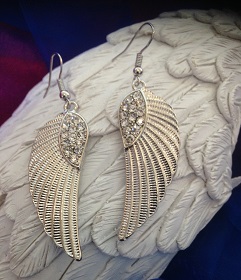 £ 17
Medium size angel earrings with fine crystal detail
smokey quartz earrings
£ 23
Silver Smokey quartz earrings
A beautiful grounding crystals, that can banish feelings of mild depression or anxiety.
1719/Clear Quartz Hearts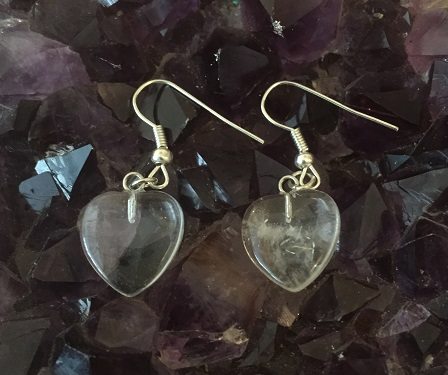 £ 15
Cute clear quartz hearts on 925 silver wires. Healer of the mind , body and spirit.
Earrings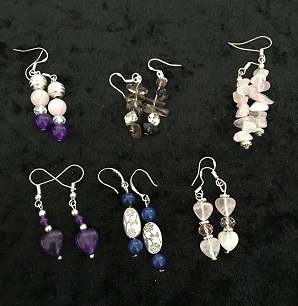 £ 15
Please tell us the code of the earrings you require when ordering.
1972/E – Smokey quartzs & crystal
1973/E - RQ chips
1974/E – Lapis and cameo
1975/E Purple heart
1976/E Purple bead/RQ
1977 RQ hearts
1978/E Earrings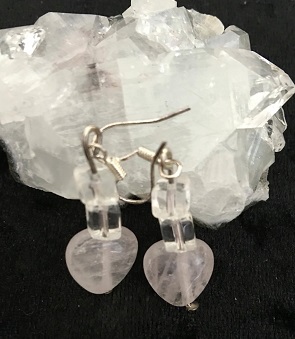 £ 17
Large square cut quartz with puff rose quartz heart. silver wires. Beautiful for any occasion.
1709/ Purple crystal dragon fly earrings.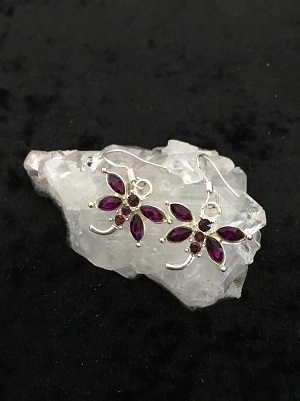 £ 17
The spiritual meaning of dragonfly symbolises going past self created illusion that limit your growth. They are the embodiment of transformation. They remind you of the divine message of light that tell you that you are caopablke of moving in all directions, do not limit yourself.
1710/Aventurine pear drop earrings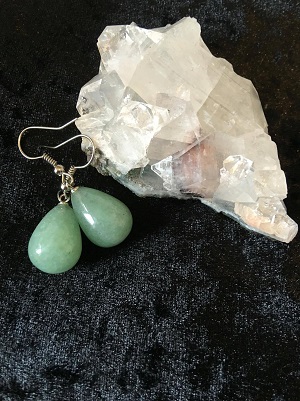 £ 16
Aventurine is associated with the heart chakra. It is believed to not just energize and clear the heart chakra, but also to protect one from those who psychically attach to the heart.. A beautiful healing crystal
1711/Rose quartz heart earrings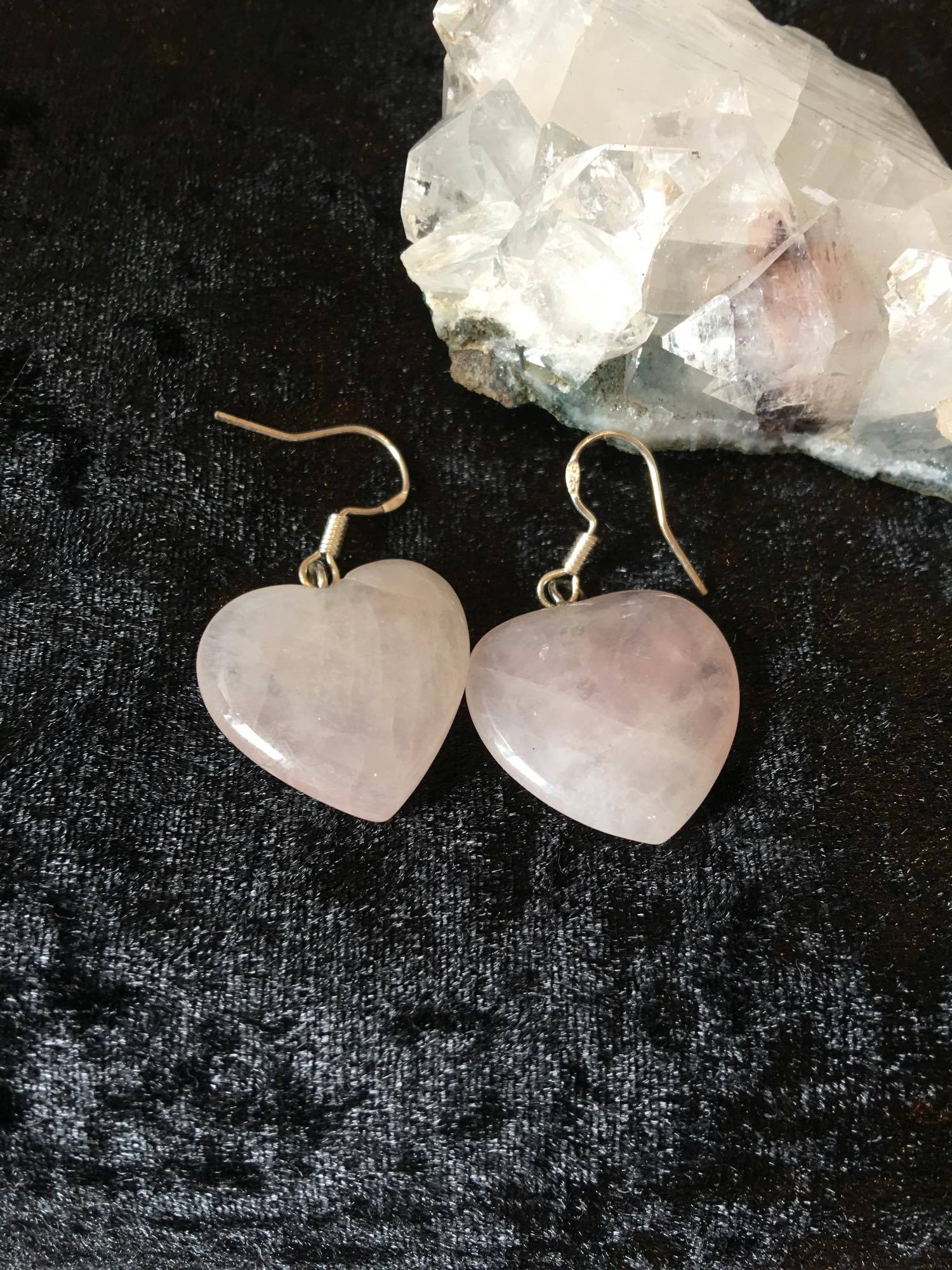 £ 15
Rose quartz medium size earrings. Brings self confidence and teaches us to love ourselves more.
Crystal earrings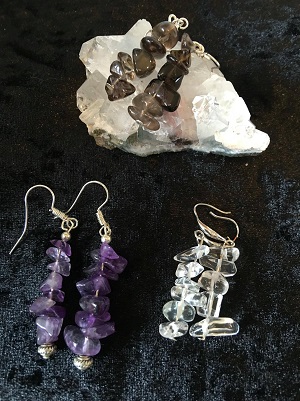 £ 15
Crystal earrings. Please quote the code of the item when ordering.
1712- Amethyst chips - calm, stress headaches
1713 - Smokey quartz chips - grounding, fdear based thoughts, protection
1714 -clear quartz - master healer
Crystal earrings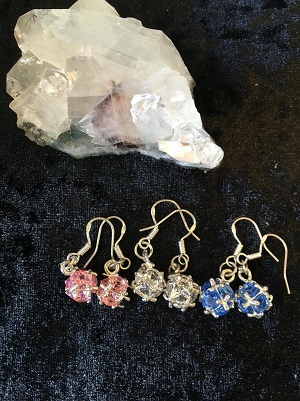 £ 15
Dainty crystal earrings.Silver wires. Please quote the code when ordering
1718/Lapis lazuli earrings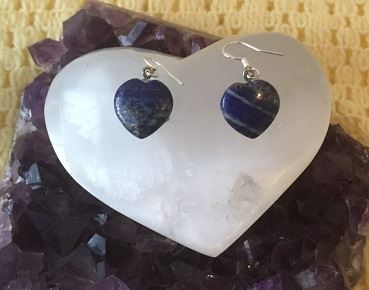 £ 17

Lapis Lazuli is a deep blue crystal flecked with white and gold. It is a highly prized gemstone.

Lapis Lazuli can stimulate the higher levels of the mind encouraging clarity and objectivity. It can also allow the release of stress, bringing deep inner peace and clear thinking.

Lapis Lazuli facilitates self-knowledge and self-expression and can enhance psychic ability and spiritual insight
Angel earrings.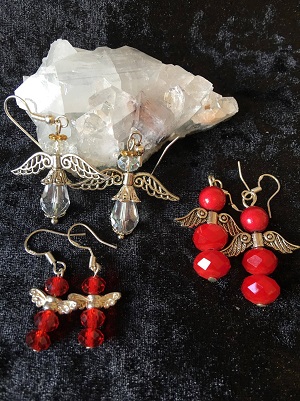 £ 12
Angel earrings. Please use the code when ordering the earrings. Silver wires.
1720 Large red crystal angel £15
1722 Clear crystal angel £15 All £1 pp
1923/ Butterfly earrings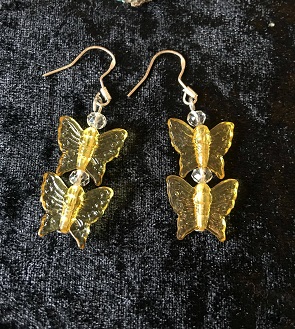 £ 15
Butterfly earrings on silver wire
Summers here and its time for transformation. Changes are coming if you are attracted to these gorgeous butterflies and its always good.
1724/ Small angel wings.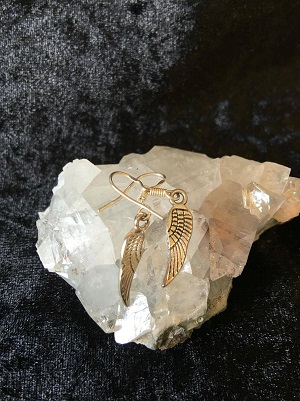 £ 15
Tibetan silver small angel wings. Silver wires.
Cute little angel wings for all angel lovers.